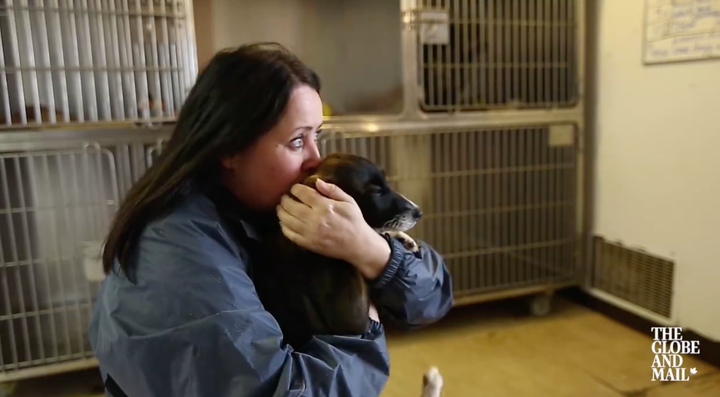 For years, an animal shelter located in one of the most faraway corners of Canada has been providing a safe haven for the region's homeless dogs. But the organization now says the welfare of its animals may soon be at risk -- due to the schedule changes of an airline that's been flying the dogs to safety.
Despite its distant location, however, the organization is said to welcome an average of 25 dogs every month -- a huge number considering the small size of the facility (it can only house about 20 dogs at a time) and the extremely low adoption rates among locals (residents typically account for the adoption of just one dog a month).
So how has the shelter been able to keep its no-kill promise? As this moving video by the Globe and Mail shows, it's been thanks to a long-running partnership with Canadian North Airlines and the SPCA of Western Quebec:
For the past four years, Canadian North -- one of just two airlines that flies regularly to Iqaluit, Nunavut's capital -- has been flying dogs from the shelter to Ottawa free of charge. From there, the SPCA of Western Quebec has been helping to find forever homes for the animals.
"Canadian North has been an amazing partner," the Iqaluit Humane Society wrote on Facebook last week. "They have made our work with our partner, the SPCA of Western Quebec, phenomenal." 
The shelter says, however, that an impending change in Canadian North's flight schedule will make this current arrangement impossible. 
The new schedule, which will kick off on January 11, 2016, would mean the dogs would arrive much later in Ottawa. 
"With the time of flight scheduled to change for later, it means when the animals arrive the cargo office would be closed in Ottawa due to the later arrival time. So if dogs were to fly on said later flight, no one could pick them up," the shelter explained in a Facebook post. "We are not allowed to send them to the airport because airport regulations mean they have to be with a ticketed person and not on their own."
Canadian North currently arrives in Ottawa from Iqaluit daily at around 4.45 p.m. The new flight schedule will push the arrival time to after 8 p.m.
With this change looming, the shelter says it's deeply worried about the fate of its animals. Being so remote, flight options are extremely limited in Iqaluit; and the cost of shipping the dogs (up to $350 for a 100-pound dog) is prohibitively high.
If they're unable to find another solution, Iqaluit Humane Society president Janelle Kennedy told CBC News that the shelter may have to make the heartbreaking choice to euthanize some animals.
"When you run out of space, you have to make decisions," said Kennedy. "We've been priding ourselves as being a no-kill shelter and we really don't want to have to go that route."
The shelter insists that it will do everything it can before considering this option. According to CBC News, the organization is currently in talks with Canadian North and First Air, the other airline that frequently flies out of Iqaluit, to see if a different arrangement can be agreed upon.
Kennedy told the news outlet that a solution will likely require a lot of effort on the shelter's part; but it's a commitment they're willing to make. 
"We know it's a big commitment but it's life or death for these animals," she said.
Calling all HuffPost superfans!
Sign up for membership to become a founding member and help shape HuffPost's next chapter