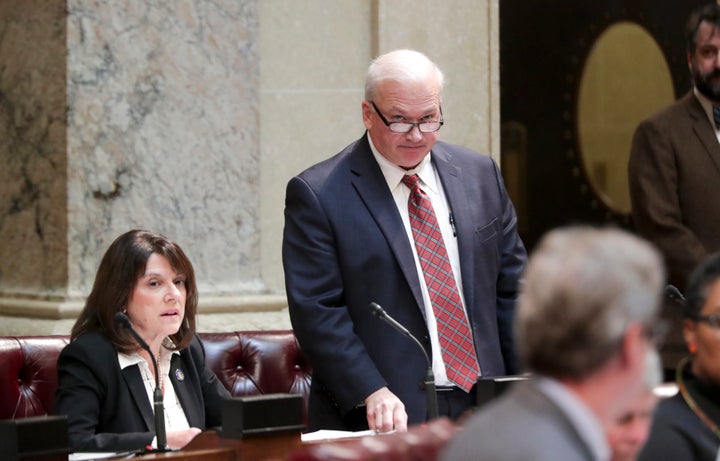 No Labels, a centrist group that has elicited scrutiny for training a disproportionate share of its fire at Democrats, appears reluctant to explicitly criticize Republicans for their naked power grabs in Wisconsin and Michigan.
Given No Labels' professed commitment to overcoming excessive partisanship, HuffPost asked for its reaction to efforts by Wisconsin and Michigan Republicans to strip incoming Democratic governors of key powers.
"Free and fair elections as well as respect for electoral outcomes are tenets of American democracy," said No Labels spokeswoman Melanie Sloan. "Efforts to undermine elections or citizens' faith in the electoral system increase cynicism and disgust with our political process.
"No Labels and its supporters want to see elected leaders focus on solving our country's problems rather than jockeying for power." 
Since the word "Republican" was missing from her statement, I followed up to ask if the organization was willing to specifically identify the culprit of the "efforts to undermine elections" that it so dislikes.
"Not sure what you're searching for here," Sloan replied. "The second paragraph, specifically referencing respect for electoral outcomes, is clear."
She did not immediately respond to a second follow-up request.
No Labels was more explicit in its reaction to the alleged election fraud perpetrated in North Carolina's 9th Congressional District.
Sloan noted that "allies" of No Labels had raised money for Democrat Dan McCready, whose loss North Carolina has yet to certify because of apparent Republican efforts to interfere with the collection of absentee ballots in predominantly black and Native American parts of the district.
"We hope that these allegations of voter fraud are clarified as soon as possible. If they aren't, there should be a new election," Sloan said.
No Labels has had a tumultuous couple of weeks. With current House Minority Leader Nancy Pelosi looking likely to be elected speaker after Democrats take control of the chamber in January, Democratic members of the No Labels–backed Problem Solvers Caucus endured criticism for a somewhat successful effort to undermine her by taking away some of the speaker's discretion over which bills come up for a floor vote. Many Democrats wondered why the group had not clamored for similar efforts to check outgoing Republican House Speaker Paul Ryan's power.
The Daily Beast recently revealed that No Labels considered attacking Pelosi for what it considered her insufficient support of conservative Democratic Rep. Dan Lipinski (Ill.) after he withstood a progressive primary challenge in March.
The outlet also revealed that Mark Penn, a public relations guru married to No Labels chief Nancy Jacobson, has played a bigger role in No Labels' strategy than previously known. His contributions included conceiving of a since-deleted tweet admonishing Democrats for not cooperating more with Republican efforts to repeal the Affordable Care Act, according to the Daily Beast.
There are signs that No Labels' brand is diminishing among congressional Democrats. On Tuesday, Rep. Mark Pocan (Wis.), a co-chair of the Congressional Progressive Caucus, excoriated No Labels in a HuffPost column for unevenly applying its commitment to nonpartisanship. He wrote that he was "duped" into joining the group during a 2012 orientation for new members of Congress at Harvard.
At this year's Harvard orientation, HuffPost asked Rep.-elect Tom Malinowski (D-N.J.) whether he would consider joining No Labels' Problem Solvers Caucus. Republican Rep. Leonard Lance, whom Malinowski ousted in November, was a member of the organization.
Malinowski, a former top human rights official in the Obama administration's State Department, eschews labels, declining to say whether he identified more as a progressive or moderate Democrat. But he said he has concerns about No Labels' "effectiveness," citing its interference in elections in what he called a "one-sided way" and consideration of attacking Pelosi.
"In principle, I am in favor of Republican and Democratic problem solvers working together," he said. "But I have some questions about that organization in particular that I would need to have answered before I would feel comfortable joining."
Unlike No Labels, Malinowski was willing to call out Republicans by name when they try to undermine electoral outcomes.
"There should be no both-sides-ism when it comes to defending democratic norms," he said.
Calling all HuffPost superfans!
Sign up for membership to become a founding member and help shape HuffPost's next chapter
BEFORE YOU GO
PHOTO GALLERY
Scenes From Capitol Hill