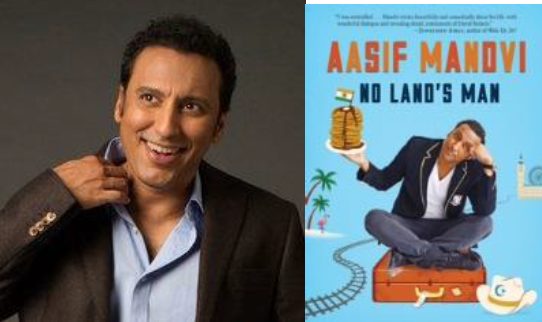 Charlie Chaplin's advice to the players, "To truly laugh, you must be able to take your pain, and play with it." Major player actor, writer and producer Aasif Mandvi own Muslim and English/ American immigrant background provides a rich treasure of characters in funny, challenging and poignant situations for storytelling. The actor mined his improbable journey from self described "125 pound geeky Indo-British theater nerd with an Afro" to achieving the American Dream of stardom for his memoir, "No Land's Man."
He adds, " I don't think of it as a memoir, its a series of personal humorous essays and since I have always been a writer, having written plays and movies but had never a book before, it was an exciting new challenge." Aasif came to pursue his acting career in New York City with a ride or die approach to his craft. A serious thespian he was drawn to theater and gravitated toward Chekov, Ibsen and Shakespeare. Frustrated with the stereotypical roles available to Indian actors (snake charmer, cab driver, deli worker) he had fire in the belly to write his own work,"Sakina's Restaurant." As Eric Bogosian and John Leguizamo before him Aasif developed the one man show mentored by Wynn Handman at The American Place Theater. "Sakina's Restaurant" won an OBIE award and was adapted into a feature film, "Today's Special."
More film, theater and television roles followed including Ayad Akhtar's Pulitzer Prize winning play "Disgraced," "Oklahoma," "Homebody/ Kabal," "The Proposal," "The Mystic Masseur," "Million Dollar Arm" and "The Internship." Adding diversity to the cast, Jon Stewart tapped him for "The Daily Show with Jon Stewart" as Senior Muslim Correspondent.

With "Halal in the Family" he forges ahead fearlessly challenging stereotypes, racial profiling, bullying and religious freedom in the dramedy of the ethnic culture clash. Mandvi's web-series has a modest budget successfully crowd funding on Indiegogo. Aasif does so, " Because this felt like it was an opportunity to do something not only entertaining but also dealing with bigotry racism and misinformation about and towards the American Muslim community." As Mandvi serves as writer/ producer and actor on HBO's upcoming series, "The Brink." Writing and acting, Aasif passionately looks forward, " The pleasure from acting comes from having great writing to work with. If its well written and the character is interesting then as an actor that's the raw material I need.
REAL LIFE. REAL NEWS. REAL VOICES.
Help us tell more of the stories that matter from voices that too often remain unheard.