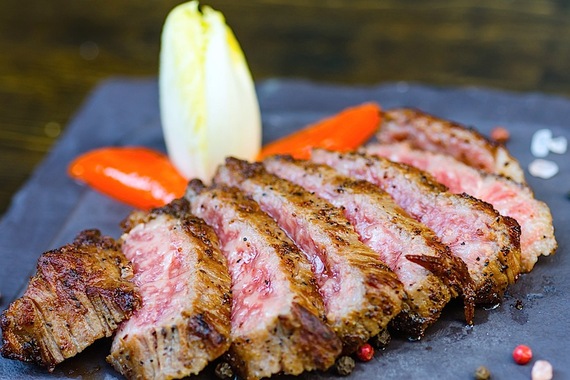 If I may make one prediction for the year 2015, it is that the misnomer "healthy food" will fade while the even more misleading term "unhealthy food" will also become passé, except among those who believe in Dr. Oz.
For, from all I see happening in the U.S. restaurant sector, the idiocy of quantifying food that way flies in the face of reality; just look at the kind of food people actually crave when they go out to eat. Whether it's a downtown eatery like Mission Chinese serving kung pao pastrami or Harlem restaurants like The Cecil serving feijoada bulked up with spicy black beans, oxtail, and merguez lamb sausage, menus are dedicated more than ever to intense flavors that depend upon a good amount of fatty protein.
Nowhere is this more evident than in the booming success of NYC steakhouses, which in one night do more business than all the hip storefronts in SoHo, Loisaida, DUMBO and Williamsburg combined. What's more, the competition among steakhouses to find more and more wagyu or Kobe, beef (see the article above) is fiercer than ever in a market whose availability of such beef is minuscule.
Two new steakhouses whose specialty is Japanese beef are fine examples of what's going on.
212 Steakhouse
316 East 53rd Street (near 2nd Avenue)
212-858-0646
212steakhouse.com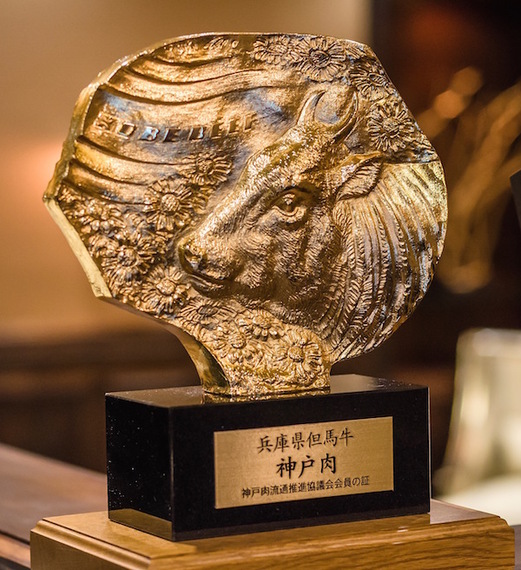 According to first-time restaurateur Nikolay Volper, 212 Steakhouse "is the only restaurant on the East Coast officially approved by the Kobe Beef Marketing and Distribution Promotion Association from Japan to offer authentic Kobe beef," and he has the certifying documents hung on the wall to prove it. The beef here is bred of Tajima-gyu calves only from designated producers in Hyogo Prefecture, raised an average age of 32 months, then rigorously graded. Mr. Volper, who is from Bulgaria, and chef Christos Kalamvokis, who is Greek, offer Kobe beef ribeye, strip loin and tenderloin, along with USDA Prime bone-in filet mignon; Australia Wagyu skirt steak, dry-aged bone-in ribeye and porterhouse for one or two, and both American and Japanese Wagyu strip loin with meat sourced from the Fremont Beef Company.
My friends and I tasted a variety of 212's cuts and were highly impressed with the flavor derived not just from fat but from consistently dense intramuscular streaking of fat (fat below the steer's skin counts for little in flavor and is trimmed away). Because the meat is so rich, most people can consume only a few morsels of something like a 16-ounce NY strip, so 212 offers the beef by the ounce, e.g., $15 per ounce of ribeye, strip, or tenderloin (four-ounce minimum). The American and Australian wagyu, which are not as fatted, cost much less, and USDA Prime filet mignon weighing in at 16 ounces is $29. The differences among the beef are significant and readily tasted on the first bite, so it's a good idea to sample an ounce or two from each of the Japanese, American and Australian cuts.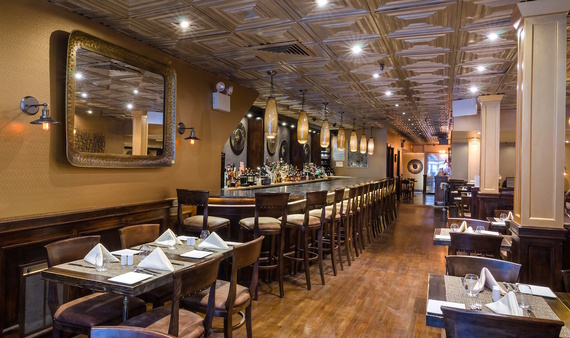 In addition, the rest of the menu has real heft, from yellowfin tuna tartare with avocado, wasabi and lemon ($20), to an admirably meaty crab cake with caper aïoli ($23), and tender grilled octopus with sweet peppers, onion and red wine vinegar ($24).
There are several seafood entrees, but it never crossed my mind to order them at 212. I did, however, fight for every last forkful of truffled mashed potatoes ($11), scalloped potato gratin ($12), baked polenta fries with Parmesan ($12) and sautéed Brussels sprouts ($10).
You will notice that 212's prices for Kobe and wagyu are somewhat lower--sometimes by a lot--than its competition's, and Mr. Volper says that is by design: most steakhouses actually make their money on appetizers, side dishes, wine and booze, and that is foremost in Mr. Volper's plan. To that end, he has assembled a very deep, broad wine list with a by-the-glass program that offers rarities like 1975 Château Mouton Rothschild ($44), 1994 Château Petrus ($156) and 1985 Château Margaux ($36). There are 15 Champagnes by the bottle.
The premises are pleasant, the tables nicely spaced, the service staff mostly attentive, and, since the place is not yet as well known as it will be, right now is a capital time to go, to sample until your heart's content, and feel you haven't blown January's food budget.
212 Steakhouse is open for dinner nightly.
AMERICAN CUT
363 Greenwich Street (near Franklin Street)
212-226-4736
americancutsteakhouse.com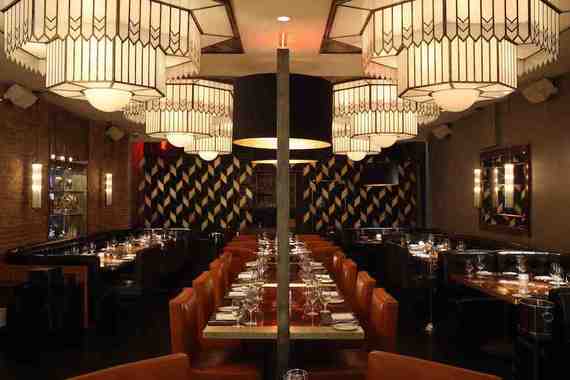 You wanna see a packed house? Step through the door of American Cut in Tribeca any night after 6:30 and, if you don't have a reservation, you may have a bit of a wait for one of the 80 seats in this big, brawny steakhouse run by Chef-Partner (with LDV Hospitality) Marc Forgione, who also runs Restaurant Marc Forgione nearby on Reade Street. You'll be cordially greeted by a very attractive hostess named Carol and her assistants, walk past a glassed-in wine wall of 3,000 bottles (stocked by sommelier Mariette Bolitiski) and your wait at the 40-seat bar is going to be lively and loud. Indeed, this is a very, very loud restaurant--plenty of big-wing Wall Street guys--so the later you go in the evening the better. Otherwise, it's a masculine setting of red brick walls, copper ceilings, very comfortable chairs and leather booths, though the tables could certainly use sound-absorbing tablecloths.
Generosity of portions is the leitmotif throughout the menu, from an appetizer of well-seasoned chili lobster on thick Texas toast ($34) to a cornflake-crusted crab cake that's all lump meat, with a lush smoked onion remoulade and Charleston slaw ($19). The steak knife wedge of Iceberg lettuce with Nueske's bacon, Maytag blue cheese, and sun-dried tomato ($15) is definitely meant to be shared, and for those hankering for bone marrow, here it comes with Burgundy snails, short rib and a James Beard salad ($19).
You'll find the American cuts at American Cut unsurpassed anywhere else in the city: the flavor is intense, whether you order the dry-aged 20-ounce bone-in ribeye (below) with pastrami spices and smoke ($49), the 14-ounce strip ($44) or the tomahawk ribeye chop with smoked salt at a whopping 42 ounces priced at a whopping $145. The fine Colorado lamb, a full pound of it at $42, is something you'll take part of home.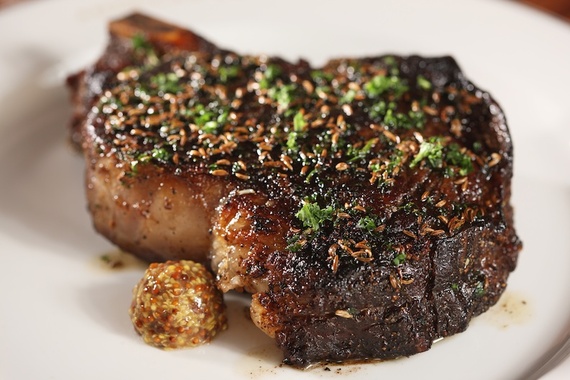 Of course, this being right now, American Cut has to have first-quality Japanese beef, and the menu lists "A5 Wagyu Beef Miyazaki" at the varying market price, and it is every bit as good as the owners of DeBragga and Spitler say it is in the article above. If you see it before cooking, the beef is pink, like pork, with a spider web of fat throughout.
If you order only one side dish (all $12), make it the "Potato Puree 'Robuchon,'" an homage to French chef Joël Robuchon's famous rendering of potatoes so enriched with butter that it should be called "butter with potato." Also delicious are the Kennebec potato fries dashed with vinegar, and the big, fat glazed carrots with mint and Maldon salt.
Pastry chef Tara Glick is obviously not going to pull back from richness in her desserts (all $12), which include a chocolate bread pudding with butterscotch, bananas and Guinness ice cream called the "AC Carbomb," and a Crackerjack sundae with popcorn ice cream. For winter there's also pumpkin cheesecake with ginger Graham crust, spice gelée and cranberries.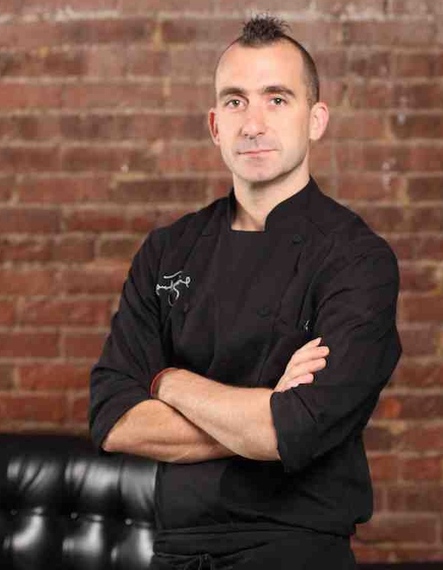 It need be mentioned that Marc Forgione (above) is the son of one of the pioneers of New American Cuisine, Larry Forgione, and whatever he learned from Dad is on applaudable display at American Cut. It's not a place to count calories or to begin New Year's resolutions. It is instead a restaurant that knows what Americans truly love to eat and are willing to pay top dollar for the best of it.
American Cut is open nightly for dinner.