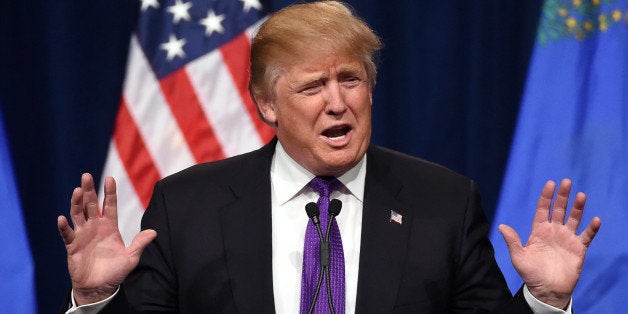 There's been a theme in some of the media, and certainly among some gay Republicans -- as I focused on a few weeks ago -- that implies Donald Trump isn't so bad on equality for gay, lesbian, bisexual and transgender people, or is at least better than most of the other GOP candidates. It's absolutely false -- he's as extreme as Ted Cruz and Marco Rubio, and will do nothing for LGBT rights -- and it's time to disabuse the media and everyone else of this notion once and for all. First, we need to see how it got started, emanating from a technique Trump uses to stellar effect.
Trump very publicly, often in large media forums, offers up vague hopes about attaining justice (on a whole range of issues, with his "make America great again" mantra), without explaining how he'll do that. He has in the distant past said that he supports non-discrimination laws that protect gay people, and even said last year, when asked on Meet the Press, that gay workers shouldn't be fired from their jobs because of their sexual orientation -- though didn't offer support for laws barring such discrimination, and certainly didn't say he'd pressure Congress to pass such a law. He offered more vagueness with an ounce of hope when asked by a lesbian reporter on the campaign trail in New Hampshire about LGBT rights, saying simply, "we're going to bring people together."
Trump has been much less vocal when the media spotlight is on him, however, about his opposition to gay marriage. Certainly he's much less vocal about it than he is about, say, immigration policy, so we're not hearing his anti-gay positions as much or at all in mainstream media, or in his speeches, while he continues talking very publicly about building his wall on the border. But he is definitely speaking forcefully on his anti-gay positions to evangelicals on their media platforms, in their language, using the dog whistle on LGBT rights even if he's using the fog horn on other issues. Trump is much smarter than many give him credit for. By speaking with the fog horn on many issues it gives the impression that he places low priority on the issues with which he's using the dog whistle. In fact, he's calibrated what to speak about under the radar and what to take big, no matter that the positions may be equally extreme.
In his Nevada victory speech, he said, "I love the evangelicals!" Only looking at Christian evangelical media forums, however, would you understand why they have reason to love him back:
Last week in an interview with the Christian Broadcasting Network's David Brody, Trump called the Supreme Court's Obergefell marriage equality ruling "shocking" and told evangelicals to "trust me" on the issue, telegraphing that he would get the marriage equality ruling overturned.
On Fox News Sunday, Trump in fact said he'd consider appointing judges who would overturn the Obergefell ruling, taking up a position that Marco Rubio had announced weeks earlier.
Trump came out in support of the First Amendment Defense Act (FADA), which anti-gay Republicans introduced in Congress last year. It would allow government entities, non-profit organizations that receive government funds and businesses contracted with the federal government to discriminate against gays. Basically, it would allow for the kind of exemption on a whole variety of issues that the Kentucky clerk Kim Davis was demanding.
While Trump had initially criticized Kim Davis in the mainstream media for not doing her job, he later quietly backtracked in talking to evengelical Christian-focused media outlets, and when pressed in an interview with me at the Values Voter Summit last fall, he expressed support for Davis and her position.
Trump has attacked Chief Justice John Roberts -- who voted against LGBT rights consistently -- as insufficiently conservative, and recently promised in a Christian Broadcasting Network town hall with Pat Robertson at Robertson's Regent University that he would put far right extremists on the court who would get Roe v. Wade "unpassed." At a South Carolina forum he suggested Justice Clarence Thomas, who is as anti-gay as Justice Samuel Alito and the late Justice Antonin Scalia, is a model for his own appointees if he becomes president, calling Thomas "very strong and consistent." This has huge implications considering the GOP will block President Obama from replacing Scalia and the next president may have that opportunity.
All of the above is consistent with Trump's tweet in response to the Obergefell ruling last June:
Even if Trump is serious about supporting anti-discrimination laws, he's not only not shown any evidence that he'd actually push Congress to pass them, but since he also supports FADA he'd be in favor of broad religious exemptions included within any such laws, which would allow those who want to discriminate to continue to discriminate.
As we've seen, Trump is a master of manipulation (of media and of constituencies) who learned that on the gay issue he could give mixed signals, implying "tolerance" of LGBT rights while on the campaign trail but then speaking to anti-gay bigots within their forums and telling them exactly what they want to hear. Unlike on immigration, where he sees the swirling energy of the extreme right and its demand for a very loud voice, he knows evangelicals, who've suffered defeats, will accept someone who more quietly makes promises -- as long as he's a winner. And they're intent on making him a winner and holding him to those promises.
Support HuffPost
Every Voice Matters
Popular in the Community