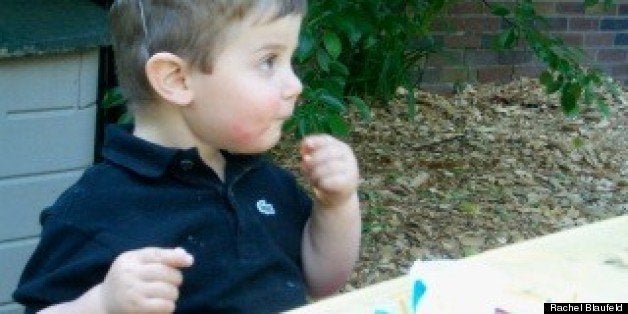 My baby is turning 10 this weekend, and I would happily give up my slice of birthday cake if he did not have to grow any older! That says something because I adore cake... but really, OMG -- 10! I no longer will be a parent of a child who is single-digits, but two growing and maturing sons in the double-digits. When my older son turned 10, I set about a new groove for myself. Quite simply, I created a line of products, went back to my writing and marketing roots, and started this blog in an effort to fill a void left by my oldest's upcoming independence. After a decade of parenting my oldest, I felt the change in the axis. He was spreading his wings, having more get-togethers with friends, doing his homework on his own, and challenging his boundaries. I know now that all of this just increases with each added year to 10.
Now, my baby is entering this territory and I am crushed.
With my first child, like many other parents, I anxiously awaited each new stage. curious about what each new year would bring to our lives: Walking, talking, big boy underpants, no more nap, preschool, kindergarten, drop-off play dates, birthday parties, laser tag, sleepover camp, sports teams, swear words, math homework that I have NO idea how to do, texting girls, and deodorant have been just a few milestones that have marked our lives over the years with my oldest. Now, my baby, who has reached each milestone a little differently with his own style, sometimes sooner, other times later, is turning a DECADE old. I was excited to watch my big guy hit these marks because they were all so new, and I had no idea what it would ultimately mean. This time, I know. I know it is the end of an era. It means saying goodbye to a much simpler time.
I want to stop it. I know that I am trading minor problems, like remembering his lunchbox, for big ones, like hormones. With each new territory son #1 hit, I remember hearing myself say to son #2, "You will get this, or do this when you are [insert double digit age]" in response to his demand that he do everything the same as his older bro. Well, shoot. Now we are here at age 10 when I made promises for later bedtimes, more independence, and if I think back hard enough -- a cell phone. Crap. Crap. Crap.
My little guy, the baby who I was not sure was going to be a reality, is at a huge crossroads. Selfishly, I have allowed him to be a bit of a contradiction. While he often emulates his older brother and is way more privy to mature content, I have babied him. "Tantied" him, my bubbie would say in Yiddish. I could not help it. He is my baby, and after he hits the BIG 10 there is no going back for me. So what if I let him get away with things I never let his brother do???
I don't even feel old. That is not at the crux of it. It is the thought of the kisses and hugs slipping away, two smelly adolescent boys instead of one, and the very normal grasp for greater independence. I have never liked packing lunches more than this week. A last vestige of the single digits. A simpler time.
As I write this (over the course of a few days), I see that my still single-digit son has left his lacrosse stick at home and he needs it. Normally, I would not take it to school, but I want to do it this week. My desire to run the stick right into his classroom and squeeze him tight is palpable. Realistically, I know that even at 9 years old, this would be a major violation in public. PDA has been long gone for me. Affection is saved for the wee hours of the morning, bedtime, or when the boys are sick.
So, this weekend as we officially say adios to the single-digits and what I know was definitely a much simpler time, I am going to steady myself for the teen years with not one, but two sons. More than likely, my family will find me tucked away in my closet with a cup of joe, sifting through memory boxes and blubbering. When next week comes, I will be ready. Ready to see how my baby tackles the next decade with only his spunky style, and if you know him -- spunky style is one thing he is not lacking.
Goodbye, Simpler Days. This time around I am not starting anything new, just holding on as tight as I can for the upcoming ride of my life.
Happy Birthday to my Baby.