For the last decade, I've had the privilege of supporting the repatriation efforts of Joint POW/MIA Accounting Command (JPAC) through the research I conduct for the Army, locating relatives of soldiers who are still unaccounted for from past conflicts. Most of my cases involve the Korean War, though I've also done a fair number from WWII and Southeast Asia, as well as a few WWI. In honor of Memorial Day, I've decided to share a memory from one of my earliest Korean War cases. As you enjoy your holiday weekend, please take a moment to remember those who have served us, those who do so today, and those whose dedication in scouring the globe for our soldiers shows that "no man left behind" is far more than an expression.
Arlington National Cemetery is a blustery place in November. Hundreds of rows of neatly aligned, memorial markers sprinkle the landscape as far as one can see, but there is little to prevent the wind from having its way with the living who venture among this ocean of white stones. Forewarned, I had donned long underwear under my black suit and winter coat, but I still found myself shivering as I attended the funeral of a man I had never known.
Though I wasn't related to him in any way, I found myself accepting the flag on behalf of his family. The head of the honor guard, usually so stoic, allowed a trace of emotion to pass across his face as he handed me the flag, and I knew that he was relieved someone was there to receive it.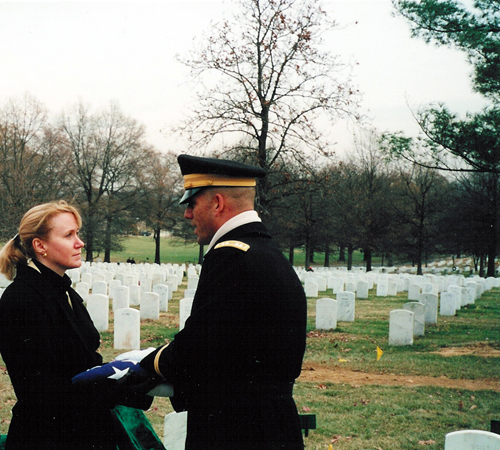 How did I find myself in this peculiar situation? I'm a researcher for the U.S. Army's repatriation initiative. In the years 1950-1953, thousands of American men died or went missing in Korea. Now, more than half a century later, the military continues to do its utmost to find, identify and properly inter the remains of some of our anonymous soldiers.
Over the last six decades the Army has lost track of the families of many of these soldiers. A fire in 1973 destroyed many of the soldiers' personnel records, leaving only basic details. In most instances, the next of kin were parents who have since passed away. In other cases, they were siblings or wives who have moved, changed names, or are now deceased. Two or even three generations have intervened and little has remained stagnant in our mobile, churning world. It's my job to find these families again.
When I succeed, the Army contacts the family and conducts mitochondrial DNA tests to positively identify the remains of the soldiers. When a match is made, the soldier can be laid to rest and his family can release itself from an almost sixty-year limbo of not knowing. Siblings, wives, children, nieces, nephews and cousins finally have a place to go to pay their respects to the loved one who gave his life for his country.
When I make the first contact with a soldier's family, the initial reaction is generally one of quiet disbelief. This is almost always followed by questions, cooperation and even gratitude. It gives me tremendous pleasure to have some small role in bringing these soldiers home to their families. My father served in Vietnam and I had a dear cousin who was killed there. I can't say that I can put myself in the shoes of these startled family members when I cold call my way into their lives, but I'm familiar enough with their world to know that most of them are pleased to be found.
So I was rather surprised when I learned that the family of one of "my" soldiers was not coming to his funeral. The ceremony was scheduled, but only the priest and the honor guard would be there. Today's sophisticated technology was rendering the "unknown soldier" an antiquated concept, but in so doing, was revealing the almost sadder notion of the occasional "forgotten soldier."
It is understandable to some extent. In many cases, these soldiers have already been grieved twice - first, when they were listed as missing in action, and again when they were officially declared deceased. Perhaps it is just too painful to enter the mourning process a third time, more than half a century later. Preserved in their survivors' memories as heroic, young men, the very mention of these soldiers' names may well return people to a time of young widows and untapped potential. Maybe this explained the absence of this particular soldier's family on that gusty November day.
I suppose it was easier for me, a stranger who knew him only through documents and the voices of his relatives on the telephone, to attend his funeral. I only knew that his sacrifice needed to be acknowledged by someone, and so it was in that strange way that life has, that I found myself receiving the flag from the coffin of a man who had died well before I was born. He is no longer unknown, and at least as long as I live, this soldier will not be forgotten.

Popular in the Community