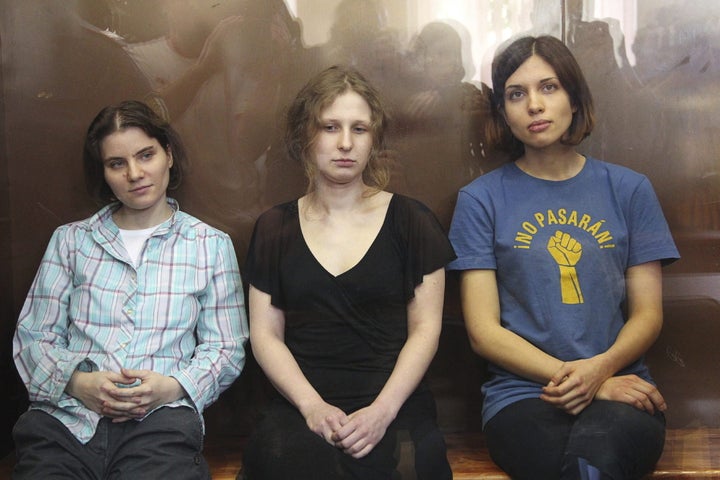 The trial of Pussy Riot has concluded today as expected -- a "not guilty" verdict was not an option for the Kremlin-controlled court that happily engaged in a politically motivated circus in which canon law took precedence over the constitution.
The final verdict, which took almost three hours to read while everyone but the judge was standing, offered a recap of the absurd trial focusing on the blasphemous, sacrilegious, and otherwise sinful or Satanic nature of the anti-Putin punk prayer staged by the group in Russia's main cathedral in February. Though Russia doesn't criminalize blasphemy, the authorities often use laws that are meant to combat hate crimes -- extremism, incitement, and hostility/hatred statutes -- to prosecute artists, independent media, and LGBT and other civil society groups.
Referring to the girls as "hooligans," equating the punk prayer with an act of "vandalism," and repeatedly referencing the girls' clothing, gestures, and blasphemous words while reading the verdict, the judge convicted them of premeditated hooliganism motivated by religious hatred -- article 213.2. It's a serious charge that is often used to prosecute skinhead and ultranationalist groups responsible for acts of actual violence, so the dangerous Pussy Riot criminals will spend two years in prison.
Pussy Riot aren't the only victims of Russia's misguided pursuit of extremism and persecution of dissent, but the amount of international attention garnered by the case and the global campaign for Pussy Riot are unprecedented for a Russian cause célèbre. The guilty verdict ought to re-energize the group's supporters who staged dozens of events and got thousands of people -- including celebrities and public officials -- to sign petitions or speak out against the disproportionately ruthless reaction of Putin's regime.
There are many more victims of the miscarriage of justice and the misuses of extremism statutes in Russia, and they all need our support. Russia's illogical approach to addressing hate crimes through the prism of extremism has led to the persecution of nonviolent dissenting voices including journalists, activists, independent media and religious organizations. Maxim Efimov, a blogger in Karelia, has faced erroneous extremism charges for his comments critical of the Russian Orthodox Church and is now seeking asylum in Estonia. The street art group Voina, of which Pussy Riot's Nadezhda Tolokonnikova is also a member, has fought numerous legal battles for allegedly extremist offenses. The Jehovah's Witnesses, Scientologists, and Muslims are facing religious persecution all over Russia.
Feminism was used as a derogatory slur by one of the witnesses in the Pussy Riot trial, but the country has yet to declare it extremist. But Russia's views on gender relations, gender equality, or gay rights -- all key priorities for the punk band -- have already pushed one court to declare extremism in the activities of an LGBT group. This year, a regional court banned Sochi Pride, an LGBT organization, from the 2014 Winter Olympics. The decision against Pride House stated that "propaganda of nontraditional sexual orientation 'inherently incites' social and religious hatred" and is therefore a direct threat to Russian society and even statehood, calling all attempts to confront homophobia extremist.
Though Maria Alyokhina, Nadezhda Tolokonnikova, and Yekaterina Samutsevich will be out of jail by the time Sochi-2014 rolls out, it is highly unlikely Russia's "extremism problem" will go away soon. With President Putin's approval ratings at a post-election low, it's easy to see further abuses of government authority directed at Russia's civil society, which is increasingly challenging the Kremlin's grip on power. While the Russians will ultimately decide their own destiny, we on the outside must stay informed and keep insisting that the Kremlin respect its constitution and uphold international obligations that it had willingly made.
Support HuffPost
The Stakes Have Never Been Higher
Related
Popular in the Community