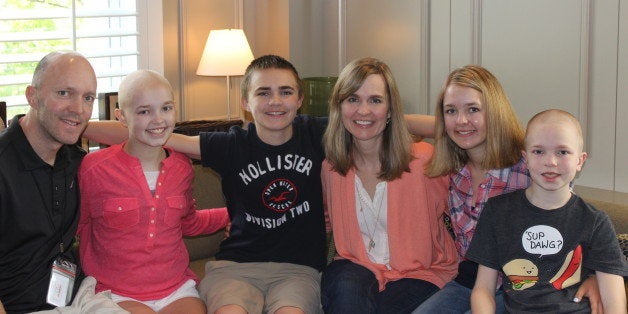 There are six people in our family. We have six chairs around our table, six bikes in our garage, six cell phones in chargers and six schedules on our calendar. No matter where you look in our house, there are visual reminders that we are a family of six.
A year ago, our family of six spent a week in Arizona hiking the beautiful mountains of Scottsdale and Sedona. As we watched the sunrise from the mountaintop, I felt so much gratitude for four healthy children, a 19-year marriage to my college sweetheart, and (thanks to my husband's job) years lived in a variety of incredible places in the U.S., England and Japan.
Around the Christmas holiday, our 12-year-old daughter, Samantha (Sam), was not healing properly from a broken leg acquired in a fall soccer game. It seemed odd that she was having such a hard time bouncing back from the injury and the quiet voice in my head seemed unsatisfied with the thought that her muscles had atrophied so much that the simplest tasks such as walking were causing her so much pain. The month of January 2014 is best described as a blur, as we were given the devastating news that Sam has stage IV metastatic Ewing sarcoma, a rare bone cancer, that hid in her pelvis and spread to both her bone marrow and other bones in her body. It is an aggressive cancer with one of the most horrifyingly low long-term survival rates of all childhood cancers.
Nothing could have prepared us for this next mountain our family would be forced to climb. The journey up the rugged mountain of childhood cancer is terrifying and unpredictable. We grappled with how this could happen so quickly and be so destructive. Just months prior, she was playing in our state golf tournament, winning basketball games and tumbling in our basement. My husband and I embraced each other, overcome with fear as unprecedented physical and emotional stress engulfed us. Our other children were angry, overwhelmingly sad and scared. Our family of six and my vision of the future would never be the same.
Sam and I have moved to St. Jude Children's Research hospital in Memphis, Tennessee, where she is receiving cutting edge treatment and a new clinical trial for Ewing sarcoma. Sam is the second child on a new protocol that is hoping to change the previously grim statistics for her disease. She has endured 13 rounds of chemotherapy, is currently finishing what will be 47 days of radiation and has had over 20 blood transfusions to date. Her treatment will last through the beginning of 2015. She is currently doing well, although as every parent of a child with cancer knows, I hesitate to say that, let alone write that. I have no control over the future, and so I am slowly teaching myself not to live there.
"It's just a rainy day." That is how my daughter spontaneously replied in an interview with our local television station. Her words play over and over again in my head as they echo the honest way she has chosen to view her disease. Sam understands the mountain she is climbing, yet she has no self-pity and zero anger, just gratitude and spunk. Gratitude to the thousands of people in the past who have already joined the fight against childhood cancer and allowed her to have an improved treatment plan. Gratitude to the doctors and the researchers who can't wait for the day that they are "out of a job" because cancer is no longer a threat to our children. Gratitude to St. Jude for welcoming us with open arms during our darkest days.
Without a doubt, St. Jude has given us the best gift possible -- hope. Hope for a chance to cure Sam of cancer. Hope to remain a family of six.
St. Jude has also given us a huge appreciation for life. Our emotions are raw as we embrace the ordinary, celebrate the miraculous, and find strength to push through the most adverse times.
St. Jude families experience the unique feeling that an entire hospital is rallying around the life of their child. From loving nurses who remember the names of absent siblings, to doctors who treat you like family, and researchers who recognize and greet you in the halls, this place is like no other.
September means the excitement of back-to-school, the thrill of American football and the beautiful onset of autumn. September is a spectacular celebration of all of those ordinary things. September is also Childhood Cancer Awareness Month. It honors the alarming number of children and families in our country and worldwide who have had their lives shattered by a cancer diagnosis. Climbing the mountain of childhood cancer has been the hardest journey our family of six has ever taken. Our hearts break daily as more children are diagnosed and more families have to suffer. What is needed? Please consider joining our fight. Raise your awareness by visiting www.stjude.org. Show your love and pray for those who are suffering from the number one cause of death by disease in our precious children -- childhood cancer.
We are a family of six. My greatest fear is the empty chair. Please help end the devastation of childhood cancer.
Support HuffPost
A No-B.S. Guide To Life
Related
Popular in the Community