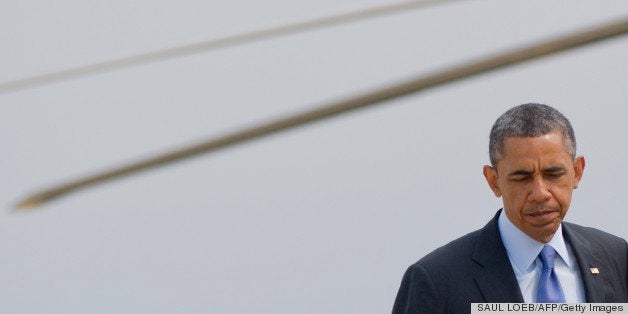 President Obama and the Democrats in Congress have had at least two chances since the 2012 election to act on their promises to the LGBT community and have failed on both. Last week we saw Democratic senators cave to the threats of Republicans rather than stand up for LGBT bi-national couples on immigration reform. And almost five years into his administration, President Obama still refuses to take the single most effective step he can take to ensure equality of opportunity for millions of LGBT Americans: signing a promised executive order that would require federal contractors to add sexual orientation and gender identity to their existing nondiscrimination policies.
So where does this leave the LGBT community as we approach Pride Month and the intensive annual fundraising effort by the Democratic Party targeting us?
A little over a year ago, activists and donors were furious when President Obama's aides called LGBT advocates to the White House to inform them that the president would not be signing the promised executive order "at this time." Many took "at this time" as election-year code for "don't worry, we'll do it once the president is safely in his second term." I was highly critical of the decision, calling it cowardly and craven election-year politics.
In an editorial of his own, Andrew Tobias, the DNC treasurer and chief fundraiser, desperately tried to calm angry donors by implying that the president would do the right thing after the election. Even though President Obama could have signed it on Day 1 of his administration, the DNC treasurer argued that a quarter of the nation's workforce covered by the executive order -- more employees than Walmart and McDonalds combined -- should just wait. Why would we "risk everything to get it a year sooner?" he posed.
We are now six months past the election, and although the president has taken some substantive steps toward advancing equality, failing to protect LGBT employees in the workplace has become a glaring, festering omission.
Just last month the president placed a phone call to Jason Collins, the NBA basketball player who had just become the nation's first professional male athlete to come out while active in one of the four major sports leagues. "I told him I couldn't be prouder of him," Obama relayed to reporters in the White House briefing room. "I think America should be proud," he offered. "This is just one more step in this ongoing recognition that we treat everybody fairly, and everybody is part of a family, and we judge people on the basis of their character and their performance and not their sexual orientation."
Exactly. It's a fundamentally American ideal: We judge people on the basis of their character and their performance. And it took courage for Collins to declare that he is gay precisely because unfair prejudices still exist. Otherwise, it would not have been news.
Unfortunately, Collins can still be legally be fired in 29 states simply because he is gay. The president can do more than just praise Collins. He can lead on this issue, as he acknowledged in a 2010 interview with Kerry Eleveld. "Let me just say there are still a lot of things we can do administratively even if we don't pass things legislatively," Obama said during the interview. "So my ability to make sure that the federal government is an employer that treats gays and lesbians fairly, that's something I can do, and sets a model for folks across the board." That is exactly what we need him to do, not just say.
Last week Freedom to Work filed an employment discrimination lawsuit in Illinois against federal contractor ExxonMobil for anti-gay hiring practices. This notorious corporation refuses to adopt an equal opportunity policy for LGBT workers, yet it has raked in more than $1 billion in taxpayer-funded contracts. If President Obama had signed the promised executive order, Freedom to Work could have also filed a complaint against Exxon with the Department of Labor based on additional evidence of discrimination that they found in Texas, where anti-gay bias remains perfectly legal. The Obama Labor Department could have then compelled Exxon to adopt LGBT-inclusive policies if it wanted to continue profiting from government funds. But that opportunity has been lost because of White House inaction.
What are we to make of a president who speaks the right words, has the power to put them into action and yet willfully chooses not to do so?
President Obama is well aware that Title VII of the Civil Rights Act of 1964 -- which prohibits workplace discrimination against people on the basis of race, among other things -- was the descendant of an ideal first codified into law by President Roosevelt in 1941, when he signed an executive order barring racial discrimination by federal defense contractors. It's an executive order that remains in effect today.
The truth is that, historically, executive orders have been used to advance civil rights and have consistently created strong foundations for equality legislation later passed by Congress. The proposed executive order for federal contractors is no different.
Nevertheless, White House aides, attempting to shift responsibility, insist that the best way to jumpstart workplace fairness for LGBT employees is passage of legislation known as the Employment Non-Discrimination Act (ENDA). This is nothing more than a diversion intended to abdicate the president's moral responsibility.
"ENDA is a priority," senior presidential advisor Valerie Jarrett told Reuters last month, trying to deflect questions about the president's refusal to sign the executive order. Jarrett added, "We want to continue to advocate for legislation. We think that that's the most robust way to accomplish what we want to accomplish."
During his first campaign, the president promised to lead the charge to enact employment nondiscrimination legislation (in fact, he promised to "pass" ENDA) and end taxpayer-funded discrimination by signing the federal contractor executive order. Now we need to see him act on both. This is not an either-or scenario.
"From Seneca Falls to Selma to Stonewall" was a lovely sentiment dropped into the inaugural address that many hailed as a progressive manifesto. But pretty words are not worth a damn to someone who loses their job and their financial security simply because they are gay, lesbian, bisexual or transgender while the president looks the other way.
We've done our part -- over and over and over. Now we need to see concrete steps from the president and Democrats in Congress to address these issues. And we won't accept any more excuses.
Popular in the Community