Originally published on Youthradio.org, the premier source for youth generated news throughout the globe.
By: Reginald Dwayne Betts
My story was included in an amicus brief in the case decided today by the U.S. Supreme Court. The court ruled against sentencing juveniles to life without parole in cases that don't involve murder. Many young offenders will now have an opportunity to become productive citizens.
I was a juvenile offender who spent more than nine years in adult prison, and my offense could have put me in there for life. Since I've gotten out of prison, I performed the college commencement speech at the University of Maryland, I published my memoir A Question Of Freedom, and I entered grad school. I'm making the most of my freedom, but I know others who will never have the same shot at redemption.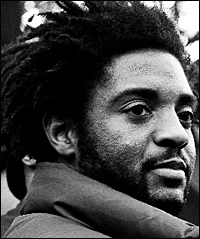 I met a guy even younger than I was waiting for the bus to go to prison. I'll call him Rashid. His voice still carried the cracks and high notes of adolescence, and his smooth face had never seen a razor. We were headed to Southampton Correctional Center in Virginia.
No fewer than a dozen of us were teenagers, all with peers at home waiting on driver licenses, graduations and proms - while we waited for a prison cell. Rashid's time was legendary: three life sentences with no chance for parole. It meant he awoke each morning knowing he would one day flatline in a cell. His story is a cautionary tale. He committed a terrible crime that didn't involve murder, but up until today, the justice system gave him no hope.
When I looked at him, I remembered the judge looking down at me, asking if I understood my charges could carry a life sentence. Rashid wasn't old enough to drive, vote, or serve on a jury of his peers - but he was old enough to walk out of a courtroom with a sentence that ends in a casket. After I met Rashid, my nine-year sentence for carjacking seemed like a gift.
Everything I did while incarcerated meant something to me because I could envision a day when I'd be free, and that vision pushed me. There were others who guided me: Jose who helped me teach myself Spanish, Mike G who pushed me to study law. They, too, could see a life not defined by bars and cuffs - but for too many people the violence of prison stifled dreams. Over six months I watched Rashid experience things that would leave anyone lost in depression: theft, beatings, the cloud of rape. A life sentence makes that permanent.
There is an absolute loss of hope for juveniles sentenced to life in prison. A life sentence without parole makes it far too easy to become a part of the violent world of prison, as predator or prey.
I can't imagine what I would have done had the judge sentenced me to life. I can't imagine walking around daily knowing a grave was my only way out. Because I had a release date, I recognized that the time was a way for me to improve myself. Seventeen hours each day to read, study and exercise - to think and become a man far different than the sixteen-old boy who plead guilty to carjacking.
As teenagers, our lives are impulse and reaction. I'm not the same person I was at 16. No one is. The difference between a person at age 16 and 25 or 30 years old is huge. Juvenile offenders, who are years away from the maturity and sensibility of a 25 or 30 year old, need to know that society believes there is a possibility that they can be more than their crimes. They need to know that society believes rehabilitation is real.
All any incarcerated juvenile wants to believe is that life can be more than a series of cell doors.
Youth Radio/Youth Media International (YMI) is youth-driven converged media production company that delivers the best youth news, culture and undiscovered talent to a cross section of audiences. To read more youth news from around the globe and explore high quality audio and video features, visit Youthradio.org
Calling all HuffPost superfans!
Sign up for membership to become a founding member and help shape HuffPost's next chapter