Members of the Sikh community are upset after finding shirts with the phrases "No More Ragheads" and "No More Towelheads" being sold on the merchandise website CafePress.
The slurs, which refer to people who wear turbans, could potentially incite violence and bigotry toward Sikhs and potentially members of the Muslim community, Rajdeep Singh, the Sikh Coalition's director of law and policy, told The Huffington Post.
Singh said he recently read an article describing the popularity of merchandise with similar messages. Disturbed by this, he decided to conduct a search for himself and stumbled across the shirts.
The group also attached a petition that received nearly 2,000 online signatures on Friday.
While some might see the shirts as harmless, Singh says it's hard to see past the messages.
"That's not just demeaning, that's threatening, and that's the problem," Singh told HuffPost, pointing to hate crimes and violence against members of the Sikh community in the post-9/11 environment.
Singh says he hopes the group's efforts gain support beyond the Sikh community.
"This isn't a concern of just the Sikh community, it's a concern of people anywhere," he said.
The Huffington Post made several requests to CafePress for comment but has not received a response. As of Friday afternoon, the shirts were no longer available on the website.
A variety of other shirts with controversial messages have ruffled the feathers of several organizations in recent months.
The company eventually pulled the product and issued an apology stating they "agree that the 'Too pretty' t-shirt does not deliver an appropriate message."
Public relations representatives for CafePress responded Saturday with the following statement:
As you may know, CafePress is an automated service that allows users to upload merchandise designs into online shops and/or the CafePress marketplace. The range of user-designed products varies widely in topic. As is the case with user-generated products, we often receive merchandise images from customers that others find distasteful, offensive and at times unacceptable based on our content usage policy. We encourage our customers to notify us at cup@cafepress.com if they see user content on CafePress that they feel violate our policies.

In reference to the products in this particular story, we were notified about these products and the petition/open letter to Bob Marino late this morning, at which time the product images were immediately reviewed. Upon review against our content usage policy, we found the content to be unacceptable within the rules we've laid out.

We regret any problems or concerns caused by the images in question.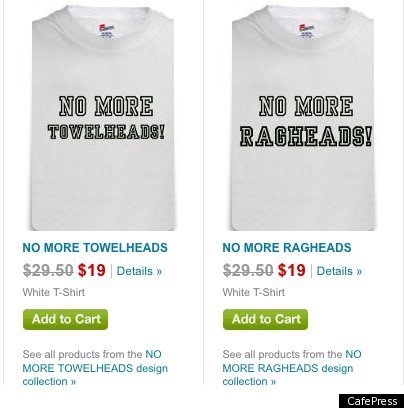 Support HuffPost
The Stakes Have Never Been Higher
Related
Popular in the Community