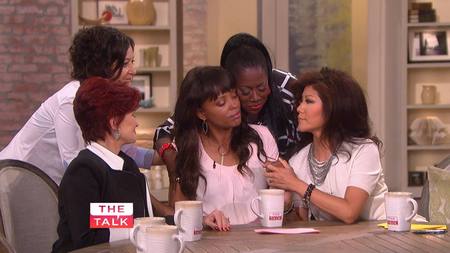 On Tuesday morning, when I came out of my eleventh hour of seeing patients, I looked at my phone, as I always do, to see if I had any patient calls or texts that needed a response. Instead, on the front of my iPhone screen I saw this message: "Are you watching The Talk??? Aisha is sharing your story." I will admit that I went into a sort of panic for a moment -- I had a paranoid fantasy that a stranger was talking about me on national television. I wrote my friend back immediately in a single-syllable query: "Huh?" Happily, it only took my friend seconds to write me back. She explained that Aisha Tyler wasn't literally talking about me. The text explained what I wouldn't be able to witness firsthand until later that night:
Aisha was sharing the fact that despite her 'late' age and newly-stable job on The Talk, she and her husband rethought the childless-by-choice decision they had previously made. After trying, they found out that they had only a 5% chance of ever having a child. And ultimately, she and her husband decided that it wasn't worth it, and they decided to stop trying. She had never shared that story before with her coworkers and she just shared it with the entire country... in tears.
My friend explained, "I tried to catch you before she finished. It was very moving and I thought of you and your story."
WATCH: The Talk: Aisha Tyler Reveals Fertility Struggles
I was, I can tell you, a bit relieved that Aisha Tyler was not literally telling my story, but her story -- though sadly, this was also my story, and the story of countless other women. At the same time, I felt relief on a grander scale -- Aisha, in talking about this on television, was taking some stigma out of this taboo topic. I could feel it. This, I thought to myself as I responded to the message from my friend, is a big moment in changing the attitude about childlessness after infertility.
When Aisha (at 42 years old) began to tell her story, there was an air of expectancy. It seemed her fellow cast members expected her to announce a pregnancy. When Aisha began to tell her story about trying to conceive, she said, "I'm old, though," and a cast mate interrupted, "Oh, no, you're not!" Alas, in terms of trying to conceive, the reality is that Aisha is old. Just like her cast mate, much of the media gives out this "never too old" myth. But Aisha (God love her!) came back with the truth and the facts: women in her age group have a 2-8% chance of conceiving with IVF. She said her personal odds stood at 5%. When I heard Aisha announce those odds on television, I wanted to hug her (I know that pain and I feel for her!). I also profoundly admired her for telling her story and disabusing the nation of the "never too old" misinformation. To this very day, when I (at 48 years old) tell people that I am infertile, I am often given anecdotes about women who got pregnant at my age. I know that these storytellers want me to have hope, but at this point in my life, I find reality to be more comforting than anecdotal stories of winning the baby lottery.
There were so many big moments in the short segment during which Aisha shared her secret that I could write about, but this is a blog, and not the beginnings of a doctoral dissertation. For me, the most significant one was when Sharon Osbourne said, "Do you know what makes me even sadder? That you kept this to you and Jeff [Aisha's husband]. It must have been so hard coming in here every day and doing what we do." Sharon is right, it is hard to keep your infertility struggles a secret, but mostly it is harder to share them with people (at least it was for me). I know that when I was in the middle of my infertility treatment and I would dare to admit to someone that I was undergoing treatment, I always felt the need to whisper about it. If someone outright asked why we didn't have kids, I would come up with euphemisms that might make the listener more comfortable: "We haven't been blessed," or "We would love to, but it just hasn't happened yet." Those options were always met better than anything more direct. And for me, it took years to be able to say out loud, without shame or fear of the advice I was about to receive, when asked by someone if I had children, that "I didn't but I had undergone many rounds of assisted reproductive endocrinology," and "Yes, thanks for asking, I had relaxed and tried acupuncture and herbs and every other thing, save sacrificing a goat on a full moon -- and I still didn't get pregnant."
Aisha shares why she is breaking her silence about her struggle with infertility in an interview on Glamour.com:
A lot of women are going through [infertility], and I feel like sometimes they are made to feel badly or ashamed -- like 'Oh, you're not being hopeful, or you're not being positive if you decide to ignore the 95 percent and focus just on the 5 percent.' A lot of women put their bodies through a lot [with IVF] and spend an incredible amount of money for a procedure that every doctor shows you, 'This is the probability that you will get pregnant.' I think everybody wants to ignore that and be, 'I'm going to be the 5 percent or the 2 percent that this isn't going to apply to!' I just wanted women that were also in this stage to feel like they're not alone and they're not the only ones going through this. But also know that if you feel like, 'Maybe this isn't for me,' then that's an OK choice to make too. And you're not a bad woman if you don't want to put your body through this or wreck your finances because of it. There are many ways to become a parent, and I wanted other women to not feel so alone about it.
Infertility and the resulting childlessness can be extremely lonely -- I felt that in my journey. When I was done trying to conceive, I didn't know where to turn to find others who knew this pain. I Googled, looking for others who were going through this as a source of comfort and camaraderie. It took some time, but I found other voices, voices like Pamela Tsigdinos and Lisa Manterfield. And out of my own need to talk about the experience, I began to give voice to it on my own blog (and here on The Huffington Post). This September, the voices are growing louder and stronger, first Aisha and then this incredible Op-Ed in the New York Times, "Selling the Fantasy of Infertility" by Miriam Zoll and Pamela Tsigdinos. And on Friday, September 27, 2013, there will be an unprecedented forum in New York City, called "The Cycle: Living a Taboo," in which there will be authors, doctors, psychologists and those who endured failed infertility treatment.
I am going to be one of many voices convening at "The Cycle" to further destigmatize infertility and childlessness. I chose to be a part of this extraordinary event as I, like Aisha, am determined to do what I can to take the taboo out of this topic. I refuse, like Aisha, to carry my childlessness in me like a shameful secret. I want to share my story and help others learn that they aren't alone. I want to say, 'I tried and tried and tried (against the odds that I ignored), and I didn't get pregnant and this is how I managed to let go of that dream, move on, and find an unexpected happiness (even when I thought I could never be happy without a child).' I want to give other women the opportunity to know that, like Aisha, it is important for them to be able to share their secret without shame.
Please join us at the BMCC Tribeca Performance Arts Center Theater #2, "The Cycle: Living A Taboo" at 8 p.m. To reserve a ticket and for more information, please visit this website.
Support HuffPost
The Stakes Have Never Been Higher
Related
Popular in the Community