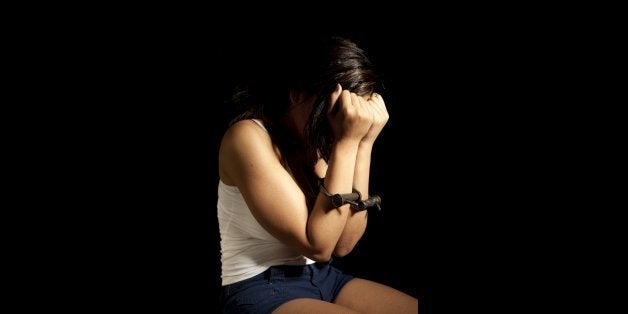 There will be no flowers for them this Sunday, no handwritten cards on construction paper, no lunch, no love. Thousands of women and girls are enslaved in sex trafficking in the United States. Some of them are mothers who were lured into slavery when traffickers posed as potential life partners who would be fathers for their children. Others were lured into schemes for higher paying jobs. I learned of these stories while I was serving on the President's Advisory Council on Faith Based and Neighborhood Partnerships, which has developed recommendations for how the President can lead the global fight against modern slavery.
Mothers around the world are watching in horror as activists pressure the Nigerian government to take meaningful action to rescue over 200 of Nigeria's most promising young girls who were kidnapped and sold into slavery. At the same time, we must not fail to see the sex slave trade's many victims, including desperate mothers, hiding in plain sight all around us.
Some months ago, an activist and leader in the Modern Abolition movement shared with me the following story. I have changed much of the identifying characteristics such as name and national origin. Anna lived in poverty in Colombia, a victim of domestic violence who had separated from the father of her two children and lived with her mother. She met a man who came to her village, romanced her, and promised to be a father to her children. He brought Anna and her children to live with him in his village for most of a year, where he treated them well and promised to start a new life together. The man asked Anna to come to the US with him to work and save money, leaving the children in his family's care until their return. She naïvely agreed to enter the US illegally, told by her trafficker that they would be able to obtain citizenship. Instead, Anna was given revealing clothes and a box of condoms and forced to sell sex. She was told that if she refused, her children would be beaten and denied food and care. Anna was moved from house to house in an underground system of brothels, denied the ability to make contact with her children or the outside world, and physically and sexually abused by her trafficker. At one point she was allowed to speak to her mother, who told Anna that she had heard that the children were seen begging for food, malnourished, drinking alcohol and smoking cigarettes. Later, it was suspected that this information had been planted with her mother to make Anna more desperate and willing to comply with her trafficker's demands in hopes of returning to them.
A person charged with bringing Anna from one brothel to another helped her escape. She was brought to the authorities, who have helped her and reunited her with her children. The investigation into her traffickers is ongoing. One of the cruel ironies of modern slavery is that victims were historically treated as criminals owing to the crimes they were forced to commit, a profound injustice that the Trafficking Victims Protection Act of 2000 strove to address by providing for the classification of trafficked persons as victims rather than criminals, providing a limited number of special visas, and promoting means to reunify victims with their families.
Trafficking is a high profit, low risk global industry totaling $32 billion per year and its forms include labor trafficking, sex trafficking, debt bondage, involuntary domestic servitude, forced child labor, and the use of child soldiers. Traffickers disproportionately prey on the poor, the homeless, and communities of color, often exploiting victims of war and economic inequality.
Stripping its victims of family, community, and even identity, the horror of trafficking is slowly and steadily coming into view. As a rabbi, I work with colleagues to build community networks in the health care, hotel, transportation, and law enforcement industries to raise awareness, identify, rescue, and defend slavery victims.
Every mother knows that it indeed does take a village to raise a child. As a society, we need to understand that when communities fail, one of the unfathomably cruel attendant costs is the enslavement of women--and children.
For those who have the comfort and security to experience joy this Mother's Day--smell the flowers, taste the brunch, feel the kiss. But reserve some of your energy to fight for the women who lost their freedom trying to care for their children. Let us make Mother's Day a day for all mothers.
The National Human Trafficking Resource Center, the national hotline for all issues related to modern slavery, can be reached at1-888-373-7888.
Popular in the Community