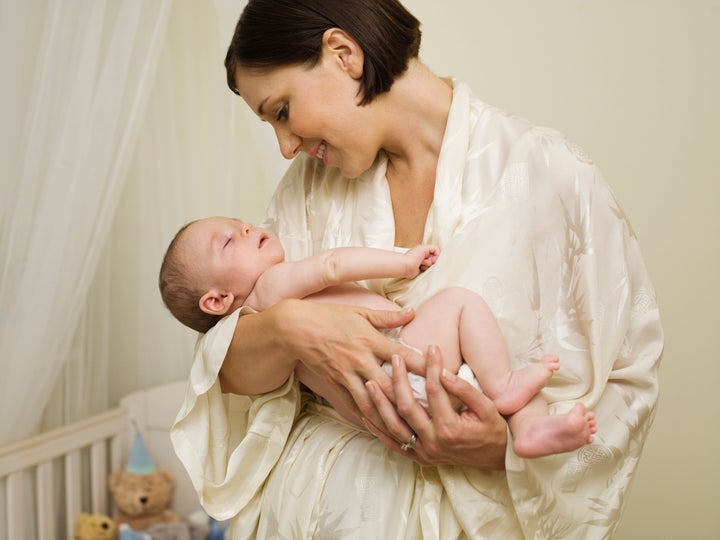 Every 90 seconds, somewhere in the world, a woman dies from a pregnancy-related complication. This isn't just a "third world" problem. The United States currently ranks 50th in the world for maternal health. It is safer to give birth in Bosnia or Kuwait than in California. But what we do here ultimately affects women everywhere. This is a matter of inequality and political will.
When I was eight months pregnant with my first child, my cousin died in a San Francisco delivery room giving birth to her third. And while both of my pregnancies were high-risk and dangerous, I did not almost die like my sister during childbirth. She lost her baby after, with only the benefit of quickly administered topical anesthesia, she underwent an emergency Caesarian section to save her life. My best friend had to be raced, during labor, to a second hospital in critical care during her life-threatening delivery. Another close friend hemorrhaged so badly she required twelve liters of blood after delivering. I could easily continue this list with stories of people I know intimately.
Pregnancy can be difficult and complicated and giving birth often dangerous and sometimes life threatening. (Something legislators who fancy themselves doctors seem to be in complete ignorance of.) We don't like to talk about these difficulties and dangers in a culture that idealizes and glorifies motherhood and holds women to manic and ridiculous standards for what is "good." The examples I gave above took place in major hospitals where women had the best care available to them. Imagine what it is like for the literally billions of women with none of those resources. The risk of a woman in a developing country dying in these ways is 36 times what it is in a developed country. Me, my sister, my friends, you or a woman you know easily would have died giving birth in these countries. Many do here. Of the estimated 210 million women who become pregnant each year, 20 million will experience life-threatening complications.
For these women and their families, there is no Mother's Day. That's why this year, the maternal health advocacy organization Every Mother Counts is asking you, women and men, to act in solidarity on Mother's Day to raise awareness and help change the lives of millions of women who will otherwise die becoming mothers.
"We hope this campaign will bring more attention to the global issue of maternal mortality because this is an urgent yet solvable problem," explains Christy Turlington Burns, who founded Every Mother Counts.
The cornerstone of their newly launched campaign, "No Mother's Day," is the following Public Service Announcement, directed by her husband, actor and filmmaker Edward Burns:
Every 90 seconds a woman dies from a pregnancy related death, that's 1,000 women a day
90 percent of these deaths are preventable
99 percent of maternal deaths that took place in 2008 (most recent data from 2010 study) occurred in sub-Saharan Africa (57 percent) and South Asia (30 percent)
50 percent of all maternal deaths take place during the first 48 hours after delivery.
Seven million women a year suffer critical complications. For every woman that dies, another 20 experience debilitating and life threatening harm.
If you are interested in participating, post this video with the following Facebook status: This Mother's Day, I will disappear. Find out why. "No Mothers Day" (link: http://youtu.be/x0w669fZBH8) or Tweet: No phone calls. No emails. No social media. No gifts. My silence will speak for all mothers. http://j.mp/jdx_#NoMothersDay @everymomcounts
It is important to realize the impact of the U.S.'s ranking 50th in the world for maternal health. The shocking rate of pregnancy and childbirth related deaths and "near misses" in the United States was reported on as a human rights issue in the recently updated (2011) Amnesty International study "Deadly Delivery," which identified the scope of the problem and documented the barriers faced by American women, particularly low-income and of color (African American women are four times as likely as Caucasian women to die in childbirth in the United States), in having access to maternal care. Forty-nine countries rank higher than the United States, which has the lowest maternal health care rating in the industrialized world. The study was part of Amnesty International's Demand Dignity campaign to identify and address human rights violations that exacerbate global poverty.
"This country's extraordinary record of medical advancement makes its haphazard approach to maternal care all the more scandalous and disgraceful," said Larry Cox, executive director of Amnesty International USA. "Good maternal care should not be considered a luxury available only to those who can access the best hospitals and the best doctors. Women should not die in the richest country on earth from preventable complications and emergencies."
There are four primary reasons why women are dying:
Severe bleeding after childbirth,
Infections,
Hypertensive disorders,
Unsafe abortion.
Women are dying, largely, because of systemic failures to address their health needs. It is a matter of inequality (women not getting the help they need when they need it) and political will.
In order for these deaths to be significantly reduced two things must happen: pregnancies must be wanted and childbirth must be safe. Those are the goals of Every Mother Counts, the advocacy and mobilization campaign that Turlington Burns founded in 2010. Its aim is to increase education and support for maternal mortality reduction globally.
Turlington Burns, like many women, became committed to this cause after she herself suffered severe complications after giving birth. She is an effective and powerful advocate for maternal health and reproductive rights. In addition to founding the organization, she produced the award winning documentary film, No Woman No Cry, to raise awareness of the issue.
Every Mother Counts has identified five barriers to care that contribute to maternal mortality. These are:
Lack of access to critical care and emergency services
Ongoing and accessible health care during pregnancy
Poverty and insufficient healthcare systems
No access to family planning resources. Access to reliable information and contraception alone would reduce the number of maternal deaths by up to one-third of the current amount.
Little or no post-partum care
According the report cited above, the number of women dying from pregnancy and birth related complications has been declining steadily. But not in the United States. In the United States maternal mortality rates have WORSENED (we dropped from 41st to 50th in the world.) Women here experience higher rates of maternal death than those in nearly all European countries, Canada and several countries in the Middle East and Asia. In addition, the U.S. numbers may be depressed as there are no reporting requirements for maternal deaths. However, as noted in the study, overall, worldwide the rate of decline is less than half of what it needs to be in order to meet goals set by Millenium Development Project Goals.
Many people will look at this headline or the list of causes and somewhat dismissively think "Third world problem. Nothing I can do about it." But the irony of my writing this, today, in the United States, is not lost on me. While true that without a doubt the vast majority of deaths take place in sub-Saharan Africa and Asia, it is also true that every day there are women in this country facing insurmountable and critical problems with maternity and pregnancy related health care that are sometimes fatal.
We have a responsibility to the women to prevent maternal deaths and complications whenever possible. One woman dying from a preventable death, anywhere, is too many.
I have yet to hear Mitt Romney explain what he plans to do about this issue or what Ann Romney has told him that women feel about it. Because clearly maternal mortality involving, as it does, women, is a "women's issue," that needs translation, unlike the economy. I imagine, true to form, there is a perfectly reasonable Republican way to blame women for their own deaths -- they were sluts, they were lazy, they were drug abusers, they were not married, they were not hard working enough and couldn't keep up with their health care bills, they should all just have taken better care of themselves, they were greedy and they were irresponsible. Under no circumstances can it be that women are uninsured, subject to gender-rated fees when they are, don't get coverage for maternity related care anyway, have reduced access to reproductive health care options, often get little or no information about contraception in abstinence "sex ed," have little or no family planning support, suffer from poor education, have limited access to pre-natal and post-partum care and/or are discriminated against in multi-dimensional ways that compound all of these issues.
Why am I focusing on the U.S. if the majority of deaths occur elsewhere? Because what we do here affects the rest of the world. The United States, by pursing health and life impairing "pro-life," anti-family planning, abstinence-only funding development plans, contributed immeasurably to this harm over the years and certain organizations and individuals are divinely driven to pursue this course of action abroad. Every one of the ways in which we can reduce maternal mortality rates is either under assault or explicitly at risk if the Republican party achieves it's explicitly stated goals vis-a-vis women's reproductive justice and health. More women will die when this happens and this is criminal.
Single women with no children who are undecided about who to vote for need to think especially hard about this one dimension of their future and their ability to affect change. If you think, in psychological gated community fashion, that this issue won't affect you or someone you know, I urge you to please think again. Maternal mortality, it's chances and implications, is a serious and legitimate concern to any woman of child-bearing age or the people who care for them.
Popular in the Community