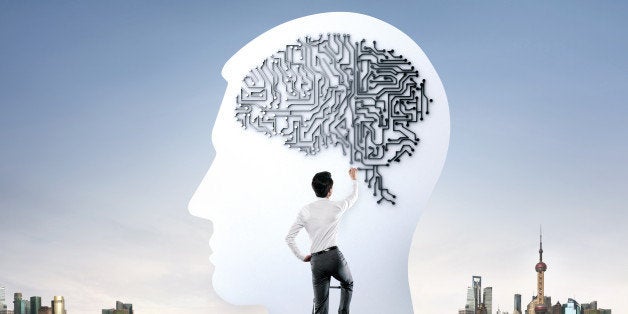 "If we all did the things we are capable of, we would literally astound ourselves." Thomas Alva Edison
Theodore Roosevelt created National Parks which preserve the past; I want to create a National Park which preserves the future. Over one hundred million people in America are suffering from a brain or central nervous system disorder. Current direct and indirect costs related to Alzheimer's is estimated to be over US$ 300B and expected to grow to US$ 1.1 Trillion. Our future is far from secure.
By the time a patient shows symptoms of neurodegenerative disease, many neuronal pathways have been damaged, often irreversibly, and quality of life for the person and everyone around them is inexorably shattered. It thus behooves us to create technologies which will identify people before they become ill enough to express symptoms, thus maximizing chances of recovery and reducing the emotional and financial burden to them, their loved ones and society.
We need a Manhattan Project for the Brain, a place where entrepreneurs, startups, established companies, and talented people from all over the world come together to solve some of the brain's most vexing problems - which are also some of the world's most pressing problems. This would result in an acceleration of the rate of discovery and translation of neuroscience innovations into products which would be of benefit everyone. I have named this concept "NeuroZone". This park could be built in Boston, the San Francisco Bay Area, San Diego or, in the event of a Trump presidency, Canada.
As I sat in the East Room of the White House on April 2nd 2013, listening to President Obama's announcement of the B.R.A.I.N. Initiative, an investment in neurosciences which is set to, over the next decade, rival and surpass the country's investment in the genome, I noticed the overrepresentation of San Diego institutions signaling that San Diego may well become a leading recipient of B.R.A.I.N. grants. However, for San Diego to become the neurotechnology capital of the world, it will have to attract significant private investment, many more entrepreneurs and develop a culture of entrepreneurship and urgency.
In 2012, I had called on San Diego's mayoral candidates to pledge a commitment to the city's infrastructure so that it may attract the best talent and create the neurotechnology innovations of tomorrow. San Diego Mayor Mr. Kevin Faulconer and his excellent staff, including Mrs. Kristin Tillquist, Director of State Government Affairs & Innovation Policy and Mr. Erik Caldwell, Director of Economic Development at City of San Diego, have all warmly received the concept, and the City of San Diego has identified 43 acres of land near the Torrey Pines Mesa, a hotbed of biotech innovation, and is exploring a number of bold financing possibilities to get the project off the ground.
On September 4th 2013, to evaluate the NeuroZone opportunity for San Diego, noted philanthropist Mrs. Reena Horowitz and I hosted a luncheon at the Westgate Hotel with every major scientific, academic and military institution in town to discuss NeuroZone. The City of San Diego, France, Singapore, Israel and Canada were all represented. It became apparent throughout our discussions that a major obstacle preventing San Diego from becoming a hotbed of innovation and entrepreneurship, like Tel Aviv, Singapore, San Francisco or Boston, was the restrictions placed on the flow of intellectual capital in San Diego. A key mutation that had to take place at UCSD in order to have more spinoffs was reform of its implementation of the Intellectual Property Policy, to make it at least competitive with UC Berkeley and UCSF if not with the University of Waterloo where the faculty owns its intellectual property and is one of the most entrepreneurial faculties in the world and whose students are the second biggest academic funnel into Silicon Valley companies. That may well be happening with the judicious appointment of Dr. Paul Roben, Associate Vice Chancellor for Innovation & Commercialization at the UCSD Office of Research Affairs. He has very ably run the Salk Institute's Office of Technology Management and promises a technology policy implementation, focused on efficiency, urgency and reason and one which will serves as a bridge as opposed to a wall between startups and the university.
In terms of venture capital, San Diego lags the San Francisco Bay Area and Boston significantly and efforts to attract outside VC funds to San Diego have thus far failed. That will be necessary as an angel group boasting a large number of members but which deploys very little capital will not be enough to back and nurture a new generation of startups, and without local capital, San Diego companies will be attracted to more fertile grounds.
The rise in valuations in Silicon Valley has been paired with an increased appetite in investment in companies outside of Silicon Valley. Those Silicon Valley VC firms which required a Silicon Valley address as a condition for investment, have given up that caprice. Boston and Los Angeles are benefitting greatly - so could San Diego. The city should follow the example of the Sanford-Burnham-Prebys Institute, who under Dr. John Reed's leadership, appointed Dr. Paul Laikind as Chief Business Officer and successfully attracted VCs to their Florida campus without charging them rent. They in turn invested in a number of spinoffs. As more investors are attracted to San Diego companies, one may be well served to notice that the San Diego entrepreneur has a completely different phenotype than the Silicon Valley entrepreneur. The former has multiple science degrees, is patient and is limited by longer research cycle times; while the latter is younger, has fewer if any degrees, is impatient and tends to be mostly limited by the short cycle time of software. The former is a scientist, the latter is more of a product engineer. Consequently, investors in San Diego companies would do well to join an evergreen, "NeuroFund", fund which would be more attractive to San Diego entrepreneurs than traditional VCs on a 7 year plan. Discussions for an evergreen fund specialized in NeuroZone companies have begun and Qualcomm has pledged US$ 5M to this NeuroFund.
San Diego can attract more talent, but the city has to make clear that it is open for business. The housing crisis in Silicon Valley has priced many entrepreneurially minded Bay Area graduates out of their homes, forcing them to either settle for a safe job in the Valley or take their entrepreneurial aspirations elsewhere. If they are flocking to Portland, Austin, Boulder, Seattle and Venice Beach, one should be able to attract them to San Diego. San Diego needs more ambassadors like venture capitalist Greg Horowitt who has an office in both San Diego and Silicon Valley and who serves ably as Strategic Advisor for Innovation & Commercialization Initiatives at UCSD. MIT and Stanford have a constellation of adjunct faculty which amplify and broadcast their university's successes throughout the world while serving as mentors to entrepreneurially minded students.
A prominent Silicon Valley attorney remarked: "In terms of culture, San Diego is currently halfway between Silicon Valley and Hawaii, it lacks urgency." One my personal friends, Mr. Elon Musk, indicated that Silicon Valley's culture and energy were second to none. In the Fall of 2013, I decided to test drive this idea and opened a satellite laboratory at NASA Ames, at the heart of Silicon Valley. Over a two year period 50% of our best people to leave San Diego, left for Silicon Valley and 100% of those who were not a good fit were locals who remained local. On the other hand, 80% of our best people in Silicon Valley stayed affiliated with the company, and 100% of those who were not a good fit were not from Silicon Valley and subsequently left Silicon Valley. This seems to be a trend: Silicon Valley is depleting San Diego of the very people who could inject energy into it, the entrepreneurs, thus quietly letting the city slumber into a retirement community with an affinity for beer making, relishing in the distant glory of Hybritech days.
Can that trend be reversed? Can San Diego switch this entrepreneurial brain drain and attract a future generation of world class talents like Dr. Irwin Jacobs and Dr. Andrew Viterbi who came to San Diego, from MIT and JPL, boldly disrupted and created new industries with global impact while ushering the city and the region into a new era of prosperity?
The answer is yes, but the city needs to change the way business is currently done. When the Entrepreneur Challenge, the student-led hotbed of innovation on the UCSD campus, is nearly sued by the university, when alumni entrepreneurs' emails are blacklisted by the university, when interns try to steal intellectual property to create their own ventures, when small businesses are being evicted to make place for a concert hall, when a prominent physician peddles companies without disclosing conflicts of interest upfront, when a planned keynote address by an entrepreneur is cancelled because a wealthy donor to the venue hosting the event wants to substitute the speaker, when the San Diego director of a Japanese multinational misses a meeting with a startup because he is on the golf course while its San Jose director flies in 7 EVPs from Tokyo for the meeting, when neighbors in San Diego charge tens of thousands of dollars to design a device enclosure whereas neighbors in Silicon Valley 3D print it for free on the same day, and when the San Diego branch director of a Swiss bank tells startups that they would receive decent service if only they had a minimum of US$ 10M in their bank account, the community is not putting its best foot forward. It can do better; it must do better if it is to be entrusted with some of the world's most precious minds.
Incubators can help change the current culture, from mercenarism to missionarism, but more residents need to have skin in the game and become active in the startup scene either as founders, advisors, investors or personnel. A few years ago, Silicon Valley incubators were happy to expand all the way to Los Angeles but turned down San Diego when Mr. Dany Kitishian presented them with an opportunity. Luckily, Dr. His-Ping Wang, bolstered by his success with the Ansir Innovation center is building a state of the art incubator at Qualcomm. However it is neither fair to Qualcomm nor to San Diego for the city's entrepreneurial efforts to be mostly supported by Qualcomm, whose digital health investments are for the most part outside of San Diego. The entire city has to step up and embrace the challenge. In fact, with Mr. Nicolas Biancamano, I am considering building an incubator within NeuroZone, should it be placed in San Diego, and having left a big piece of my heart in San Diego, have created and personally seeded a foundation to raise the US $160 M in capital needed to develop this area into a National Park for the Brain.
The B.R.A.I.N. Initiative, the current appetite of entrepreneurs and investors to hedge their bets away from Silicon Valley paired with a reform of UCSD and the backing of San Diego's Mayor coalesce into making San Diego a prime candidate for NeuroZone. The White House, The Honorable Chaka Fattah, Representative from Pennsylvania, a leading voice for Neurotechnology in Congress, The Honorable Scott Peters, Representative from California and The Honorable Toni Atkins, California State Assembly Speaker, are all enthusiastically supporting the NeuroZone project. Moreover the United States Congress is looking at ways to liberate funds for the project. What San Diego must do now is change its culture if it is to make NeuroZone a reality and not a mere slogan like "Wireless Health" (subsequently baptized "m-Health" before it became "Digital Health") which San Diego was positioned to become the undisputed leader of over a decade ago, and has thus far failed to champion. All residents need to become shareholders in this venture for the benefit of the region, its people, the United States and the public good.
More broadly, entrepreneurship requires innovation which requires diversity which requires tolerance: bridges, not walls; openness, not intimidation; confidence, not bravado; mindfulness, not hostility; security, not fear; decency, not barbarism. If the winds of intolerance, racism, sexism, xenophobia and bigotry blow through the White House next January, it will become exceedingly more difficult to attract the best minds to San Diego, let alone to the United States, as they have the rest of the world to choose from. Accordingly, after my keynote address at the Neurotech conference in San Francisco this week, I shall be flying out to meet with a delegation of government representatives, mayors and university presidents from Canada and will have to build the NeuroZone there in the event of a Trump victory.
Dr. Low is grateful for comments and suggestions by Professor Sonia Ancoli-Israel, Mr. Steve Chapple and Mr. Stanley Barton on earlier drafts.
Popular in the Community