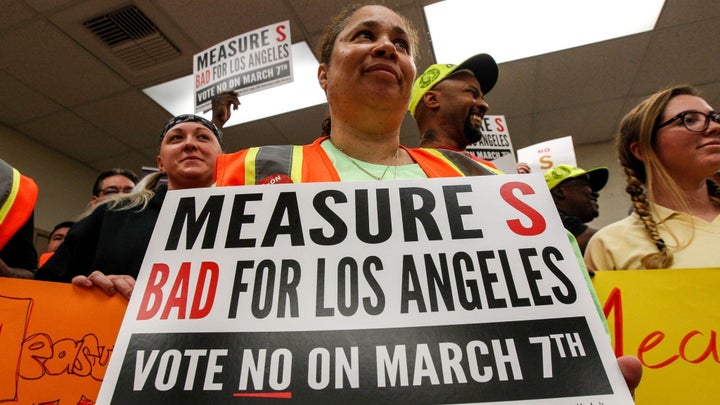 Los Angeles is the least affordable big city in the country. Most working class families and low-wage workers -- even middle class professionals -- can't rent an apartment or buy a home in Los Angeles without spending at least half of their incomes. Depending on the outcome of two ballot measures before the voters this Tuesday (March 7), things could get better or worse. If you want things to get better, vote "no" on Measure S and vote "yes" on Measure H.
Measure S, which is on the ballot in the City of Los Angeles, is a housing ban. Measure H, which is on the ballot throughout the County of Los Angeles, would provide $355 million annually for 10 years to fund a coordinated countywide approach to providing homeless services ranging from mental health counseling and job training to treatment for addiction, expanded outreach, rapid re-housing, help with rent over the short-term, more affordable housing, and improved case management. Services would be offered beginning in July of this year.
Measure S imposes a moratorium on new building in Los Angeles. It is NIMBYism ("not in my backyard") on steroids. It claims to reform the city's broken land use and development system, but it actually makes things worse. The City Council recently adopted a policy to update its General Plan (the blueprint for planning) and 35 community plans, so that part of Measure S isn't needed. The other key part of Measure S – which bans any new development that requires a zoning change – would make it impossible to build new housing for middle class, working class and low-income families and individuals. It would exacerbate the housing crisis.
Last November, 77 % of LA voters approved measure HHH – a tax that will be used for bonds to construct 10,000 units of housing for homeless and very low income people. If Measure S passes, it would essentially nullify Measure HHH. Measure S would block construction of the housing projects that were going to be funded by Measure HHH, including those for veterans. And by imposing a ban on development, Measure S would also lead to higher unemployment, not only among the construction workers who build new buildings but by many others who jobs are linked to the local economy's growth – secretaries, retail clerks, janitors, school teachers, nurses, and many others. One economic analysis projected that Measure S would cost taxpayers $70 million a year – enough to hire over 1,000 firefighters or police officers.
The Los Angeles Times wrote that the Yes on S supporters "crossed the line from run-of-the-mill overstatement to out-and-out falsehood." It added that the "Yes on S campaign has been positively Trumpian in its promises. Be warned: If the initiative is passed, they won't come true."
Measure S's advocates have run a dirty campaign filled with lies. For example, its backers mailed out a campaign flyer with the words "EVICTION NOTICE" under the words "County of Los Angeles Sheriff's Department." It misleadingly claimed that Measure S would protect tenants from evictions. Of course, that idea makes no sense, as the city's leading tenants' rights groups, like the Coalition for Economic Survival and Strategic Actions for a Justice Economy, pointed out.
All of these community activist and tenants' rights groups urge you to vote "no" on Measure S: The Coalition for Economic Survival, Alliance for Community Transit, Southern California Association of Non-Profit Housing, Inner City Law Center, -Koreatown Immigrant Workers Alliance (KIWA), Public Counsel, Bet Tzedek Legal Services, Los Angeles Community Action Network, Strategic Actions for a Just Economy, LA Voice PICO, Pacoima Beautiful, Esperanza Community Housing Corporation, TRUST South LA, Alliance of Californians for Community Empowerment (ACCE), Shelter Partnership, East LA Community Corporation, Downtown Women's Center, Midtown Los Angeles Homeless Coalition, Chrysalis, Hope of the Valley Rescue Mission, Homeless Health Care Los Angeles, Path Ventures, Housing Works, Hollywood Community Housing, Concerned Citizens of South Central Los Angeles, Neighborhood Housing Services, Los Angeles Neighborhood Land Trust, the Trust for Public Land, Little Tokyo Service Center, Thai Community Development Center, Weingart Center for the Homeless, West Angeles Community Development Corporation,
The unusually broad coalition against Measure S also includes Los Angeles Mayor Eric Garcetti, the United Way of Greater Los Angeles, Governor Jerry Brown, the American Civil Liberties Union (ACLU) of SoCal, the Los Angeles County Federation of Labor, AFSCME Council District 36, UNITE HERE Local 11, Asian Americans Advancing Justice, the Natural Resources Defense Fund, the United Farm Workers of America, United Firefighters of LA County, National Organization of Women, Hollywood, the LA LGBT Center, the Los Angeles League of Conservation Voters, Los Angeles Alliance for a New Economy (LAANE), the Los Angeles Area Chamber of Commerce, the Los Angeles Times, the Los Angeles Daily News, the Los Angeles Sentinel, and a long list of faith leaders and academics with expertise in planning and housing. And speaking of strange bedfellows, LA County's Democratic Party, Republican Party, and Green Party all want you to vote "no" on Measure S.
Measure H would provide people who are homeless with the services they need to "get and stay housed," as the Los Angeles Times explained. Officially called the "Los Angeles County Plan to Prevent and Combat Homelessness," Measure H would not only end homelessness for the roughly 47,000 who are currently homeless in the county but also prevent homelessness for 30,000 individuals over the same time period. These include women and children, veterans, seniors, foster youth, and survivors of domestic violence.
The number of people living in encampments, tents and vehicles in LA County increased by a staggering 123% from 2013 to 2016.
Measure H will invest $355 million a year for 10 years in the solutions that have been proven to prevent and end homelessness, including:
Homelessness prevention services
Comprehensive supportive services, like mental health care and job training
Long term solutions like permanent housing
Why do we need Measure H if we just passed Measure HHH last November? They are very different. Measure HHH will build housing for chronically homeless people. Measure H will primarily fund services and shorter term housing to help people get back on their feet—and cover the entire County of Los Angeles, not just the City of LA.
Measure H will support both non-profit homeless service providers, like LA Family Housing in the San Fernando Valley, Union Station Homeless Services in the San Gabriel Valley, Harbor Interfaith Services in San Pedro, just to name a few—as well as public sector agencies like the L.A. County Department of Mental Health. The two initiatives work in cooperation with each other, but focus on different strategies that prevent and end homelessness
If Measure H wins, the Times editorial continued, it would "begin to change the landscape—literally—of our cities, where it has become the norm to find homeless people in tents under overpasses, holed up in campers on streets, pushing shopping carts full of belongings down a sidewalk, or just sitting listlessly in a park."
"The cost of Measure H would amount to about an extra dime on the cost of a $40 sweater," explained LA County Supervisor Janice Hahn. "It would add about $1 to the cost of a $400 TV. So, brother, can you spare a dime?"
"We have at this moment the opportunity to change so many lives—of women, children, veterans, seniors—and to become a shining example of compassion, of inclusion, of hope," said LA County Federation of Labor Executive Secretary-Treasurer Rusty Hicks. "Can we afford to do this? How can we not afford to do this for our sisters and brothers on the streets?"
LA County Supervisor Mark Ridley-Thomas observed: "The need to do something about homelessness in LA County is so profound that practically everybody—whether from business or labor and no matter what their party affiliation—just wants this issue addressed: effectively, prudently, and with accountability. That's why there is no formal opposition to Measure H!"
Said Rabbi Noah Farkas of Temple Valley Beth Shalom: "We believe very deeply that our city stands for something greater than ourselves, and that we do not turn away children or orphans or widows from our doorstep—instead we welcome them in by building homes and providing services for them. Last November we approved a $1 billion bond to build four walls and a roof for them. That will provide the hardware but now we need the software—we need to provide the services that will help people stay off the streets."
More than 300 organizations, cities, elected officials and individuals – many of them the same folks who oppose Measure S -- have endorsed Measure H. These include another broad coalition, including California Community Foundation, Children's Defense Fund, Chrysalis, Climate Resolve, Community Corporation of Santa Monica, Corporation for Supportive Housing, Downtown Women's Center, Heal the Bay, Hospital Association of Southern California, IBEW Local 11, Inner City Law Center, Jovenes, Inc, L.A. County Democratic Party, LA Family Housing, LA Voice – PICO, the LA Community College District, the Los Angeles Area Chamber of Commerce, the Los Angeles County Business Federation, the Los Angeles County Federation of Labor, the LA County division of the League of California Cities, the League of Women Voters, the Mental Health America of Los Angeles, New Direction for Veterans, One LA, Pacoima Beautiful, Skid Row Housing Trust, South Bay Coalition to End Homelessness, St. Joseph Center, UFCW Locals 770 and 1442, Union Station Homeless Services, the United Way of Greater Los Angeles, a Community of Friends, the American Academy of Social Work, Bend the Arc, and the Beverly Hills/Greater LA Association of Realtors.
Peter Dreier is a professor of politics and chair of the Urban & Environmental Policy Department at Occidental College. His most recent books are Place Matters: Metropolitics for the 21st Century and The 100 Greatest Americans of the 20th Century: A Social Justice Hall of Fame.
REAL LIFE. REAL NEWS. REAL VOICES.
Help us tell more of the stories that matter from voices that too often remain unheard.