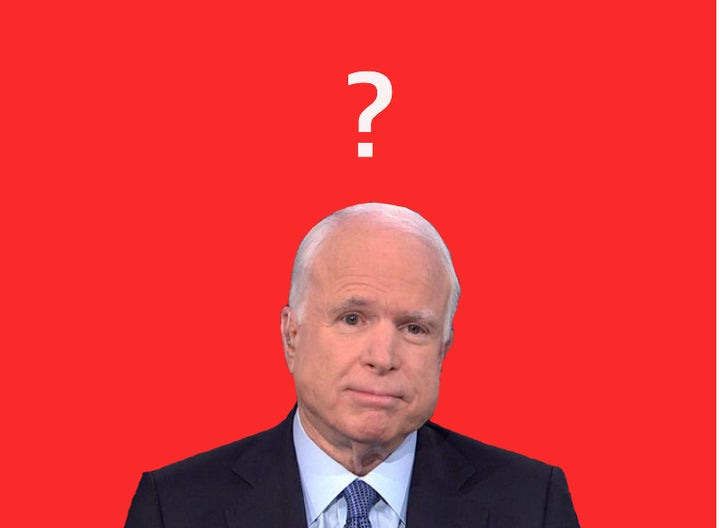 Today, James Comey testified before the Senate Judiciary Committee.  It was an entertaining and eventful two and a half hours. Obstruction of justice by President Trump was implied but not explicitly confirmed.  We learned that Comey did not trust that the president would tell the truth about the content of their meetings, which is why he took detailed notes following each of their nine encounters.  Comey believes he was fired due to his involvement in the Russia investigation, which is certainly troubling, but not surprising—he got the info from Trump himself.
One of the oddest moments of the day came from Arizona Senator John McCain.  In a rambling, largely incoherent exchange with Comey, McCain attempted to draw a parallel between the Hillary Clinton email investigation and the Trump Russia investigation.  But everyone, including James Comey, was confused as to what the senator was asking, or implying, or talking about.
McCain was having a hard time reconciling the fact that one investigation was ongoing, while the other was closed.  He seemed to be attempting to affix the Clinton email investigation to the Trump Russia investigation as if they were connected somehow.  He was meandering, inarticulate and slow.  It was tough to watch, and McCain's frustration at Comey's confusion made the entire exchange all the more puzzling.
Here's the whole exchange:
The political Twittersphere, as it is won't to do, took notice of McCain's slow-rolling meltdown and promptly exploded:
Then, as they always do, the GIFs came:
The memes, GIFs and tweets continue to fly as I write this, and there seems to as many jokes as there are well wishes and messages of concern.  McCain has never appeared this wobbly.  This is the first time his age has really begun to show—and it's hard not to be alarmed and concerned by it.
The man is 80 years old, and today, he looked it.
Washington, D.C. ­– U.S. Senator John McCain (R-AZ) released the following statement today on his questions at today's Senate Intelligence Committee hearing with former FBI Director James Comey:
"I get the sense from Twitter that my line of questioning today went over people's heads. Maybe going forward I shouldn't stay up late watching the Diamondbacks night games.

"What I was trying to get at was whether Mr. Comey believes that any of his interactions with the President rise to the level of obstruction of justice. In the case of Secretary Clinton's emails, Mr. Comey was willing to step beyond his role as an investigator and state his belief about what 'no reasonable prosecutor' would conclude about the evidence. I wanted Mr. Comey to apply the same approach to the key question surrounding his interactions with President Trump—whether or not the President's conduct constitutes obstruction of justice. While I missed an opportunity in today's hearing, I still believe this question is important, and I intend to submit it in writing to Mr. Comey for the record." 
REAL LIFE. REAL NEWS. REAL VOICES.
Help us tell more of the stories that matter from voices that too often remain unheard.
BEFORE YOU GO