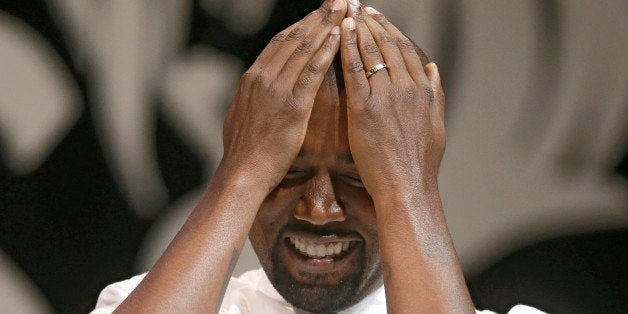 In an article published in the September issue of GQ, Kanye West recounted a comparison he'd made during his 45 minute wedding toast between the current plight of celebrities with those of African-Americans during the Civil Rights Era: "And what I talked about in [the toast]" he said, "was the idea of celebrity, and celebrities being treated like blacks were in the '60s, having no rights..."
Celebrities having no rights? Please allow that to wash over you like the freezing cold waters of the ice bucket challenge. Now I was going to dedicate this piece to joking about how breathlessly tone deaf and ignorant of a statement that is. How West equates celebs being hounded by paparazzi, stalkers, and autograph-seekers (which is harrowing to be sure) to the agony and trauma of the African-American experience during the '60s makes dams burst in my head. It's outlandish, deluded, and just plain wrong -- a false comparison made by someone deeply enrapt in navel gaze, chip squarely on shoulder. In short, a therapist's wet dream. That's not me joking. That's a cold assessment of West's words. West famously never graduated from college and quotes like the one above are a great argument for him finishing. But the better part of my judgement stops me there because before I had time to properly roast this quote, West put the kibosh on such things.
During this year's VMA telecast comedian and excellent mimic Jay Pharoah did funny impressions of both Kanye West and Jay-Z. Carrying off a flawless Jay-Z impression, Pharoah quipped that Jay-Z's new line of cough syrup "Jova-tussin" is available at pharmacies and nightclubs alike, and while impersonating Kanye, he argued that the only artist to watch in music is Kanye -- a dig at the artist's famously economy-sized ego. For his part, Jay Z said nothing publicly about Pharoah's dead on impression (the man is cooler than the other side of the pillow, after all), but Kanye West was less than amused. At a recent concert, West told the crowd that following the MTV Awards he called Pharoah personally and told him "We ain't gonna have no black comedians going up on stage spoofing the people that's working hard to open doors... for black people." And there it was. By edict Kanye West declared that no black comedian can make fun of Blacks Kanye West feels are opening doors for other Black people. Or, in other words, West has in effect, put restrictions on Black comedians, starting with one of the top comedians in the country. Though from West's words, I take it comedians of any other race are more than are free to make fun of whoever they please. According to West there's a different set of rules that dictate what Black comedians are allowed to do. Therefore, as a Black comedian, I cannot laugh or mock West's aforementioned assertion about how the African-American experience and the celebrity experience in 2014 mirror one another. Nope. Off limits.
But maybe I'm looking at this all wrong. By policing my very behavior as a Black comedian maybe Kanye West is doing me a favor. I now know what's inbounds! So I guess thanks are in order? If I can't jokingly disagree with West's notions on race and celebrity I guess my only option is to agree whole cloth. Blacks involved in the turbulent Civil Rights struggle have everything in common with the likes of James Franco, Scarlett Johansen, Ryan Seacrest, and Macklemore -- everything. I mean, when I watch Eyes on The Prize and see stock footage of water cannons turned on Black protesters in the Deep South, I have to be told I'm not watching the Golden Globes. Or remember how the Freedom Riders' bus was burned with the Freedom Riders still inside? Today we see the same raw terror and emotion on the red carpet at the I Heart Radio Awards -- same, same guys. Or what about drama and chaos surrounding the Watts Riots of 1965? The tragedy of The Mississippi 3? The assassinations of MLK, Malcolm X, and Medgar Evers? I mean, who doesn't get as worked up about these events as do about the events covered in the pages of US Weekly or Star?! Kanye West has opened my eyes and there is no going back. The two experiences are exactly, exactly the same. In Hollywood you have gifting sweets, million dollar deals, access, social capital, hedonism, wealth and more -- AKA the same thing Blacks dealt with in the '60s. Agreed, Mr. West! Agreed! I mean, for years Black people didn't have the right to vote and during the Academy Awards only members of the Academy get to vote. Same diff, y'all! One day celebrities will throw off the shackles of their oppressively lucrative endorsement deals and movie franchise money and sing in the words of the old Negro spiritual "Free At Last! Free At Last! Thank God Almighty! I'm Free At Last!"
REAL LIFE. REAL NEWS. REAL VOICES.
Help us tell more of the stories that matter from voices that too often remain unheard.