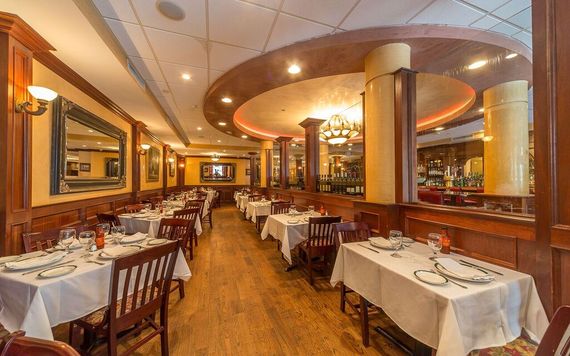 To paraphrase the refrain from the Beatles song "Eleanor Rigby," all the happy people, where do they all come from? If you wish to know one answer, set foot in Ben & Jack's Steakhouse in the NoMad neighborhood of Manhattan and be prepared to see a full house of people who are clearly enjoying themselves to the hilt. Most customers are men--this is a steakhouse--but there are women, too, who feel completely at home in an atmosphere so cordially convivial.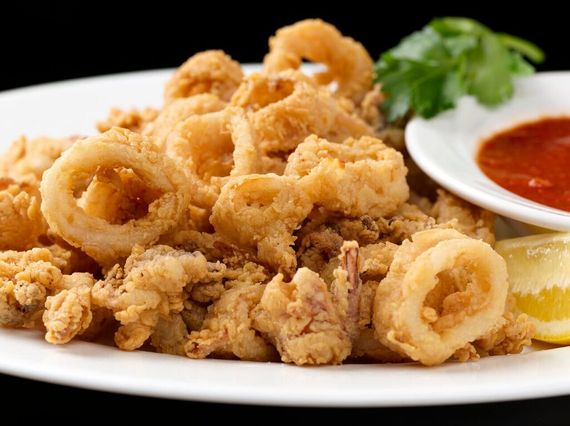 That begins with the greeting and solicitude provided by owners (and cousins) Ben and Jack Sinanaj (with two siblings, Harry and Russ, along to help them run the place), whose immigrant story of going from busboys to upscale restaurateurs, with stops at Manhattan Grille and Peter Luger along the way, is testament once again to the American Dream come true. Ten years ago they opened the first Ben & Jack's (currently closed but due to re-open next year) and their second six years ago, and they have devoted themselves to the religion of the NYC steakhouse, by which the best available ingredients are handled with the utmost respect, simplicity, and consistency, which is far more difficult than it appears when you're serving thousands of meals every week, all overseen by Executive Chef Admir Alibasic.
The restaurant, convenient to Madison Square Garden, has two bars--cocktails are excellently made--a long dining room and five private dining spaces, at this time of the year particularly popular. It's a classic steakhouse look--ochre-colored walls, dark wood, sturdy chairs, white tablecloths, a wine wall.
The menu doesn't differ much from the entrenched Peter Luger model, but it's more wide-ranging, with far more appetizers and salads, soups, and even a pasta section. On my recent visit we began with some of the best breaded, fried calamari (above) I've had in NYC; what seems so easy to do actually requires a very fine quality of calamari, breading with its own flavor, and a perfect frying temperature to keep that breading intact and every single one of the calamari tender. Ben & Jack's version is perfection.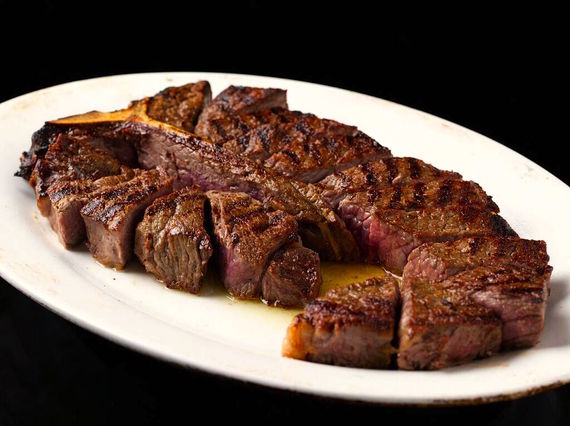 A rafter of oysters were in peak condition, and yellowfin tuna tartare had plenty of flavor. A bacon wedge salad with tomatoes, abundant blue cheese crumbles and Roquefort dressing had a nice icy crispness to the lettuce. The only disappointment was a crabcake so packed with breading and so devoid of lump crab meat that it was like eating a clump of wet white bread.
It goes without saying that the USDA dry-aged Prime beef is why people come here, and the sliced porterhouse for two (above) and a very well-marbled, very juicy ribeye had exactly the char I asked for while remaining perfectly medium-rare within, and that char makes a big difference. I also ordered a four-pound lobster, streamed and cracked but left in the shell, and it was a very meaty critter indeed, accompanied by a big bowl of clarified butter. (By not having the waiter de-shell the lobster, the meat stays warmer.)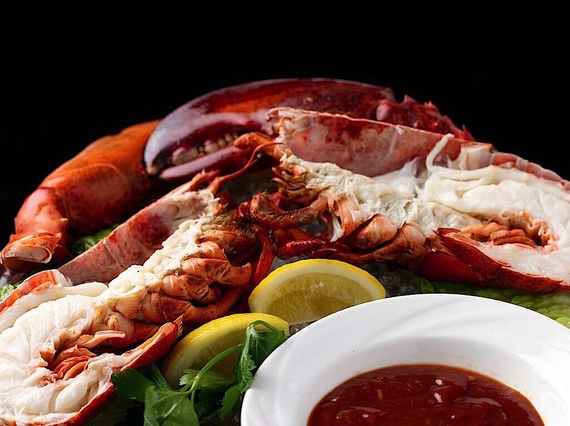 Side dishes in a steakhouse can mean the difference between a good one and a great one, and at Ben & Jack's they succeed across the board, not least with their mixed platter of very crisp, wholly greaseless cottage fries and onion rings (below), both full of flavor on their own, not from the oil. A portion of sautéed spinach was almost generous enough to justify a tab of $11.95.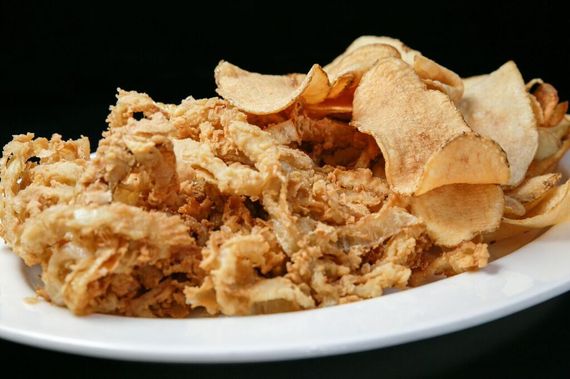 Desserts do nothing to differ from so many other steakhouses that, like Ben & Jack's, ship theirs in, but the cheesecake is the way to go.
The wine list is, obviously, richest in red wines, particularly American, but with some fine Italian offerings as well. The white wine list needs bolstering.
It seems impossible not to enjoy yourself immensely at Ben & Jack's, especially since the two men whose names are on the door and their cousins are there to make sure you do; after all, there are no such people as Smith & Wollensky, Peter Luger is long gone, and too many other steakhouses are now chains with names like Ruth's Chris and Palm. You go to Ben & Jack's, they get to know you, they want you back, and they'll have your cocktail ready by the time you open the menu.
BEN & JACK'S STEAK HOUSE
255 5th Avenue (near 28th Street)
212-532-7600
http://benandjackssteakhouse.com/index.html - contact
Open for lunch and dinner daily; Appetizers and Salads: $3.95 - $20.95; Steaks and Seafood: $30.95- $42.95; Sides: $6.95 - $11.95; Desserts: $9.95 Prix fixe at lunch $29.95.
Related
Popular in the Community