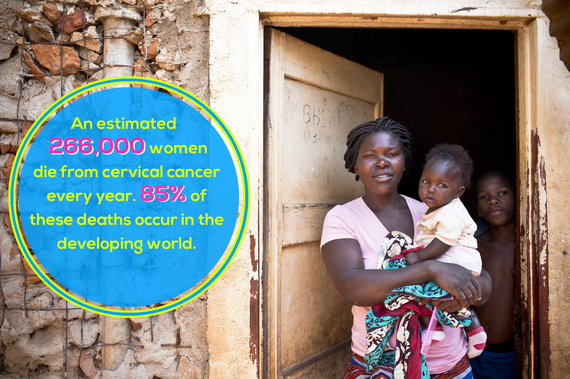 We live in an exciting time for science and medicine. Today, we know more about the origins and treatments for diseases, such as cervical cancer, than in any other time in history. That information -- coupled with the efforts of clinicians, policymakers and advocates from around the globe to increase awareness and access to prevention and treatment services -- can lead us to a day where no women die from cervical cancer. This preventable, treatable disease tragically kills 260,000 women a year, mostly in the developing world.
The challenge for us in achieving this goal is to hit the moving target of ensuring a future that is healthier for the next generation, while also addressing the needs of today's aging population. Jhpiego's vision for ending deaths from cervical cancer includes primary prevention through scale-up of the delivery of HPV vaccines in high-burden countries so that all girls are vaccinated before they are at risk of contracting the human papillomavirus, the leading cause of cervical cancer. Despite this being the most effective strategy, most young girls in developing nations still do not have access to the vaccinations.
To address the needs of older women ineligible for the vaccine, we must focus on secondary prevention through increased access to screening and treatment services, including the Jhpiego-developed single visit approach (SVA), a low-cost, medically safe and effective approach to cervical cancer prevention for low-resource settings. SVA detects precancerous lesions by simply washing the cervix with vinegar followed by visual inspection. If lesions are found, the client is offered treatment in the same visit using cryotherapy, a freezing technique to destroy the precancerous cells. To date, Jhpiego has proudly supported cervical cancer prevention activities in 24 countries around the world, resulting in hundreds of thousands of women being screened and treated, even in places where there are no laboratories, or specialists.
Despite all we know about how to prevent and treat cervical cancer, none of the current approaches can be successful in isolation. There needs to be strong political will and support at the national level of a country's health system to turn proven interventions into meaningful action. This includes allocating sufficient financial resources, strengthening health systems, providing technical support and establishing robust accountability measures to determine progress. It also requires buy-in and support from the women and girls we are trying to protect. Their steadfast belief in equitable access to prevention and care is an invaluable advocacy tool and motivating force to reach every community where there is need. We must engage them in developing solutions, listen to their feedback and use their passion to fuel our drive.
We must also double our efforts to develop the next generation of cutting-edge innovations and interventions to be put into practice today. Using what we've learned during our 20 years in cervical cancer prevention programming, Jhpiego has developed and is testing the CryoPop, a low-cost, durable and portable cryotherapy device that uses dry ice from carbon dioxide to treat precancerous cervical lesions. We are excited about its potential to increase access to treatment in even the most remote locations. The women and families this disease impacts merit nothing less than the finest science and practical innovation the world has to offer.
Despite the current barriers that exist in getting women -- regardless of where they live -- the services they need to prevent and treat cervical cancer, progress has been made. This progress is a direct result of devoted champions who have fought so diligently against this disease around the world. Champions like Elizabeth Bila Ouedraogo, a nurse from Burkina Faso, who, after learning that she had advanced cervical cancer, shared her experience with neighbors, family and colleagues, urging them to get screened before it was too late. Or Nostina Ngoman, a peer educator from Mozambique, who shares what she's learned about this disease with women from her church and community, encouraging them to get screened.
During Cervical Cancer Awareness Month, Jhpiego honors these champions and joins in the call that no one needs to die from cervical cancer today