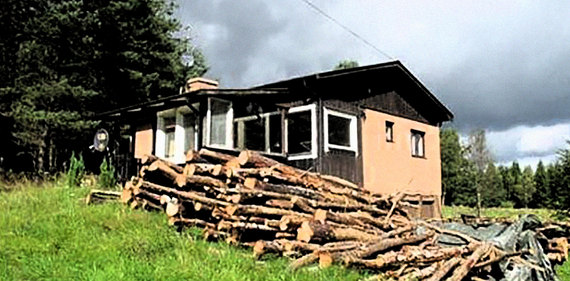 Laholm is a small town of approximately 6,000 souls in southernmost Sweden. It boasts a few miles of sandy beach, the area's largest river and "lots of lakes." Dating back to the mid-13th century, Laholm is one of Sweden's oldest cities. Tourists come for the salt baths in the summer and skiing in the winter. By all accounts, it's a lovely place to live.
So why can't real estate agent Henrik Håkansson sell a certain quaint two-bedroom property on the outskirts of town, at the bargain price of $50,000? At a time when Swedes are wrestling with a nationwide housing crisis, you'd think a $50K 2BR would get scooped up.
The problem is, this particular property is now famously known as the "penis-vagina house."
According to The Local, the house is located in the nearby village of Snorrslida, which translates to "penis vagina" in Swedish. The house has actually been on the market for three years. Håkansson denies that the name is causing any problems. "It's a very small area with not many customers," he told The Local, "but we've sold this house before and we believe we can do it again." It last changed hands ten years ago.
Håkansson's plan? To market the house "to Danes wanting to relocate to Sweden, who don't understand what Snorrslida means."
As local media has gleefully pointed out, Sweden has a curious tradition of giving their towns unusual names. To wit:
Outside of Mora, famous for its skiing, the town of Rövhålet wrestles with its name, which translates to "the butthole."
Near Uppsala, just north of Stocholm, residents are fond of strolling through Djupröven, or "deep ass."
Near Gothenburg, one can take a dip in Stora Röven, or Big Ass Lake. There's also Köttsjön ("Meat Lake") and Pissholmen ("Little Piss Island").
In northern Sweden, Sexträsk means "Sex Swamp." There's also Varberg ("Puss Mountain") and Snormossen ("Snot Bog").
REAL LIFE. REAL NEWS. REAL VOICES.
Help us tell more of the stories that matter from voices that too often remain unheard.