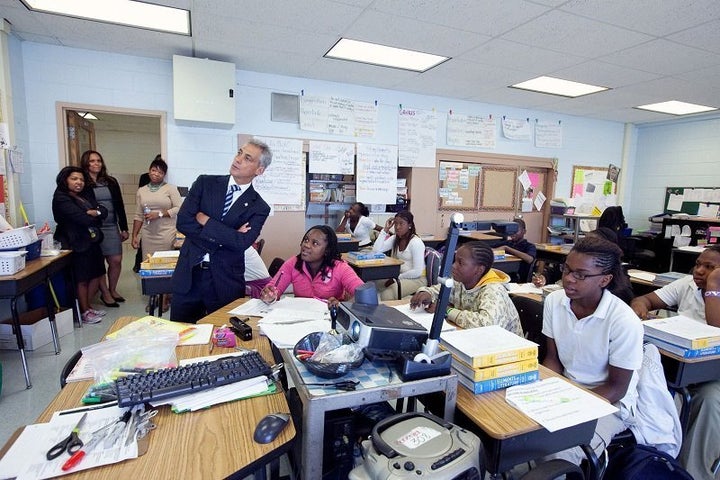 I'd like to think that the folks who run Chicago Public Schools didn't just decide over a beer one night last spring that it would be a good idea to turn Roberto Clemente High School into a so-called "wall-to-wall" International Baccalaureate high school.
As a taxpayer and a public school parent, I want to believe that some thoughtful analysis went into that decision.
Maybe a memo or two explaining why Clemente might be a good candidate for this program? Perhaps a couple of pieces of paper discussing the cost estimates associated with this proposed transformation? A few e-mails talking about things like staffing and training requirements for the new program? A summary of feedback from the Humboldt Park community?
I certainly don't expect to see a dissertation on the Clemente decision -- just the typical documents that our data-driven friends in the big offices at CPS headquarters like to generate. Let's face it, these folks don't get out of bed unless there's a PowerPoint presentation explaining their "value-added" options for both breakfast and the morning commute.
But as it turns out, there is no paper trail for the Clemente decision. CPS told me it doesn't have a single document concerning its plans to overhaul the struggling Humboldt Park high school, which is currently home to about 860 students (according to CPS), 1,000 students (according to the alderman), or 1,500 students (according to Mayor Rahm Emanuel).
And I assume that's what the CPS law department will soon be telling the Illinois Attorney General's office -- and, most likely, a Cook County judge.
This is a FOIA request for all documents relating to the decision to turn Clemente High School into a "wall-to-wall" International Baccalaureate School (as described in the Mayor's June 21, 2012 press release).

These documents should certainly include all correspondence between CPS and the International Baccalaureate Organization discussing or referencing Clemente High School, as well as any applications or "interested schools forms" that CPS/Clemente completed, any "feasibility study" that CPS/Clemente conducted on the possible consequences of implementing the program, and any documents that relate to CPS's plans to staff the IB program at Clemente.

These documents should also include all projections regarding enrollment in the Clemente program, as well as the anticipated costs of developing and housing such a program at Clemente. These documents should also include all CPS communications with the Mayor's office and Alderman Moreno's office about the plan to convert Clemente into a "wall-to-wall IB program."

These documents should also include any memos, studies, or emails that discuss CPS's plans for students who may be displaced by CPS's decision to convert Clemente into a "wall-to-wall IB program," as well as documents relating to CPS's plans to provide academic support for Clemente students who may struggle with the new program.

By law, CPS had five (or, with a good excuse, 10) business days to respond to my request. But those deadlines came and went. I even left a couple of voice-mail messages for CPS's FOIA officer, Cassandra Daniels. She didn't bother to return my calls.
On July 16, having heard nothing from CPS, I took the next step in the process and asked the Attorney General's office to review CPS's failure to respond to my request.
On July 25, just minutes after I talked with the A.G.'s assigned attorney about this matter, I got an e-mail from CPS's FOIA officer telling me:
The CPS has performed a diligent search for any documents responsive to your request for information. However, at this time, no documents could be found. Attached please find a copy of CPS's district wide projected enrollment data with Clemente High School's enrollment highlighted in yellow.
I immediately called the A.G.'s office about this belated response, and I told the assigned attorney it does not pass the "straight-face test."
I was told, however, that CPS's belated response effectively closed the book on my July 16 request to the A.G.'s office. If I wanted the office to review the July 25 response, I would have to ask the A.G.'s office to start the process all over.
And now, two months after I sent my request to CPS, I'll wait and see what the A.G.'s office does with my latest appeal.
But I may be waiting for some time.
The same office is currently reviewing a FOIA request that a friend of mine sent CPS in early March. Back in February, CPS CEO Jean-Claude Brizard sent parents a letter claiming "[o]ur elementary school students are receiving 22 percent less instructional time than their peers across the country."
My friend asked CPS for the documents supporting that claim -- the ones showing which "peer" cities were compared, the claimed length of the school day in each of those cities, the basis for Brizard's calculation, etc.
CPS told him, of course, that it doesn't have a single document.
Popular in the Community