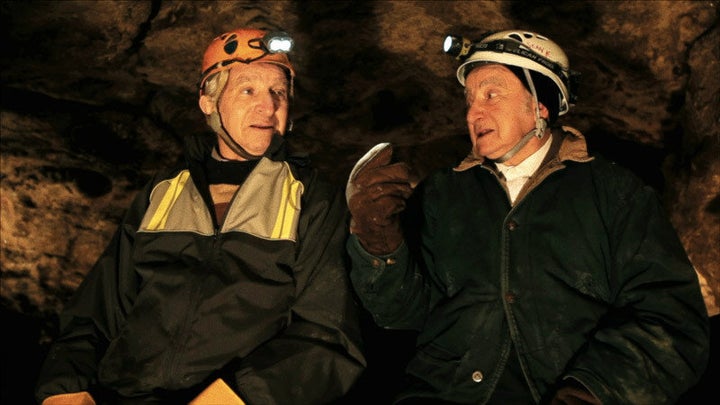 On this point, Sam Stermer and Sima Dodyk are clear: they have nothing but warm feelings for the lightless caves their families squatted in for years. Burrowing was a way to evade the German soldiers descending on their Ukrainian town on the hunt for Jews like them. Underground, Stermer and Dodyk, children at the time, barely knew there was a war on.
"We lived like Robinson Crusoe," Dodyk, now a white-haired grandmother of six, told the Huffington Post in a phone interview. "Whatever we needed we made, whatever was broken my uncle and father would fix."
Theirs is the astonishing survival story told in "No Place On Earth," a documentary released this month, directed by longtime TV producer Janet Tobias. The film intercuts interviews with reenactments to make dual points. However benevolent the cave seemed to the kids inside, safety was a minute-by-minute luxury, offset by the constant possibility that the families would be discovered.
Simply surviving meant breaking records. To this day, members of the Stermer and Dodyk families hold the dubious one of living underground continuously longer than anyone else.
Much of that time was spent in a subterranean wonder. For more than a year, the families decamped to Priest's Grotto, a famously long and labyrinthine cave network that today draws spelunkers from around the world. From there, they eventually escaped and built new lives in Canada and New York.
Chris Nicola, the caver who tracked the families down after noticing human artifacts in the Grotto's crystal halls in the nineties, met resistance with locals while investigating rumors of Jewish refugees. "They said under the Communists, you didn't discuss Jewish history," he told the Huffington Post.
Those who might have had direct knowledge were older, their memory banks fragmented by waves of war. Nicola recalls interviewing a 104-year-old man from the Stermer's hometown who could remember the Russian revolution and both World Wars. "But he couldn't remember what happened to the Jews who lived 1000 feet away from him."
Nicola, a former investigator with the NYPD, eventually embedded search terms in his web site that a descendant of any of the cave-dwellers might type while searching for family history. He isn't Jewish, but he uses a Yiddish word to explain why his tactics worked. "It was bashert," he told us, in a thick New York accent. Translation: meant to be.
Popular in the Community