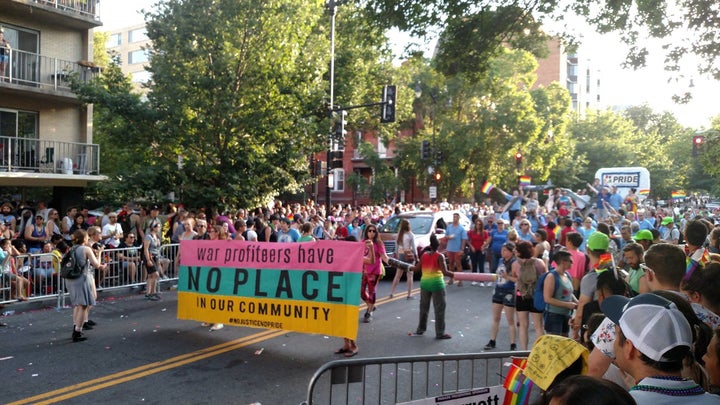 A wave of protesters from the group No Justice No Pride attempted to shut down the parade three times, the first near 15th and P streets at about 5:30 p.m., The Washington Post reported. The protesters, shouting chants and holding banners, at one point formed a "human chain in front of the Lockheed Martin float," according to Zack Ford, a reporter from Think Progress, who documented the event on his Facebook page.
In a press release sent to HuffPost by No Justice No Pride, the group said that "DC's queer and trans community is no longer willing to accept that Pride isn't possible without support from deeply problematic corporate sponsors."
The statement said that the Capital Pride Alliance, which organizes the annual parade, "has consistently demonstrated that it is more interested in accommodating the interests of Metropolitan police and of corporate sponsors than it is in supporting the very communities it supposedly represents."
A list of demands posted on No Justice No Pride's website calls on Capital Pride to "bar corporate entities that inflict harm on historically marginalized LGBTQ2S people from participation in Pride events" and to "take a strong position against state violence and end its endorsement of MPD and other law enforcement agencies," among other requests.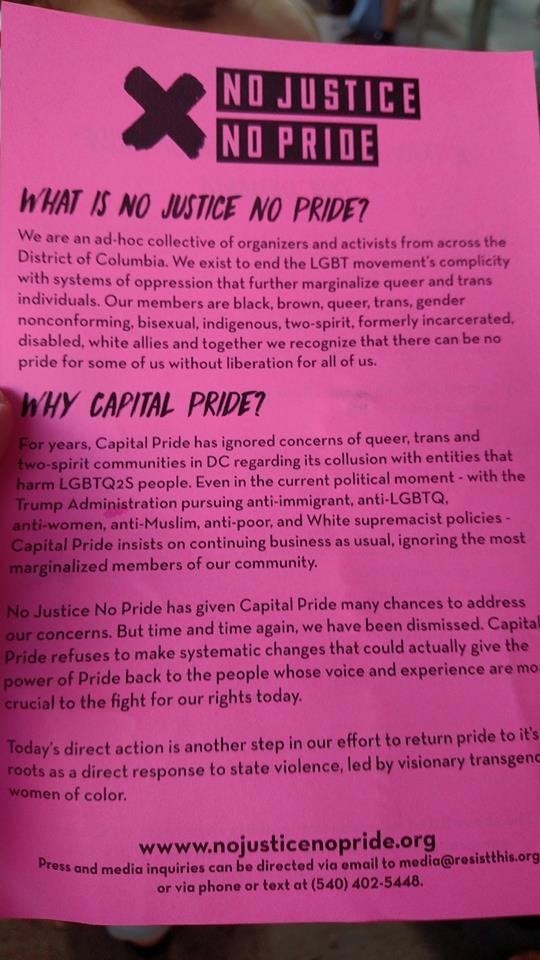 "We deserve to celebrate Pride without being forced alongside the Police who kill us," Angela Peoples, one of the protest participants, said in the press release sent to HuffPost. "Pride should be a haven for the entire LGBTQ community. The Capital Pride Board has shown who it's prioritizing. No Justice No Pride is for everyone who has previously been excluded and for a different vision of what this event could and should be."
Another protest participant, Emmelia Talarico, said in the press release, "Corporations that desecrate Native land, manufacture weapons and support private prisons ― and law enforcement agencies that proportionately harass, kill, and arrest queer and trans people of color ― cannot be considered LGBT 'allies' unless you believe that Black, Latinx, Muslim, and indigenous queer, trans and two spirit individuals aren't actually part of the LGBT community."
The parade was quickly rerouted and no arrests were made, according to Washington's Metropolitan Police Chief Peter Newsham.
"We anticipated this. We knew there would be counterprotests," Newsham told The Washington Post. "We had planned for an alternative route, and that's what we used."
The Capital Pride Alliance sent the following statement to HuffPost on Sunday morning:
"Capital Pride always has and will continue to respect the wide range of diversity – of people and viewpoints – within the LGBTQ+ community. Following the disruption of the parade by protesters, we were able to divert the parade from its scheduled route, thus ensuring that as many people as possible could watch the parade in its entirety. We are troubled by reports that some onlookers responded to the protesters with verbal and physical harassment. We encourage a robust, civil, and healthy conversation within the community about all of the issues that impact us and look forward to having a mutually respectful conversation in the days, weeks, and months ahead. The issues raised are of importance to our entire community, across organizations and to our entire movement. In these challenging times for LGBTQ+ people Capital Pride will continue to focus on how we can all move forward as a community striving for equal treatment and respect for all."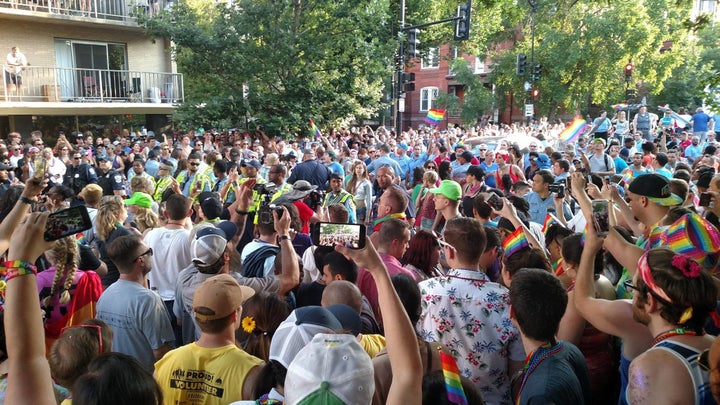 In the wake of Saturday's parade, the National Equality March is scheduled for Sunday in Washington. The event is meant to "support, uplift, and bring attention to those in our communities who are targeted due to immigration status, ethnicity, religion, skin color, gender, and disability," according to its website, and is expected to draw hundreds of thousands of participants.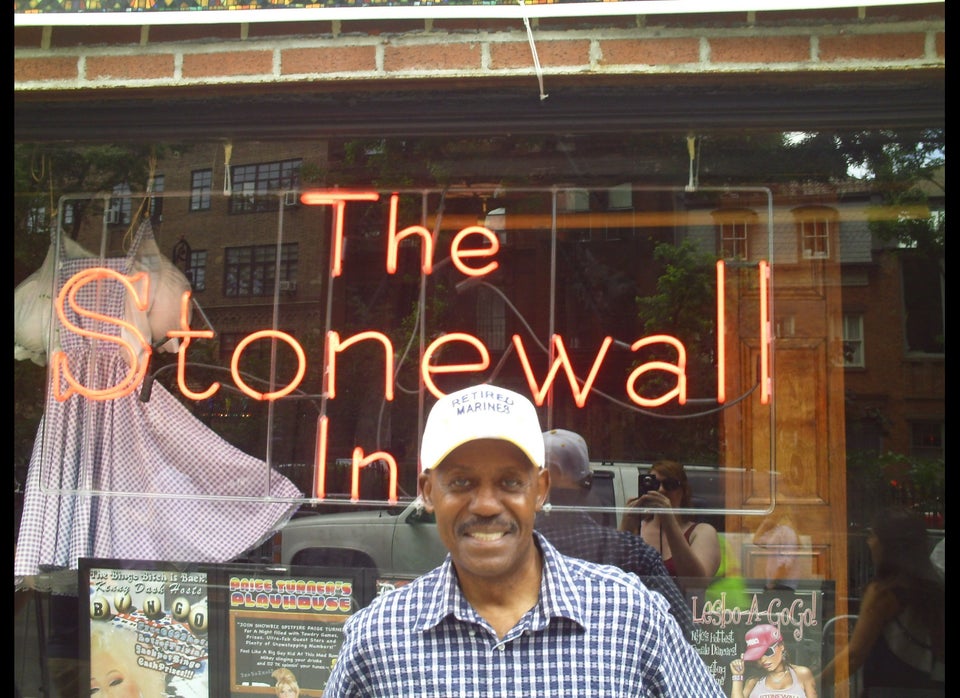 Gay Pride Around The World