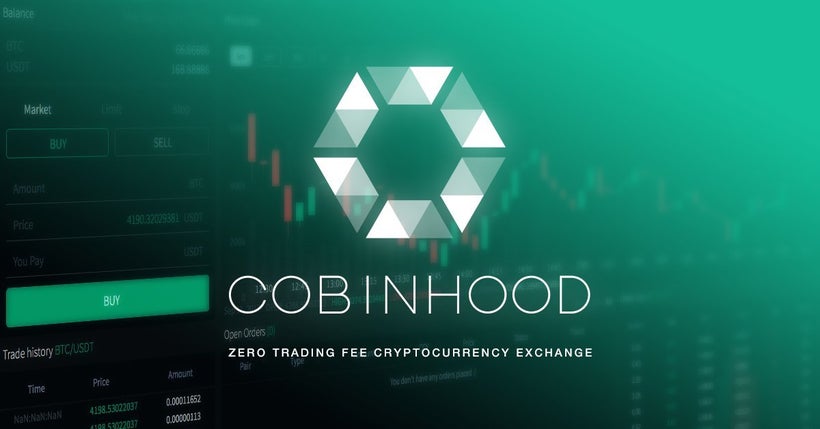 2017 was the year of cryptocurrencies. And if you invested in them, it was probably a good year for you, as well.
If you're a swing trader, day trader, or just a general investor in any of these cryptocurrencies, your payout was probably substantial. But, you likely paid out a good amount of those profits in trade fees, as well.
Think of all that money lost to the exchange...
The problem with exchanges: high trading fees
Businesses in the financial sector tend to make a lot of money. Cryptocurrency exchanges are no different.
Coinbase, for example, charges a 1.5% fee to buy Bitcoin from their site. And its sister site, GDAX, features "taker" fees of 0.25%. So if you have $10,000 and make a single round-trip trade with all that capital (buy and sell), you're instantly down $50. If you made 30 round-trip trades per month with all your capital? You've now lost $1,500, or 15% of everything you invested.
These fees, while they don't seem high at a glance, eat away at profits. And they're the norm everywhere. They're why the vast majority of day traders are not profitable, even if they make decent trades. Your trades can't just be decent if you're making round-trip trades every day. Those fees add up quickly.
This is why Binance has become the largest exchange by daily volume in under half a year. The Shanghai-based exchange has the distinct advantage of only charging 0.10% of each trade. That's significantly less than every other major player. Using the same $10,000 account as an example, you'd only pay out $20 per round-trip trade. These low fees, combined with Binance's numerous trading pair offerings, has allowed it to thrive in an expensive cryptocurrency exchange ecosystem.
But 0.10% still adds up over time. And when you factor in the taxes you have to pay on your winnings, your profits dwindle all too quickly.
The truth is that trading fees are put in place to turn a profit—not to benefit customers. Most exchanges not only could care less about your bottom line, they actually factor in your "lifetime value" as a customer because they know how long someone will stay with them before they go bust.
These are all reasons why Cobinhood (COB) seems so exciting and groundbreaking. It's the first 100% free cryptocurrency exchange. There are no fees and no commissions at all. Sound too good to be true? I did a deep dive into it to see if it lived up to the hype. Here's what I found.
What Is Cobinhood (and why should I care)?
Cobinhood launched its exchange in December of 2017 with one goal: create a user-friendly, dependable cryptocurrency exchange with zero fees.
Taking a page out of the book of the zero-fee stock trading site Robinhood, Cobinhood's value prop couldn't be easier to understand. There's no fine print or "fees that aren't actually fees." They are the genuine article and offer exactly what they advertise.
The wise skeptic might ask, "But how do they make money?" Good question. Rather than collecting piles of money from commissions, Cobinhood underwrites new ICOs that can be featured on their exchange. Cobinhood takes a small percentage of these new ICO coins to finance their operation. That's how they locked in Cybermiles and helped them raise $45 million.
Guys, it's hard to downplay how amazing a free exchange is. In any market—whether that's stocks and bonds, futures, or forex—a free, zero-commission exchange is unheard of. And this is the cryptocurrency market we're talking about! These are the biggest gains anyone has seen in several generations—and Cobinhood is letting you get in on the ground floor for free. If this doesn't demonstrate their commitment to their customers and their willingness to go the extra mile, I don't know what would.
Cobinhood also features two of the biggest cryptocurrencies right now, Bitcoin (BTC) and Ethereum (ETH), as well as their own proprietary coin (COB). On January 6th, it will also feature Cybermiles (CMT).
But with their recent announcement, they'll soon offer a huge selection of new trading pairs, including EOS, OMG, and QTM, for a total of 18 coins featured on the exchange by the end of January.
The exchange itself is one of the best-looking and most straight-forward of the dozens that exist today. They have a strict verification process to ensure security and protection of assets.
Nothing is perfect, and Cobinhood is no different. The platform as a whole suffers from a few issues, all of which stem from being the new kid in school.
For starters, getting verified in the early days took days (not hours). That's not unique to Cobinhood, but you won't have full access and freedom of the exchange until you're verified.
In addition, it's not a super popular exchange yet. Granted, it's less than a month old, but it's going to take time before it builds up a massive presence and becomes a force to be reckoned with. On the plus side, that gives early investors an edge if and when the Cobinhood exchange skyrockets in popularity.
Lastly, because they're just starting out, you can't find as many trading pairs on the Cobinhood exchange as you could on Binance, for instance. However, having 18 tradable coins is still better than some of the heavy hitters, including Coinbase.
Cobinhood is making a bold move by entering the cryptocurrency arena as a free contender. But, as we've seen in the world of crypto, the bold players tend to reap the benefits.
Disclosure: I'm already deep in the mix, hoping it pays off in the near future. I would recommend checking it out, getting verified, and trading immediately. It's hard to argue with free.
This post was published on the now-closed HuffPost Contributor platform. Contributors control their own work and posted freely to our site. If you need to flag this entry as abusive,
send us an email
.