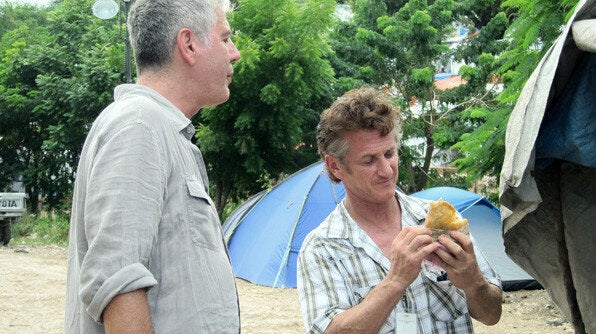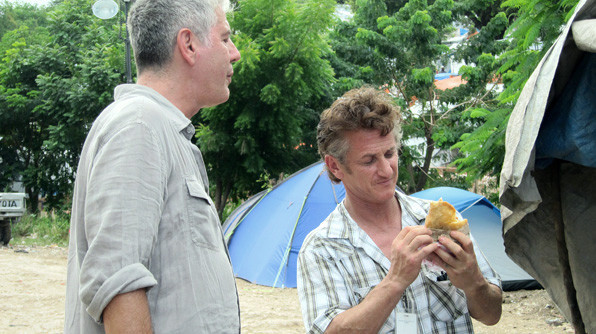 Photo: Travel Channel
The seventh season of Anthony Bourdain's No Reservations returns to the Travel Channel Monday night (9pm) with an episode shot in Haiti. Season seven will feature Bourdain in a number of other unlikely and more sober destinations for the food/travel genre, including Cambodia and Nicaragua -- the latter in which Bourdain visits a dump where destitute families pick through garbage to survive.
In this preview clip of Monday night's Haiti episode, Bourdain and Sean Penn dig into some 'street' food and Penn introduces Bourdain to PVC Camp JHRO, which he helped set up with his J/P Haitian Relief Orgazniation. Built on what was previously a 9-hole golf course, the camp provides shelter and other essential resources for over 50,000 displaced Haitian earthquake victims.
Last night's No Reservations indeed was a special one, capturing both the sheer devastation of the earthquake and the unique humanity of the Haitian people. As promised, Bourdain live-tweeted the show, and apparently got some flack on Sean Penn from some followers, as he spent a portion of the hour in his defense, proclaiming, "I will hear no I'll spoken of Sean Penn. Six months LIVING on site in a tent. Two weeks out of month since." He continued: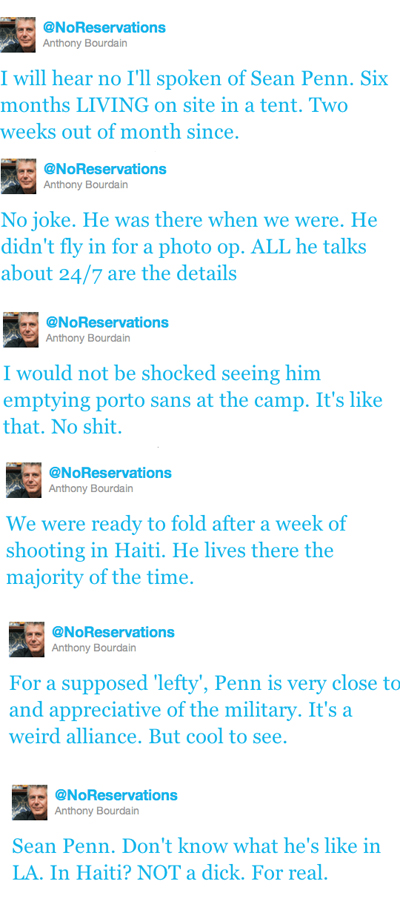 Adding, "FYI - Sean makes an excellent rum punch."

Related