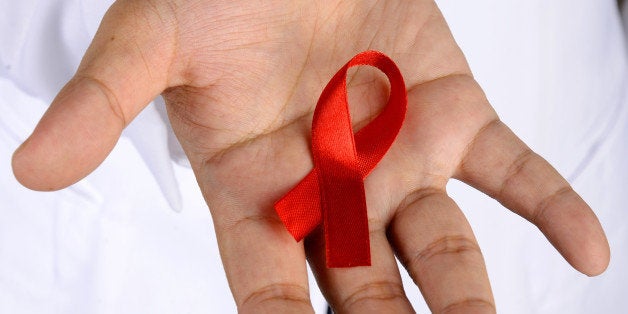 I was diagnosed with HIV in late 1991. Shortly after, I joined a support group in Indianapolis, Indiana at the Damien Center. The people I met there had lost everything for disclosing their status-family, friends, jobs, housing. I felt grateful, and guilty at times, listening to others' sad stories of loss and what they were afraid of losing--because I knew that I was supported in all areas of my life. I knew then that I had an obligation to share my HIV status on as many public stages as I could. My mission was (and still is) to tell my experience in an authentic and direct way.
Every time I told my story it was met with love and gratitude for my openness to share my life. Over a 14-year period, I spoke at over 2000 universities, fraternity and sorority leadership conferences, and youth groups throughout North America. More than a million young people heard my story, all in an effort to break down the stigma of HIV and help others prevent themselves from "joining the club." During this time, I began working for the Elizabeth Glaser Pediatric AIDS Foundation (EGPAF) organizing a college engagement program. Part of this role included building a celebrity cabinet (Scott Wolf, Brooke Shields, Jaime Pressly, Jeff Probst, Kimberly Williams-Paisley, Tia & Tamera Mowry, Kimberley Locke, Kate Shindle, and dozens more were included) for the "Caring for Kids 101" program. Every time a celebrity joined me on a college campus it amplified the message and helped break down stigma about HIV and AIDS.
My degree is from the School of Public and Environmental Affairs at Indiana University. There was not a course in "how to involve a celebrity to garner more attention for your cause." I stumbled upon this phenomenon quite accidentally. But I quickly noticed that when Scott Wolf (during the height of Party of Five) joined me on the road my audience size quadrupled, the story went from the 3rd page to front page of the newspaper, national entertainment media became interested, and the HIV/AIDS conversation in the zeitgeist increased. The "do-good" mantra I live by believes that it should not take a celebrity to call attention to a cause--and the celebrities I have worked with over the years would also agree-- but if that is what it takes to get America talking, then you do what you have to do. Especially when it's a life or death issue. After all, it was Elizabeth Taylor taking on AIDS publicly that finally got the virus the attention it needed and deserved.
After 14 years on the lecture circuit and working at EGPAF, I took a little break from HIV serving other organizations including St. Jude Children's Research Hospital, Feeding America, and Malaria No More. I learned about cause-related branding for organizations and was ready to bring my new skills back into the HIV world. I told this to my friend Rene Jones, United Talent Agency's Foundation Director, and two hours later she called me to say she had just come out of a meeting with the Elizabeth Taylor Trust, and they were ready to hire the first Managing Director of ETAF (note: Ms. Taylor had run her foundation until she passed away). The rest was history, and I am now happily in my 3rd year in this role.
The biggest surprise to me as I returned to the HIV world professionally was how "stigma" was still such a big issue. New and improved medications allowing people to live healthier and longer lives could be part of the rational behind this. I have many HIV+ friends who have not even shared it with their family because they say, "I look and feel fine, why should I worry my parents?"
But by sharing our individual truths we break down that stigma. Just look at the evolution of the LGBT community. The more we spoke our truth, the more the walls came down. Caitlyn Jenner has helped the transgender community take three giant steps forward. Of course, she does not represent all transgender people--she is definitely in "the 1%" of that community. Many tireless transgender activists and thought leaders acknowledged that on this past season of I AM CAIT, but still gladly welcomed Caitlyn as a new face of the movement. Her new mentors and friends were extremely intentional in introducing Caitlyn to many transgender youth and women teaching her that no two stories or paths within the transgender world are the same.
The same is true in the HIV community. None of us have the same story and path. There will never be one face of HIV, but the more of us who come out HIV+, the more understanding there will be. To see the transformation we want, it's vital to bring HIV back into the public conversation, which is why I applaud Danny Pintauro's bravery to share his story. We need to respect people's narratives. I have always said that I went on the lecture circuit to "make my infection mean something." Members of the HIV community have told me, privately, that "infection" does not apply to all of us who are HIV+. For hemophiliacs or those born with it "transmitted" is more appropriate. But when I am sharing my truth that is how I speak it-- I am not trying to speak for my friend Jake Glaser, who was transmitted perinatally. We all express our truths and don't deserve to have our narratives judged. To quote Audre Lorde " If I did not define myself for myself, I would be crunched into other people's fantasies for me and eaten alive."
As proud as I am of Danny for being vulnerable, I am equally appalled at the response from many within the HIV community. We seem to have no problem pointing our fingers at Cameron Bure and Raven-Symone for shaming Danny on The View. But what about the three fingers pointing back at us, as many HIV activists and thought leaders publicly ripped Danny's story apart. It was clear that Danny was not ready or prepared to answer certain personal questions that were thrown to him by journalists or talk show hosts. Questions that journalists and bloggers who regularly cover HIV and AIDS would know not to ask, but once he answered them unprepared and on the spot - out came the critics and haters from inside our own community. Kudos to Tyler Curry for privately reaching out to him and letting him explain his answers with more thought than being put on the spot during an interview.
I wish more HIV thought leaders had reached out to Danny to personally educate him or give him a chance to expand on his off the cuff answers. Instead many took to their blogs, Twitter, and Facebook accounts. Many just publicly shamed him because they did not believe or agree with his story of how he contracted the virus. Some even questioned his motives. Do people truly believe that he did this for endorsement deals? Just ask Olympic hero Greg Louganis, who has been waiting on his Wheaties Box for decades how that goes (check out the HBO documentary Back on Board).
It saddened me to see HIV thought leaders that I have respected for years add to the stigma issue with their words about Danny. I thought Actor Daniel Franzese who is an Ambassador for The Elizabeth Taylor AIDS Foundation put it best in a tweet--
"NEW RULE: AIDS activists who bash someone coming out HIV+ publicly vs. sending a (private) note of guidance must ban (the word) "stigma" from their rhetoric."
I know three famous faces (two actors and a TV personality) that have been thinking about coming out publicly with their HIV status. I was hoping that Danny had inspired them to speak out, but the internal hate, critique, and judgment that came after from within the HIV community has put a halt on that--hopefully only temporary. It's been 25 years since Magic Johnson shared his HIV status, and that is still the celebrity face that most Americans think of in relationship to HIV. The majority of new infections in the U.S. were not even born when Magic disclosed his status to the world. The younger generation needs its "Magic." Unfortunately, the aftermath following Danny's disclosure has given other notables a reason to hang out in the HIV+ closet. Once love and support are the response to HIV, we'll be closer to the end of the epidemic.

The negative response to Danny Pintauro's disclosure is far more damaging than simply a missed opportunity for a few more public figures coming out as HIV-positive, offering an opportunity to keep the conversation going. My heart breaks for anyone HIV+ that has not shared their story yet because they are living in the same fear of rejection that I heard about in that Indianapolis support group in 1991. As they sit in front of their computers reading the wrath that hit Danny Pintauro from within the HIV community, of course, they are afraid to tell their co-workers, friends, and family.
This virus has no room for friendly fire.
As people who were targets of this epidemic by historical accident--gays, sex workers, injection drug users, the most marginalized--we need to remember the strength in our unity and not get too nit-picky about everything that gets said. Let's keep the bigger picture in our forethought. Yes, Danny needed some coaching; he wanted it and now has reached out for it so he can do better for the HIV community. Unfortunately, he got caught off guard by some of the stabbing questions thrown at him from outside the HIV community. But for the rest of us-- calling oneself an AIDS activist, educator, or an HIV thought leader, then publicly shaming someone who came out as HIV+ or any aspect of their story, is like washing your hands and drying them with dirt. We need to watch our temper, and although uniting in anger (thank you ACT UP) has tremendously progressed a collective response to HIV/AIDS, in 2015 I think we can redefine why we are united.
Calling all HuffPost superfans!
Sign up for membership to become a founding member and help shape HuffPost's next chapter