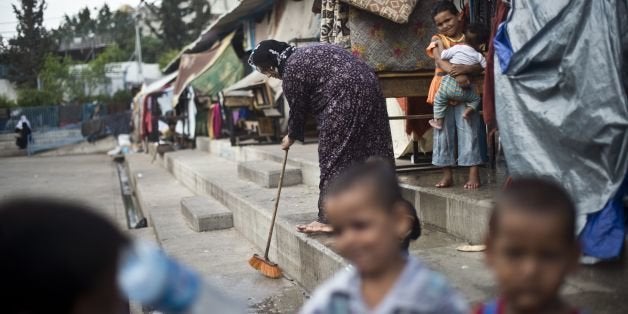 Last September, I went to Gaza to talk to civilians about their experiences during conflict. When I arrived at my hotel, the manager told me with pride that I was lucky to be staying in one of the most secure locations in the Gaza Strip. He beckoned me to the balcony of my room to show me our two security guarantees below, big blue letters, each 15 feet high, UN, and on a nearby rooftop, the huge black letters, EU.
These emblems, he explained, were the benefits afforded to a hotel that often housed international workers and provided office space for the European Union. This was an early indication of the reality that for Gazans, the notion of civilian protection is deeply ambiguous.
For Gazans, fate can be determined by the identity of a neighbor, a military target on the next street, or an international organization's emblem. Staying safe in Gaza is complex and difficult -- and it looks and feels very different to civilians living there than it does to outsiders.
My research in Gaza was for the Center for Civilians in Conflict (CIVIC), and it focused on civilian experiences of the conflict between Israel and Hamas from 2008 to 2009 and in 2012. It forms part of a broader CIVIC study that explores civilian perspectives on involvement, status, and risk in armed conflict, including in Libya, Bosnia, and Somalia.
Given the current hostilities between Israel and Hamas, I decided to reconnect by phone with some of the people I talked with a year ago. We discussed the dangers they face and the efforts they make to stay safe during the fighting.
Press reports have covered how Israeli civilians are forced to move quickly to fortified shelters when hearing sirens that warn of rocket attacks -- and the anxiety and fear this causes. But how are Gaza's civilians affected by the conflict, and what are they doing to protect themselves and their families?
Each person I spoke with last week emphasized one point: they felt less safe during Israel's "Operation Protective Edge" than they had felt before, including during hostilities in 2008 to 2009 and in 2012. As a man from Gaza City put it, "During this one, every place in Gaza, every square meter of Gaza's territory, has experienced some kind of effect. There was shelling in every place. Even if you are not directly shelled or hit, your neighbor has been hit, your street has been hit, something has been hit." A 22-year-old student confirmed this view: "It was the worst -- the worst par excellence. Every single thing was targeted. You cannot go through this. We cannot go through this again ... Look, Palestinians have feelings. It's too much to endure. I feel we are all at the brink of collapse."
A young woman described the crippling fear she had experienced over the last four weeks: "The worst of all is the night time," she said. "There is no power, no electricity, and there are tens of drones in the sky. Whenever you hear a rocket, you think it's targeting your house. You are running from one room to another. I know this is silly -- if your house is hit, it won't matter which room you were in."
Each night, her family of six gathered on mattresses that they had pulled together in the middle of the living room, "far away from the windows, so that they don't break," she said. This way, if their house was hit, the whole family would be killed together. "We don't want one of the family to survive and then have to grieve for the rest of us," she said. She and her sisters would often stay awake until sunrise. "Otherwise, we thought, they will bomb us while we are still sleeping. We will be torn into pieces without even knowing it. We at least wanted to be awake for our own deaths."
"I would say to myself, again and again, 'I am next. My house is next. I am next. My house is next,'" she said. "It would almost keep me calm."
Several Gazans discussed the warnings provided by the Israeli Defense Forces (IDF). The warnings come in many forms, including recorded messages, leaflets, or through what the IDF calls the "knock on the roof" -- a phone call or warning missile fired at the roof of a building that is about to be targeted. According to one interviewee, the "knock on the roof" sometimes leaves as little as five minutes for people to flee.
Each person I spoke with discussed how the warnings created an atmosphere of second-guessing and chaos. One interviewee said that her family ignored a recorded message they received, since she perceived it as being too unspecific. But, "With a live call, all the neighborhood should go," she said. These calls, she continued, would often come at night: "Everyone is shouting, 'Please evacuate, we got a call!' So we start running. But then it's nothing. It's rumors. Evacuate and come back, evacuate and come back, that's how it was."
Another young woman from Gaza City agreed, "With the 'knock on the roof,' you are always listening, thinking, 'Is that a warning? Is that a warning? Was that a knock on the roof? Or was it a nearby roof? Should we stay put, or should we run?' Now you have that anticipation, that panic, all the time." To add to the uncertainty and stress, although Gazan civilians may receive warnings, the refuges to which they might flee, such as UNRWA schools, provide no guarantee of safety.
One woman described the psychological impact of their constant sense of vulnerability: "At night, we would all stay in one room and draw the curtains, but we would still be afraid to be stay up late or play cards," she said. "We feel we are being watched by drones and for having a normal life we will be punished. We think they will kill us out of spite."
This interviewee objected to the idea that civilians were used in Gaza as human shields: "The idea is that they [the militants] hide behind the humans, right? When we are running from house to house, are we still shields?" she said. "Is UNRWA being used as a shield? Just by our presence in Gaza we are one big shield, because it's so crowded ... Maybe they should open up the borders, and we could leave. Then you could have Gaza all to yourself, with no more shields."
An interviewee who was 26 years old has experienced three wars in Gaza. She believed it was almost more difficult to live through another conflict than to be killed. "I no longer have ability to cope, to rebuild, to start again," she said. "You keep burying your fear until you can't take it anymore. Now I think, kill me and be done with it."
"Each time, I think, 'Is this the war when I die?'" she said. "In 2008, I was thinking: 'I have two years to finish my Bachelor's degree. Just let me finish it!' In 2012, it was, 'I still want to travel. Just let me see some things outside of Gaza.' Now, in 2014, my wedding was supposed to be one week after the start of the war. Each war I think to myself, I still have things left to do in my life."
Reflecting on what Gazans told me these past few days and in my interviews last September, I concluded that any effort by civilians to stay safe during the fighting is futile. An English teacher in Gaza city told me last year, "People ask, 'why didn't you move to a safer area during the war?' This is so stupid. You have nowhere to go."
Another interviewee from Gaza City echoed this point: "You can't just move. In Gaza, we don't have choices with apartments. If you have an apartment or a home, you stay there," he said. "We can't just build a new [home]; we don't have the supplies. But each old neighborhood will be full of targets ... If everyone in Gaza should move because his neighbor is in Hamas, or whatever group -- then everyone would be outside on the street."
This interviewee said that a high-ranking member of one of the major political parties lives in his building, a few floors below his family's apartment. I asked whether this worried him. "No, I don't think about it. I can't bear to think about it," he said. "You can't choose your neighborhood, and if you move, someone else will be there. At least this way, I know who the target is." Another interviewee spoke of living next door to a commander from the military wing of Hamas and his family: "What can you do? Ask him to move? Wherever you go, you will have military people around you."
The tricks of staying safe are subtle and are learned by living through earlier fighting. "If you hear the boom, you should be happy," a Gazan journalist said. "The one that will kill you, you won't hear it. If there is a helicopter flying, that's ok, it's not a threat. If the helicopter stops and faces you, you are in big trouble."
"These are the things you learn -- common knowledge," he said. "But I worry for my kids because they might not have learned these lessons yet."
For the people I have interviewed, the idea that they will be protected by virtue of being civilians has been proven tragically wrong time and again. But a great deal can be done to keep civilians safer, both in Gaza and in Israel.
Above all else, parties to the conflict must take all feasible precautions during hostilities to protect civilians. More specifically, the IDF should modify or delay operations when civilians are at risk, refrain from using explosive weapons in populated areas, and ensure respect for the principle of distinction between civilians and combatants in all targeting decisions. Hamas and other armed groups in Gaza should halt indiscriminate rocket attacks at civilian areas in Israel, issue an order that prohibits the use of schools, hospitals, and other civilian structures for military purposes, and stop launching attacks from civilian structures and civilian areas.
Without these changes, civilians will continue to bear the brunt of war in Gaza.
Last week, a young woman told me what the word "civilian" meant to her. "Being a civilian means being in danger," she said. "Everywhere I am, I am in danger."
Popular in the Community