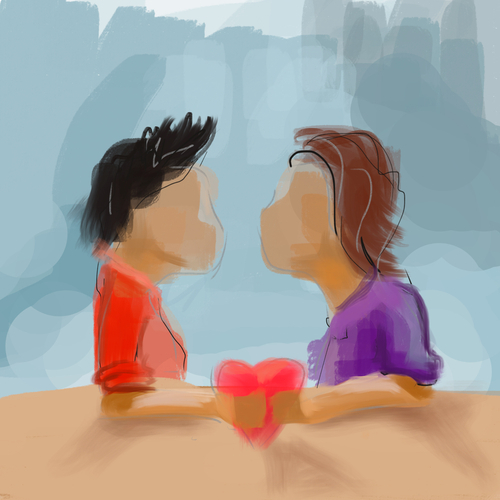 The first song you write with someone is like a first kiss. The songs (or the kisses) that follow might be better for other reasons, or you might never want to write another song with that person again. Either way there's no song like the first song. There just isn't.
You have no idea what to expect, and you want so much to be good and for your partner to want to write with you again -- just as you would want someone to want to kiss you again, (regardless of whether you'll want to kiss them again). Let's face it. We want to be wanted. We want the choice of opting out. We don't want to be opted out on.
The compatibility of two virgin collaborators is unpredictable. Their speaking voice can get on your nerves, and it's over before it starts, or it's possible you may like their speaking voice very much and feel like you're standing there naked with nothing but a preliminary cup of coffee in hand, hoping that once you get started something will fall out of somewhere. But while still holding that cup, it remains to be seen if it will.
In the back of your mind you know what you write depends on a spark that might or might not ignite, a chemistry.
I met Glen Burtnik 22 years ago when someone at Warner Chappell, Glen's publisher, had a hunch and arranged a co-write. I drove out to NJ from NYC in my little Miata that could on a snowy winter day. Glen was coming off of a number one hit, "Sometimes Love Just Ain't Enough," written with Patty Smyth (of Scandal) and recorded by Patty and Don Henley. I was intimidated by this number one thing. No song of mine had ever charted. I was self-conscious about my anonymity.
Plus, Glen could play everything, figure out any chord progression, variation or configuration upside down and backwards. Literally. He toured as Paul in Beatlemania and as an honorary member of Styx. Of course, his best character was his funny, easygoing self. A savantly talented guy (or girl) like that is a powerful songwriting aphrodisiac for me. The sense of humor is a bonus.
So there we were. Coffee cups in hand. We talked, we laughed, we shared. Songwriting foreplay.

And then, on an acoustic guitar and a Fender Rhodes, as we looked out onto Glen's little toddler (now close to 30) romping in the snow and his wife, Rosie, romping close behind we wrote our first song, a duet called "We Could Be in Love." If that title isn't metaphorical perfection for a first song being like a first kiss, I don't know what is.
We recorded a demo. No AutoTune. No VocALign or hired singers. Just Glen and I crooning away. Steve Greenberg, not yet on S-Curve but A&Ring for Atlantic, had Filipina pop star, Lea Salonga, and Brad Kane record it. It went number one in the Philippines. No U.S. hit. So what? It felt like a home run.
I wonder things. Why do some of your best songs happen the first time you write with someone? Are you on your best game because it's the first impression they will have of you? If you don't perform it's a little embarrassing. Maybe they'll find out you're a fraud? Does the adrenalin from the fear of being found out give you a little surge of reserve talent?
And I miss things. I wrote from such an innocent place back then. I wasn't trying to be as clever as I (admittedly) have been trying to be of late. In this attention-deficit world, it's hard to be simple.
Of course Glen and I never wrote another first song. But we wrote others and whenever we did it was always rewarding, comfortable, satisfying.
Some co-write relationships are like casual sex or hooking up: They last for the few days it takes to write and record a demo. Some last for decades, even if you're not writing any more, even when your lives have gone in crazy different directions, over bumps and curves in roads. Is that because you took the time to know each other before you "kissed?" The first songwriting session can be a good indication of how long that connection will last. Because here we are 22 years later. Smiling for a camera.
Calling all HuffPost superfans!
Sign up for membership to become a founding member and help shape HuffPost's next chapter