Imagine you have been binge-watching episodes of your latest obsession on Netflix and just at the moment a major plot twist will be explained (like #whoshotannalise), the screen goes dark. NO! Now you'll never know who it was?!
Coloradans may soon have that same feeling about who was actually behind the dramatic wins and losses of the 2015 School Board elections. The big reveal is supposed to be on December 3, when post-election spending reports are due to be filed with the Secretary of State. But a combination of state laws treating school board elections differently than other state candidate elections and the post-Citizens United boom in non-candidate group spending will have voters shaking their heads in the dark.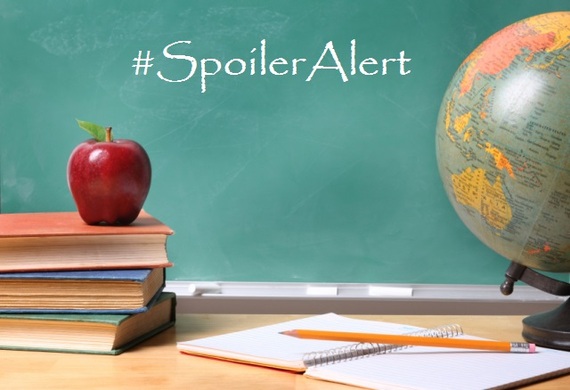 In Colorado, school board elections are nonpartisan candidate elections for unpaid board positions at the county (or multi-county) level that are held in November of odd-numbered years. These conditions have resulted in different money in politics rules than in partisan state elections in even-numbered years. For example, school board candidates themselves file their first campaign money reports less than a month before the election, even if they have been raising and spending money all year. Because Colorado sends mail ballots and has a period of early voting, these reports arrive only a few days before voting began in 2015. One other report is filed by candidates during the voting period, and then the post-election report is due on December 3. Not much time for information to reach voters or to see how candidates are raising and spending their money.
Maybe the lack of early and frequent candidate reporting means less now that spending by outside groups is where all the action is, even at the school board level. Unfortunately, many Colorado laws that require disclosure of outside spending in support or opposition to candidates simply do not apply in odd-numbered year school board elections. Public disclosure of "electioneering communications" - ads which name a candidate in the last 60 days before an election but don't specifically say to vote against that candidate (maybe instead urging voters to call the candidate to say how awful they are) - is simply not required in school board elections. Nor are 48-hour notices of independent expenditures in the final 30 days before school board elections, and these are ads which do explicitly tell voters who to vote for.
Without these disclosure requirements, much of the outside spending on school board elections is either never disclosed or only reported after the election. For example, Raising Colorado is a registered state "independent expenditure" committee. In odd-numbered years, all such state committees are only required to report quarterly, even if the committee is spending money to support or oppose candidates in off-years school board elections. Therefore, Raising Colorado reported spending through September 30 on October 15, 2015 and does not have to report again until January 15, 2016. Unfortunately for voters (including my district), Raising Colorado was spending all through those last weeks of October and November on ads supporting school board candidates.
None of this will be revealed on December 3 when most reporters will write their post-mortem stories on the school board races. It's unlikely that such cold spending will still be newsworthy when it is finally reported in January, just as the 2016 races are heating up. Similar problems led to voters in the Thompson school district complaining that there was no disclosure of who was behind ubiquitous signs and advertising in mid-October as ballots were arriving. That group Put Thompson Students First wasn't required to file its annual report until the day before the election.
But at least spending by those registered committees will be eventually reported. As seen in the nationally-attention-grabbing recall and regular elections for the Jefferson County School Board, hundreds of thousands of dollars spent by outside groups will never be disclosed. One estimate was that more than $1 million was spent on those school board seats, but less than half could actually be traced through campaign finance filings. Without the electioneering communications disclosure, outside groups such as Americans for Prosperity could more freely spend for TV ads and canvassers supporting candidates in that election. A spokesperson for AFP admitted spending "low six figures" in the JeffCo elections but the group never filed any disclosures with the Secretary of State. Certain TV ads by AFP and other groups were partially disclosed in political files obtained from Comcast, but that is a small portion of what was actually spent.
What's the solution? First, there's no reason why school board elections should be treated differently than all other elected offices in Colorado. The contentious issues flaring up in 2015 shows these elections are just as political and hard-fought and outside money interests clearly care about who wins. More generally, perhaps it is time for us to re-evaluate how money in politics is reported to voters while we live in a Citizens United world. Disclosure schedules should be based on what you do, not what type of committee you have registered as. Voters deserve timely and complete information about who is spending to influence their vote in school board elections. Our campaign finance disclosure regimes shouldn't leave them with a cliffhanger...this is the one time we want the spoilers.
Calling all HuffPost superfans!
Sign up for membership to become a founding member and help shape HuffPost's next chapter