As much as I love what I do, I have to admit that I was hoping for a snow day last Friday in the wake of all the Nemo hype. No such luck. I awoke to emails from both of my early appointments saying game on.
First stop was Lord & Taylor to meet Ariela Balk, who has made and sold over a billion bras and panties at her company Ariela-Alpha International. We are working on a project together to boost women's self-confidence and help them reach their goals. We've learned from international research and talking with thousands of women that wearing matching bras and panties is what most women want but think they either can't afford it or find it in their size.

So there we were in our snow gear the only customers in the lingerie department, doing more research looking at and trying on dozens of bras in a blizzard checking for fit, style, color and to see if they came with matching panties. This was my second shopping/research trip with Ariela, and there is definitely something transformative about wearing matching lingerie (which I never had before). It has also become clear that the lingerie business is going to have to change to satisfy women's quest for comfort, value and confidence. Blizzard or no blizzard, this was time well spent.

Next stop, as the wind turned my umbrella inside out, was the Capital One Cross-Campus Business Competition where I was serving as a judge. These participating student entrepreneurs were so determined -- everyone of them made it into NYC from New Jersey Institute of Technology, Hofstra University, and LaGuardia Community College ready to pitch their business to win precious prize money to develop their business ideas. And I'm so glad they did!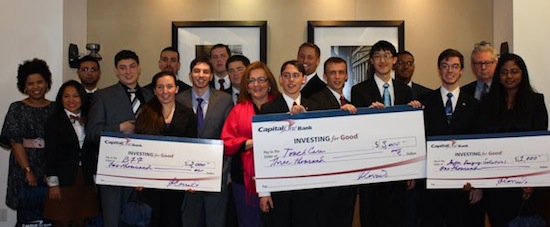 Among the winners was a young woman named Margaret Christian, a bio-medical engineering student at NJIT whose business Safer Surgery Solutions has designed a product that will dramatically reduce the time it takes to repair heart valves, from hours to minutes. Margaret will use her prize money to make a prototype. Her parents were there front and center cheering her on.
The top winners, Painless Needles, also from NJIT, were a group of young men who have invented a way to make injections much less painful. I wanted to buy their product right there and then as I hate getting injections.
And last but not least was a winning company from Hofstra called Boyfriend's Best Friend, a digital business that will help guys remember their sweetheart's birthday, Valentine's Day, Mother's Day, Anniversary etc. and help them shop online for great gifts women will love beyond the usual flowers, perfume and candy -- right on time for Valentine's Day.

There is no doubt in my mind that these intrepid entrepreneurs will do well based on the quality of the pitches and products. And I know Ariela will continue to build upon her leadership in the lingerie industry through her innovative ideas and focus on empowerment.
But just as important is their willingness to keep going regardless of barriers. These folks didn't let the threat of a blizzard keep them from their business. Life happens, but so do great opportunities. Entrepreneurs need to keep in mind that it's up to them to make things happen for their business and not let every day bumps in the road throw them off course.
After the competition, I returned home safe and sound just as the wind and snow took over I hope they did too.
Believe in you!
Calling all HuffPost superfans!
Sign up for membership to become a founding member and help shape HuffPost's next chapter