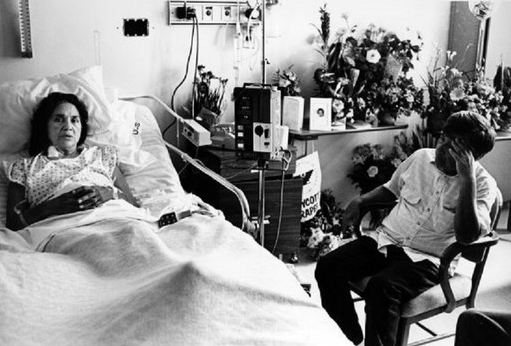 Mario Woods execution by SFPD firing squad on December 2, 2015 made SFPD's brutal, racist culture apparent for all to see, including the bus full of children on their way home from school who were eyewitnesses, and set in motion a chain of events. In January 2016, Mayor Lee requested the US Department Justice investigate SFPD, Attorney General Loretta Lynch sent her Community Oriented Policing Services (COPS) office to "collaboratively review" SFPD instead.
While COPS was here- and a Blue Ribbon Panel of retired judges enlisted by Attorney General George Gascon was investigating the depth of racism at SFPD in the wake of the 2015 SFPD racist text message scandal (not to be confused with the 2016 SFPD racist text message scandal involving a totally different set of officers) SFPD brutally executed two other people of color: Luis Gongora Pat, an unhoused Mayan immigrant executed within 22 seconds of SFPD arriving on the scene as he lay on the sidewalk and Jessica Nelson Williams, a pregnant Black woman executed while in a car in violation of Police Commission policy to not shoot at cars.
Currently Mario's, Luis', and Jessica's are among 11 cases of fatal SFPD officer involved shootings dating back to September 2014 in which District Attorney George Gascon has yet to decide to charge officers criminally- despite the Board of Supervisors allocating funds to staff a prosecutorial unit dedicated solely to officer involved shootings in the fall of 2016.
These incidents and many others point to SFPD's long shameful history of being one of the most brutal, racist, and unaccountable police departments in the United States, recounted by Judge LaDoris Cordell in October 2016 at the SF Board of Supervisors hearing on SFPD accountability.
I knew that labor leader Dolores Huerta had been brutalized by SFPD. I did not realize until watching Dolores!, the recently released documentary about her, that she almost died and was out of commission for a very long time as a result of her injuries.
The execution of Jessica Nelson Williams made Mayor Lee accede to activists demands that Chief Greg Suhr be fired. Deputy Chief Toney Chaplin was appointed interim Chief in May 2016 while the Police Commission searched for a new Chief. Chief Bill Scott, previously of LAPD, was appointed Chief on January 2017.
On October 12, 2016, COPS issued 272 recommendations for changes at SFPD, and Mayor Lee committed to implementing every one. Work groups were formed to oversee implementation of the recommendations. I serve on the workgroup overseeing the recommendations on ending bias at SFPD
Among the recommendations were the following with regard to Electronic Control Weapons (TASERS):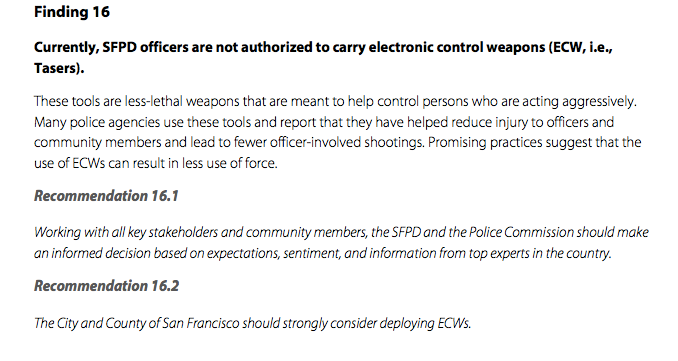 Tonight, September 12, 2017 and next Tuesday, September 19, 2017, the Police Commission will convene community input sessions to listen to San Franciscans views on TASERs. Tonight's meeting is at Bill Graham Auditorium from 6-8 pm and the September 19th session will be at City College from 6-8 pm.
Police accountability activists and community members will attend to speak out in opposition to TASERS, and we urge all San Franciscans to join us in opposition to these deadly devices.
1) TASERS are not a more humane, less lethal alternative to guns. TASERS can and do maim and kill, and are especially lethal when deployed on people in mental health crisis and/or who are intoxicated. Imagine what it does to a person in an agitated and/or inebriated state when 50,000 volts of electricity course through their bodies.
3) When I asked the SFPD officers on the Bias workgroup why out of 3100 times they pointed their guns at people during a fifteen month period, nearly 50% of the people they pointed their guns at are Black, although Black people make up 6% of the population of San Francisco, they said to me "We pointed our guns at them because they are the ones committing all the crime."
SFPD is nowhere near undoing the deepseated racism in its culture. To provide officers with TASERS now would result in disproportionate use against people of color.
In short, now is the time for SFPD to focus on deescalation, overcoming bias, and demonstrating to the community that SFPD is worthy of our trust. We have never trusted SFPD because they have consistently demonstrated that they do not view us equal as human beings.
Now is not the time- nor will it ever be the time- for a new costly lethal weapon for SFPD.
#SFPD #SanFrancisco #TASERS #PoliceAccountability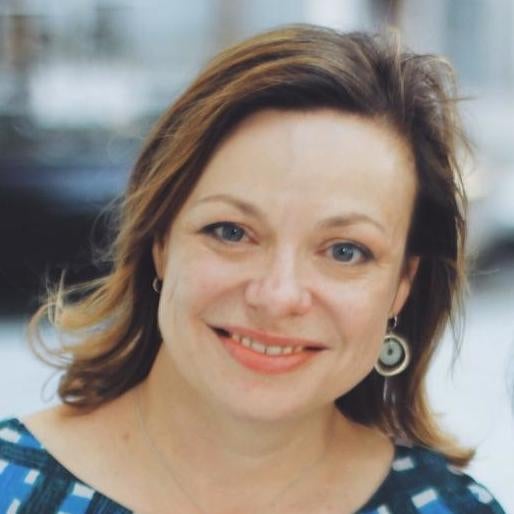 Her mission is to build and support a community of people committed to love, learning, accountability, and action on race in America.
She speaks and cofacilitates workshops on race nationwide and online and contributes to Huffington Post, Moguldom, and The GED Section.
Popular in the Community