"It's not tax money, so angry taxpayers can calm down." That was the first reader comment posted on an on-line Chicago Tribune story.
The issue that elicited that reaction was the six-year, $18 million contract for newly hired University of Illinois, Urbana head men's basketball coach Brad Underwood. It's part of a familiar ritual that happens whenever the UI hires a new high-profile coach:
"This doesn't come out of tuition. It doesn't come out of state funding. It's strictly out of athletic funds," said one UI Trustee in a newspaper story after a new coaching hire.
"Coaching contracts are covered by athletic department income, not tuition or state funds," noted another Trustee.
"The state of Illinois does not fund coaches' salaries," said an official UI spokesperson.
"Intercollegiate Athletics is self supported and does not use state funds, taxpayer dollars, or university funds for our salary program," said an athletic department spokesperson.
It's a narrative that's been repeated for years, over and over, from pretty much every corner.
While taxpayer money doesn't technically go to pay the coaches' actual salary lines, taxpayer money does pay for the salary packages for most every UI coach, trainer, and full-time athletic department staff member. That's because UI athletic department employees are UI employees, so they receive the same "standard university benefits" as all other UI employees.
And benefits for UI employees – health, dental, etc. – are paid for by the state of Illinois. In other words, the taxpayers.
The cost isn't exactly trivial. In 2016-17, the taxpayers' bill for athletic department benefits was just under $6 million, according to the UI's Associate Chancellor for Public Affairs. And the cost of those benefits is an annual expense. Combined with the $2.6 million pension cost for retired coaches and other retired athletic department employees (as explained in Part Two of this series), the total cost to Illinois taxpayers for UI athletic department compensation packages was $8.6 million in 2016.
"What I think it does is it undercuts the argument that tax dollars have nothing to do with athletics," said State Senator Scott Bennett. "They certainly do."
Even if taxpayer money isn't going directly to pay these incredibly generous salaries, it still plays a role. By picking up the cost of employee benefits for the UI athletic department, taxpayers help to free up money for the athletic department, money it can then use to pay for other things – such as the salaries of its coaches. Those huge salaries — football coach Lovie Smith and men's basketball coach Brad Underwood are the highest paid public employees in the state — may look very different to the public when it knows that part of the justification for those salaries, that "the state of Illinois does not fund coaches' salaries" isn't exactly the case.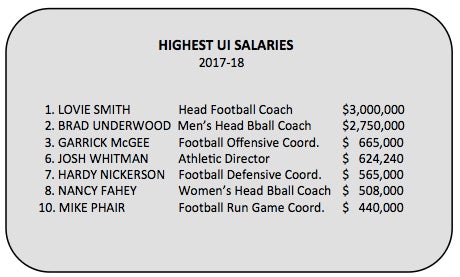 One major factor driving up this taxpayer cost is the growth in the number of coaches and athletic staff. It's a trend seen nationwide, especially in the biggest programs.
"There's so many people in an athletic department (today), it's incredible. I mean, literally incredible," said Rick Telander, a sports journalist who has been covering college sports for more than forty years. "There are no limits. There's no cap."
Like many of its peers, the UI athletic department has grown dramatically. The total number of athletic department staff, according to the university's academic personnel books, has risen from eighty-eight in 1997, to one hundred and ninety-six in 2017. That's a whopping one hundred and twenty three percent increase in athletic staff.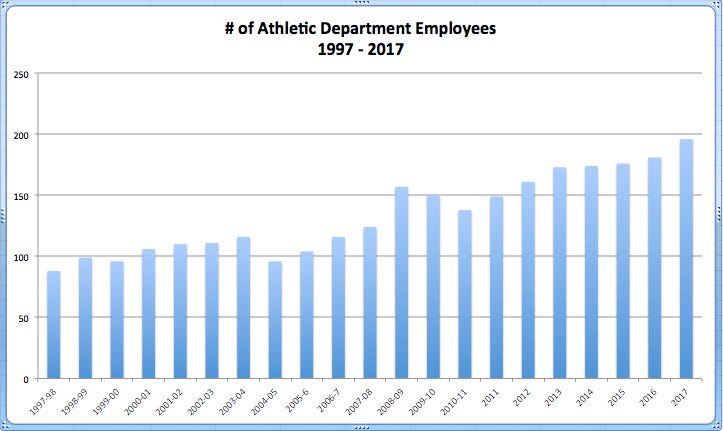 More staff costs taxpayers more money. New hires add to the total benefit costs that Illinois taxpayers have to pay. As long as TV revenue for broadcast rights continues to grow as it has, the number of athletic department employees is likely to grow with it. It's strangely ironic that the more TV money the UI athletic department gets, the more it could actually end up costing the taxpayers.
Of course, the athletic department doesn't have to hire more staff. The number of sports offered by the UI hasn't changed for decades. But to keep up with its competitors, UI athletics will have to keep growing — and keep spending.
Growing means more and better facilities, more services, and ultimately, more people. More people cost more money.
For the taxpayers. Even if we're told otherwise.
--------------------------
Calling all HuffPost superfans!
Sign up for membership to become a founding member and help shape HuffPost's next chapter
This post was published on the now-closed HuffPost Contributor platform. Contributors control their own work and posted freely to our site. If you need to flag this entry as abusive,
send us an email
.