It's become fashionable for a handful of musicians and singers to bemoan how services like Spotify, Pandora and others are "killing music." Pop superstar Taylor Swift went so far as to pull her music from streaming services, complaining that artists need to be paid.
Well, music industry veteran Miles Doughty, of the popular band Slightly Stoopid, has two words for this kind of talk: Go tour.
Miles said streaming isn't killing music, it's just shifting the business model of music to what his band enjoys doing most: touring. Playing live for fans. Taylor knows this as well, she grossed $150 million in her most recent tour, Red.
Like it or not, downloads are dying. but touring pays off. For example, my analysis of the top 10 acts in 2014 grossed more than $1.3 billion... not making pennies from streaming, but from touring. They made an average of $114 per fan who bought a ticket (not counting merchandise sales like t-shirts, etc.).
Ironically, some of the very same artists that decry streaming are the ones raking in the most from touring. See my handy chart here: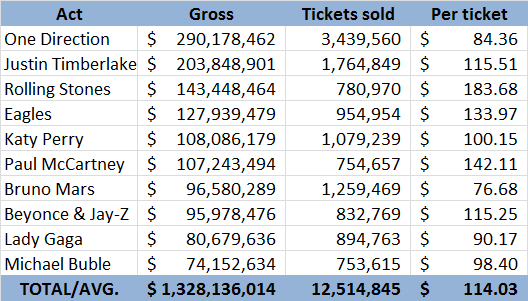 In other words, if you're a musician, you have to play live to make money. The old business model of pressing a record or CD and cutting the pie a dozen ways doesn't work.
Miles, with more than 20 years in the business, knows the shifts as they come, having seen the debut of the Web, Napster, artist sites and now into streaming services. He's 100 percent correct: Streaming is becoming marketing for touring.
It's also why he and bandmates started their own label in 1999.
Slightly Stoopid has been selling out shows and music festivals for years and is one of the headliners at the upcoming California Roots Festival in Monterey CA in May. About 10,000 to 15,000 people are expected to attend the three-day music fest. And does Miles do it for the money? "We do it because we love music, we love playing."
What? You mean music is supposed to be fun? Check out the audio interview here:
Popular in the Community