I founded Tiny Spark four years ago to investigate philanthropy, nonprofits and socially responsible companies. As a former Africa correspondent, I had seen with my own eyes how difficult is it to have lasting impact in places far from where we live and discovered that well-intentioned projects can sometimes cause harm.
In our podcast, we ask critical questions of people and projects aiming to do good, so that we can figure out how to do good better. In this inaugural blog for the Huffington Post, we take a hard look at tech's promise to change the world. You can listen to the podcast here:
Our guest this week says tech alone will never solve the world's problems. Kentaro Toyama worked for Microsoft in India for five years, researching how to help the poor through tech. But after rolling out more than 50 research projects, Toyama says he's had a change of heart.
"The idea that you can spread a technology or scale a technology, as people like to say, in order to accomplish some kind of social progress is deeply misguided."
Toyama says tech merely amplifies good and bad situations; it doesn't actually change them. For kids in decent schools with great teachers, tech makes their education better. But if you're trying to help kids where there's no running water and poorly trained teachers, Toyama says a campaign to get a computer in every classroom may actually make things worse.
"In those schools in which you don't have strong administration, good teachers and so forth, the technology will usually not have any kind of impact whatsoever, and in some cases, it can cause outright harm."
Toyama recalls many times when he was introducing new technologies in classrooms in India with teachers who were very eager to use them. "But they would spend a good chunk of the class just setting up the technology and getting everything right. Half the class is over. And to me, that's a waste of that class time," he says. "If we didn't have the technology there, trying to run these programs, they could get on with their regular educational curriculum, and it would probably end up being better for the students."
Kickstarter Favors The Well-Connected
"People talk about how Kickstarter is a way to raise money and you no longer have to be a fundraising professional to be able to do it. Anybody can simply go online and raise funds from their friends," Toyama says. But he points to the fact that the average Kickstarter campaign raises less than $10,000 when it's successful. Compare that to what actor and director Zach Braff was able to bring in when he turned to the platform to raise funds for his own film. Braff took in $3 million from some 46,000 backers.
"Your existing influence and status as a celebrity gets amplified using the technology, but those gains don't necessarily apply to everybody else, to the average person. So the same technology, used by different people, has different outcomes. People with wealth or education or social influence end up benefiting much, much more from the technology than people without."
So what is needed to truly transform lives if not tech? Toyama says we must begin with humility. "One of the most misguided ways in which we do development is to assume that we who have advantages know what's good for the other person," he says. Instead, Toyama champions a proven -- if decidedly old school -- solution for transformational change: mentorship.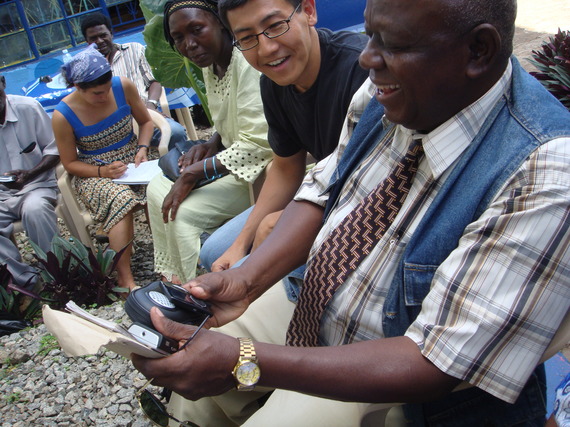 Personal Connections Trump Tech
"The idea with mentorship is to really ask first, 'What is it that the other person aspires to? What do they most want?' And then to see if we can help. Using the advantages that we have, help them gain the skills and the resources that are required to achieve their own aspirations."
If we begin to turn away from screen-based solutions and toward one another, Toyama says global efforts to do good will still be long and hard, but ultimately more fruitful. "Many of the misguided programs that we impose on the world happen because we tend to see the world as a machine, and people as cogs in that machine. So if we find the right technology, and the right place to put the new technology, then the machine will work better. But I think ultimately that's a mistake."
Toyama has already begun to re-engineer his own career toward a more human-centered approach to doing good in the world. He says developing tech is comparatively easy. "What is much harder, and I think a much deeper problem, is: How do we spread this idea that more of us should really actively seek to be better versions of ourselves? How do we cause that social change to happen? So I focus more and more on people and on the human psychology and sociology of true human development."

Photos: Toyama with schoolchildren in Rajasthan, India; Toyama with community workers in Uganda. All photos courtesy of Toyama.
Calling all HuffPost superfans!
Sign up for membership to become a founding member and help shape HuffPost's next chapter