Lucky you, in preparing our huge conference on the future of work in New York tomorrow called Work Awesome, we got an elite briefing from the minds at Steelcase.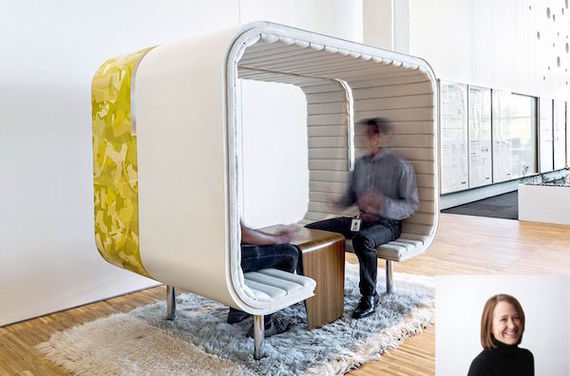 Hint: the coffee shop is not your future. Instead, the coffee shop is coming to a cubicle near you.
She should know: she is the Vice President, Strategy, Research and New Business Innovation at Steelcase. She is constantly researching what the future of the physical workplace should look like. And is trying to build it today.
Lars Gaede from Work Awesome: Sara, we can work from anywhere - from bed, from a cafe, in trains, on planes. And we do it all the time! Does work actually still need a specific place?
Sara Armbruster: My answer to that is: yes, work does need a place! Work is more than just the technology and the tools of work - fundamentally it is a human process. It is about engagement of people with one another. And also about culture. Most of us work for organizations, so obviously, there are people who are freelancers or independent workers, but even most of them are working for a company or are part of an organization. So I think you have to really look at work as a much bigger human-centered system of interactions than just the access to a phone or technology that allows them to connect remotely. It's also about people being able to feel connected to their organization, to be able to connect to the culture of their companies, to be able to feel a broader purpose for their organization. I think that physical place is one important way to which those attributes are embodied. Physical place is a really critical tool, because we believe real interactions and behaviors of people that happen there not only allow work to happen but also allow culture to develop over time.
Lars: What exactly is it you think the workplace can and needs to provide? And how has that changed over the time?
Sara: One example of where we see significant change is in the rethinking of the move that took place toward open-office layouts. 10, 20 years ago, everybody started to take down walls, move people out of private offices to create highly open environments. Our research shows that having all of one thing, whether it's all private offices or all very open environments, is often not the workplace that is most inspiring and engaging and productive. One of the things that we have seen shift over the past few years are workplaces that offer a much broader range of options in terms of the kinds of physical setting, as well as the kinds of technology tools that enable people to do their work. We see that in today's work force, and in particular, the millennials, are really interested in having choice and control over when and how they work.
Lars: So the office is getting more diverse.
Sara: Yes, if you are a company, if you are an organization, and providing spaces that give your employees a variety of settings to support different kinds of work, which in some places cases might be individual-focus work. I need to sit down. I need a quiet space where I can focus and concentrate. But at other points in my day or my week I may need to be in a very collaborative type of work setting in a space that provides the tools and the room to engage with a group of colleagues in a generative kind of activity. We also save spaces that can range, someone will call for a path-oriented, so spaces that are very much designed for a specific type of, I will call it formal work. Then there are the spectrum of spaces that feel much more social. They feel much more, they have much more of the ambiance of a cafe. I can sit, I can have a cup of coffee, I can feel the flow of people to connect, engage, catch up with a colleague. I think we believe that there is no one right kind of space all of the time for all people, and that by providing the diversity of setting within an office environment, you give the employees the choice of control over which choices they make and which office they choose.
Lars: Companies give their employees more liberties, more choice. But also more and more perks: the ping-pong tables at the offices are a cliché but it is real. There are fitness studios, yoga rooms, Playstations - the workplace is being turned into a playground for grown-ups. Is it because the office is now competing with all these other places: the bed, the café -people are allowed to work from as well?
Sara: I think that's exactly right. There's more competition for the office. And I think many organizations recognize that. They are thinking about not solving that challenge with policy, by stating that their employees must be in the office, but they are thinking about how can we win that battle by providing an environment with spaces that people love to spend time in. That's not just a typical space, that's also about the culture, that's about behavior, it's also about technology.
Sara: One of the things that we have recently done is research looking at global workplaces. Of course technology is more widely available than ever before, and more people are using it to do their job. But what we found out was that workers often believe that their personal technology devices, their personal mobile phones, their personal laptops are more reliable and more helpful to them than the technologies that are provided at their place of work. So I think that all these companies recognize that technology is an important enabler for most people at work, I think it's also important for companies to figure out how they're going to adapt and keep up with changing technology offerings. They have to provide new and better tools.
Sara: For example, if there are a group of people in one location who are trying to interact with a group of people in another location over the phone, the people that you are hearing on the phone never quite seem as present or as fully there as the people who are physically there. But there is more and more teamwork across continents. So the struggle with remote collaborations and team work isn't just a nuisance but it really threatens productivity and making that collaboration effective. So businesses are trying to tackle that challenge by investing in video and different video systems to allow employees to interact over video and that makes a lot of sense. Your employees can do a Skype call over a laptop, or they can have a great and smooth collaborative space with a large-scale display where the lighting is all optimized to get an excellent video experience for everybody. I think that really matters.
Lars: I know it's a terrible question, but if you had to look into the crystal ball and tell us what the future office may look like in twenty-five years - what would you say?
Sara: One thing that we are thinking about a lot is the fact that technology is able to do more and more things for people at work. So technology can perform different functions on our behalf, I think that for many people with many organizations, what that will mean is that over time the job that computers will do will be more focused on tackling really big problems. to take advantage of those types of opportunities, will require people and teams of people to put together knowledge in new ways. I think leading companies are going to be continually pushing to find new ways of enabling workers to blend working alone with working together, and how technology is going to support human workers: artificial intelligence, robotics, any number of things. I think we are going to be challenged to find new ways to think about what the certain technologies in the workplace can do. And we have to ask how does that change the core work of what people do? I think the work of the people will continue to be the higher-order cognitive work; the imagining, the collaboration, the creating, the writing, the critical thinking. The work that, as of yet, even the most sophisticated artificial intelligence can't copy. And we will have to create spaces for people to do that.
This post was written by Amol Sarva and Lars Gaede (Work Awesome).
Calling all HuffPost superfans!
Sign up for membership to become a founding member and help shape HuffPost's next chapter