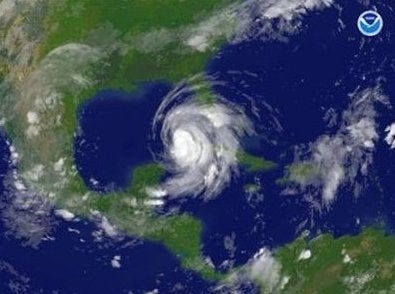 It's bad -- even worse than the reports from Cabaret and Gonaives would lead you to believe, and these cities, on the coast, are at least relatively accessible. In fact, most of Haiti's 8-12 million people live in an inaccessible interior, rarely visited by the press, who focus more on the coastal areas of the country. With the entire country denuded, any town or city at the base of a mountain will be at risk for a mudslide, any city with a river through it will be flash-flooded.
Intelligence, in the military sense, has been flooding (pun, darkly, intended) into our office at the University of Miami Miller School of Medicine over the last few days from our friends in Haiti, thanks to the miracle of cell phones. Washed-out bridges make travel anywhere in the countryside practically impossible. Electricity is non-existent, except in the capital. Gasoline prices have been forced even higher, pushing now $10.00 a gallon. Heavy damage has been reported in Borgne, Port de Paix and Hinche. These reports are only the tip of the iceberg -- places where someone with a camera, internet access and a connection to the outside world happened to report from.
We (University of Miami and our affiliated NGO, Project Medishare) work in the district of Hinche, and the reports we receive from Hinche are truly appalling - thousands of people using the hospital there as a shelter -- their homes destroyed; water contaminated by over-flooded latrines, cut off from the outside world. The doctors and hospital administrators have appealed to us for funds to buy food, water and bedding for the throngs taking refuge there. We plan to buy food locally and use "lifestraws" to purify contaminated water. People will start being sick from the water within days, so time is of the essence.
This is, therefore, no time for subtlety. The University of Miami, in collaboration with the Green Family Foundation and the Step by Step Foundation have launched a campaign to respond to the crisis in Hinche. Send cash or checks only as canned donations or bottled water will not be able to be transported there. To contribute, go to Project Medishare web site or send your checks to Project Medishare, 8260 N.E. 2nd Avenue Miami, FL 33138.

Popular in the Community