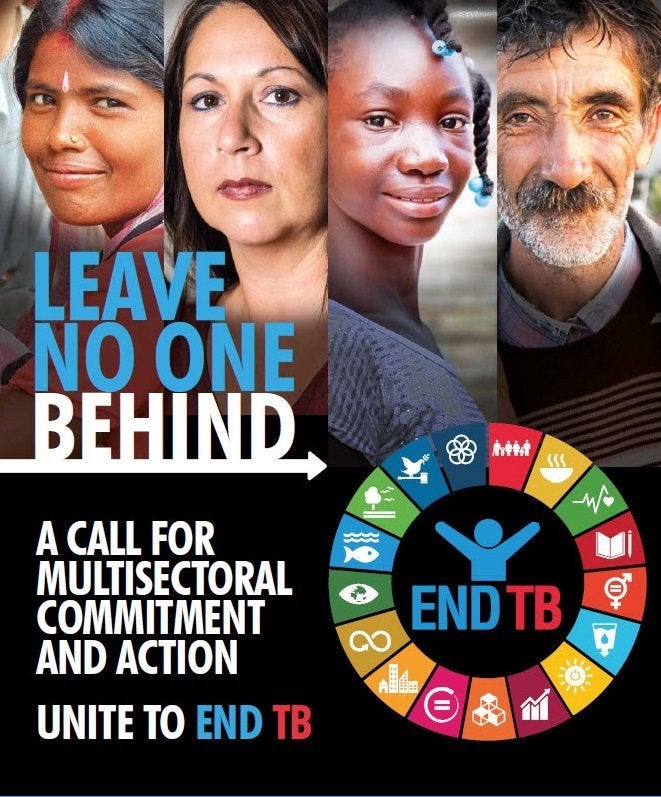 Every 18 seconds, someone dies of tuberculosis (TB). In the time it takes you read this blog, 12 people will have lost their lives to TB. The 2030 Agenda for Sustainable Development has set ambitious targets of ending the TB epidemic by 2030 and achieving universal health coverage. The challenge is considerable, in part because TB is leaving millions behind. In October 2015, the World Health Organisation (WHO) announced that TB had surpassed HIV as the leading cause of death from infectious disease; TB is also the leading cause of death in people living with HIV. 95% of new TB cases and 98% of all TB deaths are in low- and middle-income countries. According to WHO, the average TB patient loses three to four months of work-time and up to 30 percent of yearly household earnings. The World Bank notes that TB will rob the world's poorest countries of an estimated $1 to $3 trillion over the next 10 years.
Recently Hon. Michael Kirby, an eminent jurist, noted that "the central truth about the tuberculosis crisis, is that social and economic factors and structural barriers drive the epidemic." The risk of becoming infected with TB is associated with malnutrition, crowding, poor air circulation, and inadequate sanitation and compounded by other factors such as diabetes and alcohol and tobacco use. In countries where TB is endemic, the burden of TB is greatest for women in their childbearing years. Access to effective diagnosis and treatment is hindered by stigma and discrimination. We know that TB thrives where vulnerability and marginalization increase risk and impede access to health services. According to The Lancet, approximately 5% of all TB cases are multi-drug resistant (MDR) and the most effective treatment for MDR TB is largely out of reach because of its prohibitive cost. Is any of this starting to sound familiar?
It most certainly should. We know from the global AIDS response that a human rights and gender based approach is central to effective HIV prevention, treatment and care. It is no surprise then that the Stop TB Partnership Global Plan to end TB: the Paradigm Shift 2016 – 2021 recognises that TB programmes will not succeed without a human rights and gender based approach to TB that puts those living with and affect by TB at the center of the response. The STOP-TB Partnership, International Human Rights Clinic, University of Chicago Law School and Kenya Ethical, Legal Information Network for HIV (KELIN) have joined forces to develop a TB and Human Strategy (also known as the Nairobi Strategy).
UNDP, as the lead on human rights and law in the Joint UN Programme on HIV/AIDS, is committed to playing its part. Since the release of the report of the Global Commission on HIV and the Law, UNDP – in collaboration with governments, civil society, other UN partners has supported 88 countries to remove human rights and legal barriers to HIV services and increase rights-based programming. UNDP is committed to expanding this work to include a human rights and gender based approach to TB. With support from the Global Fund, UNDP is working with leading African human rights civil society organisations such as AIDS Rights Alliance for Southern Africa (ARASA), KELIN, ENDA Sante and Southern African Litigation Centre (SALC) to address human rights barriers faced by vulnerable communities in Africa, and increase access to lifesaving HIV and TB services in 10 African countries.
We have no time to lose. If we want to end TB by 2030, investing in human rights and gender based approaches to TB that put people living with and affected by TB at the centre of the response is critical. The clock is ticking !
Related
Popular in the Community