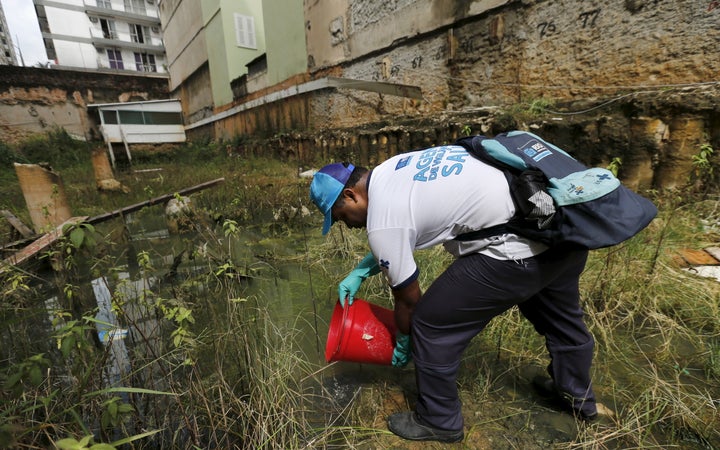 Is September too late to address the Zika threat in the U.S.? Recently, a bill authorizing the emergency funding required to combat the spread of the Zika virus across the United States was blocked in the Senate leaving the Obama Administration and Congress struggling to come to agreement this month on the proper level of funding to fight the disease.
Zika is not Ebola and I would not pretend it to be. But as Congress prepares to adjourn until after Labor Day, and converging world circumstances like the height of mosquito season and increased international travel for the Olympic games loom in the immediate future; Lawmakers in the U.S. need to act decisively, take this situation seriously, work together and make the necessary funds available. Most importantly, they need to keep informing the American people about the progress of the fight against the disease.
When Nigeria experienced its first case of Ebola I was in the U.S. at an African Leaders' Conference. It was July 20, 2014, and there was no doubting the gravity of the situation. Ebola had spread through West Africa and now the deadly virus was in Nigeria. Immediately, I flew back home and called an emergency meeting of key stakeholders in the federal government connected with communicable diseases: the ministers of health, water resources, education, finance, justice, transport and others.
The consequences were grave—not just for Nigeria but also for the world. Nigeria is Africa's most populous country, home to almost 200 million people, with a border of 3,045 miles. 
Time was of the essence. Rather than argue over funding for weeks, extra resources were made available. Immediately, $6.7 million (N1.9 billion Nigerian Naira) was given to the health ministry to support its response. Part of that money was used to provide protection for those treating victims. A command center was set up in Lagos to trace all 177 of the first case's primary, secondary and tertiary contacts, and place them under surveillance.
Looking back, the keys were education and an immediate response, When it comes to Zika, delay can cost lives. People need to know the truth about the virus, to be as informed as possible about its spread and containment. We used smartphone technology to broadcast messages about Ebola and how people could protect themselves. An informational website was created and we used social media, especially Facebook, to halt rumors and inaccurate reports. We issued warnings and advice in local languages. But all these activities required funding, a good portion of it from the emergency resources made available to fight the spread of the disease.
In October 2014 my country was declared free of Ebola. Globally, 11,315 people had died in the Ebola outbreak, and 28,637 cases had been reported. Because we acted fast in Nigeria, eight people died and only 20 cases were reported.
I am proud of my people's response to this deadly crisis. I was determined to trust them not to overreact, but I was just as determined to keep them up to speed as much as possible. Information is what was required in Nigeria then and is what is required with respect to Zika in the U.S. now. There is no such thing as enough information and there is no time for political squabbling when lives are on the line.
Trust the people and fund the fight. This is something governments don't always do. But where the spread of disease is involved it's remarkable how a collective spirit is born, and how common sense prevails.
Goodluck Jonathan was the President of Nigeria, Africa's most populous country, from 2010 to 2015. He now chairs The Goodluck Jonathan Foundation which promotes democracy, peace and transformational change in Africa.
Calling all HuffPost superfans!
Sign up for membership to become a founding member and help shape HuffPost's next chapter