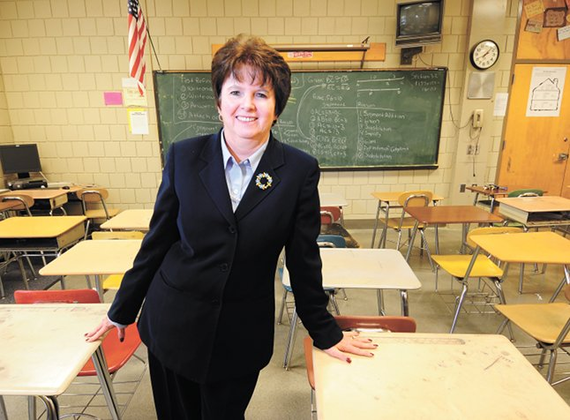 It's not every day that you meet someone who has spent an entire lifetime changing the world. To give you some perspective, you are probably familiar with the movie, The Blind Side, where Sandra Bullock plays the part of Leigh Anne Tuohy, a woman who takes in a homeless black teen named Michael Oher, eventually becoming his guardian and changing his life. I recently met the Worcester, Massachusetts version of Leigh Anne Tuohy, times one thousand. She's literally changing the world by positively impacting the lives of thousands of students (many of them homeless) each year. Her name is Maureen Binienda and she's the principal of South High Community School in Worcester, MA where she's been for 38 years.
South High Community School is a high school for 1200 inner city teenagers in Worcester. It's no ordinary school in that approximately 188 of the students are homeless and as many as 668 of the kids speak English as a second language. As Principal Binienda pointed out during my recent tour of the school, "These kids are amazing. All of them will be successful. However, many of our kids have additional challenges. They are dealing with problems like how they are going to get food for dinner, where they are going to sleep, and whether they will have clothing to wear to school tomorrow." Binienda and her staff have made it their mission in life to be a guiding star in the lives of their students, by helping them solve the challenges they face, so that they can focus on education. As Binienda sees it, the only way out of poverty is education, and this includes solving the problems of food, shelter, clothing and healthcare.
I recently took a tour of South High Community School with Maureen, and let's just say that there were resources at this school that I've never personally witnessed in a high school. To begin with, South High houses a full medical clinic supported by Family Health Center. Maureen said that many of the kids wouldn't get to have medical treatment at all if it were not for having an affiliated clinic at the school. Here, students can receive full physicals and regular medical care for sicknesses like flu and ear infections.
Adjacent to the clinic there is a student food pantry. Maureen says that with over 188 homeless students, there are kids that won't have the opportunity to eat outside of the walls of the school without the help of their food pantry. She says that they have created a backpack program so that kids who need food can come to the pantry early in the morning to fill a back pack full of foods like pancake mixes, pasta, and canned goods. They leave the filled back pack in the pantry so that they can come back later that day to pick it up. They use backpacks rather than grocery bags so that kids that use this service can do so discreetly without letting others know their situation. The food pantry also provides birthday bags, a suggestion from a pharmacy volunteer, so those who are celebrating a birthday can come in and get a bag filled with cake mix, candles, frosting, party plates and the like. If you are wondering where all the food comes from to fill the pantry each week, well that too has everything to do with caring partners. Maureen is a volunteer usher at The Hanover Theater in Worcester. There are 290 ushers at the theater that each week bring food to the theater, which is posted on the usher website. The food pantry also receives funding from Fallon Health, UNUM, and community individuals.
After touring the in-school food pantry, Maureen then took me on a tour of Andy's Attic, a non-profit clothing pantry, which not only provides donated clothing for many of the students, but also provides clothing for members of the local community. Andy's Attic is coordinated by South High Physical Education Teacher, Christine Foley. Christine also teaches a class in Andy's Attic for the newly created Nonprofit Management Pathway. Andy's Attic is a full blown recycled clothing non-profit that is 100% run by the students. Andy's Attic is in its own annex of the school, taking up about 1500 square feet. There were rows and rows of clothing in every size, including infants up to adults. Everything was sorted by size, and there were huge bags filled waiting for pick up by local students and families. Andy's Attic also started a program to collect books so that each bag of clothing that is offered to South High students or to the local community includes a book to promote reading.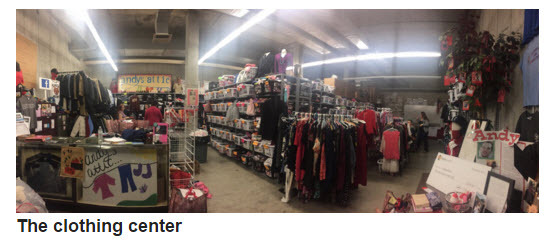 South High Community School is also home to a pre-school and daycare services. Some of the students of South High have children and without this type of support, Maureen fears that many would not graduate. In addition to services for the kids of her students, teen moms and dads take parenting classes, so that the young parents of South High have the tools to understand how to be a good parent. In 2014, Maureen shared that 10 of her students who had children went on to college. As Maureen sees it, her job is to find any way possible to keep doors of opportunity open for her kids, whether it's through healthcare, food and clothing provisions, or child care for her students.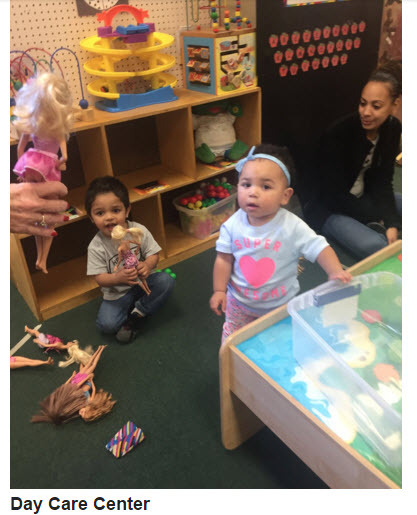 Twenty six of the teachers/staff members at South High Community School were one time students. Binienda believes that this is because South High is more than a school, it's a real community where everyone helps one another achieve their goals. South High is considered an open classroom school because the classrooms are pieced together in massive function halls, divided only by cubicle space dividers. Binienda says that their school motto is "No walls, No limits." That's the theme that every student lives by. No walls means that there are challenges but no walls also means that the students can turn their hardships into boundless opportunity to create great lives for themselves and to even change the world.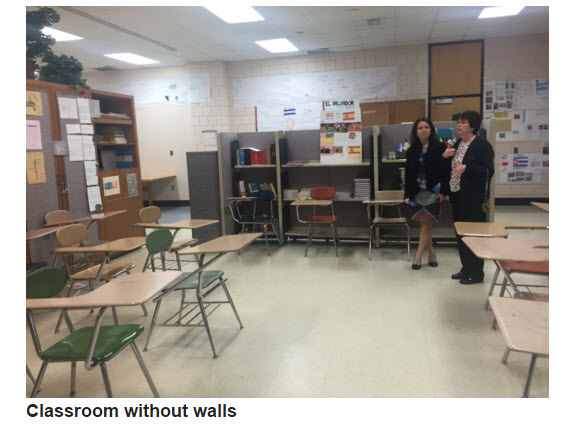 Touring the school with Maureen Binienda was magical to say the least. We ran into students as we perused classrooms and roamed the halls. Maureen knew the names of every student we ran into. She would stop, ask them about their day; she'd make them feel special. Perhaps this is the icing on the cake of all the gifts she's giving. Binienda and her staff have created a safe environment for inner city kids to thrive. At South High Community School, kids get food, childcare, clothing, healthcare, education, and they get to be heard and appreciated. Maureen Binienda is proving daily the mantra that she lives by; no walls, no limits.
Contact Maureen Binienda at BiniendaM@worc.k12.ma.us to find out ways in which you can support South High Community School.
As well, if you are interested in donating a brand new pair of Puma sneakers to Andy's Attic send a check for $10/pair to Puma at the address below:
Puma North America, Inc.
c/o Carmine Petruzziello
10 Lyberty Way
Westford, MA 01886
Support HuffPost
A No-B.S. Guide To Life
Related
Popular in the Community