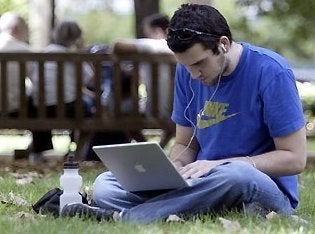 Today, my roommate and I checked into two different hotels. We began at the Marin Suites Hotel in Corte Madera but soon determined that our room didn't have the WiFi connectivity I was promised. I specifically booked a room "poolside," because the guy told me: "It has the best WIFI reception." When I dialed the operator, I was told that there was some WIFI access, but it was only poolside -- out by the pool. I was told the room had dial up access, but we weren't able to get it to work with either of our laptop computers.
After waiting about ten minutes to see if someone could get the internet to work, we decided to go down to the Best Western Corte Madera Inn to see if they had any rooms with WiFi access. Gary said they had one room left with 2 double beds at the special rate for the Book Passage Travel Writers & Photographers Conference. And the Corte Madera has WiFi in every room, plus air conditioning. It would cost us $135 a night rather than $99 a night, our rate at the Marin Suites, but we decided air conditioning and WiFi were worth it. When Gary said our room included a daily breakfast basket, we tentatively booked it. If the Marin Suites required us to stay one night, Gary said we could check in the next day.
I mentally rehearsed our demand on our walk back. I wanted to check out free of charge with as little confrontation as possible, despite our having spent at least a half hour in the room.
I asked for the manager, and when he came out, I told him I was in town for a writing conference, I needed WiFi, and I was promised WiFi: "That's why I booked our room poolside." Thomas Collins and Mary Morgan exchanged a knowing glance.
Both knew if I was promised WiFi by the pool, Jerry must have handled my booking. Jerry is no longer at the Marin Suites, because he kept promising WIFI in the poolside rooms rather than WiFi by the pool. Thomas tore up the credit card authorization, and we were released from our booking -- no harm, no foul. Mary even gave us a parting gift -- a card for free Onion Strings at Izzy's.
It's nice when people listen, and do the right thing. Had it not been for the WiFi issue, I would have enjoyed staying at the Marin Suites Hotel due to its courteous staff. And while the hotel lacks air conditioning, it has a very inviting saltwater pool that's heated to 80 degrees.
I am equally grateful for the hospitality, air conditioning and high speed internet connectivity at the Corte Madera Inn.