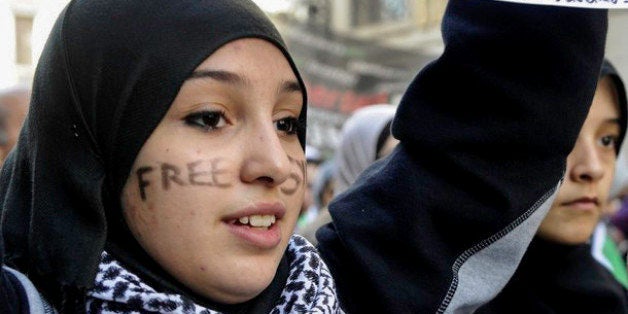 This landmark resolution highlighted the vital role women play in peace building and called for women's equal participation in peace and security, but good intentions have not materialized into meaningful support for Syrian women and their counterparts throughout the world.
Syrian women are providing excellent examples of grassroots, sustainable and non-violent peacebuilding, even as conflict rages on.
In 2011, some 2,000 Syrian women and children blocked a main road in northeastern Syria to demand the release of hundreds of imprisoned men.
This year, 470 Syrian women in the city of Zabadani risked their lives to publicly sign a statement demanding the Syrian army, Hezbollah and the Sunni Ahar a-Sham militant group stop attacks.
Women in Syria's Atmeh camp for internally displaced persons led a successful campaign to control small arms after an argument in the camp lead to the death of civilians. National and international advocacy groups rarely see this level of success when it comes to controlling the use of arms.
Syrian women are working to provide essential medical relief and food to a starving population, and have established safe spaces for women and children. Some living in ISIS controlled territory have even been able to negotiate the opening of temporary schools for children denied a regular education since war began.
Increased support for these peacebuilding efforts is urgently needed. The Badael foundation's report also found that, "lack of funding was the factor most activists pointed out as having a negative impact on their ability to carry out peacebuilding activities. The fact that many women's groups are not registered was one frequently mentioned reason for why they are turned down by donors."
Syrian women's intimate understanding of their communities' needs and experience driving nonviolent peacebuilding efforts make them essential actors in the peace process. How can anyone justify excluding their expertise from peace talks or denying them the support they so urgently need to continue their efforts?
Women will not singlehandedly build peace in Syria, but peace will not be achieved if they continue to be excluded. Even if an agreement is reached between fighters -- without the full inclusion of women, civil society and youth -- it will only lead to a fragile peace. This peace will be neither sustainable nor responsive to the needs of civilians most affected by the on-going massacre in Syria.
This post is part of a series produced by The Huffington Post and members of the International Campaign to Stop Rape & Gender Violence in Conflict in conjunction with 16 Days of Activism Against Gender Violence. To learn more about global activism to end sexual violence in conflict, visit here. To read all posts in the series, visit here.
Popular in the Community