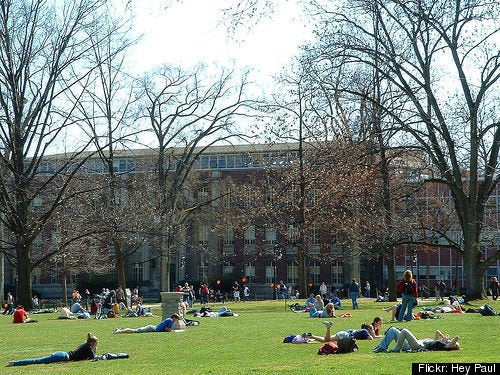 There's something strange going on in Pennsylvania.
As the fire of student protest and activism burns brightly at the University of California in response to tuition hikes, students at the Pennsylvania State University's main campus couldn't care less about their own looming increase.
Penn State students, too, are subject to an ever-increasing rise in tuition, just like their brothers and sisters out West. In fact, according to a 2006 study, they are actually subject to the highest tuition of any state-related university.
"I'll stay here unless it gets obscenely unrealistic," Kurt Smithgall, a freshman studying chemical engineering said. "But I don't really see that happening."
Smithgall is just one of the more than 40,000 students who attend classes at Penn State University Park, its flagship campus.
Tuition at Penn State varies greatly, depending on a myriad of different factors -- charging differently for class standing, residency and specific programs. Economics professor G. Dirk Mateer attributes this to the fact that as students become more rooted in the school, it's more difficult to leave.
Barry Goldson feels like he's a perfect example of this. As a junior studying chemistry, he is subjected to both the pay hike for being an upperclassman, as well as one for his major.
"By this point I'm way too far in my major. To transfer, it would mean I'd have to retake classes at another school," Goldson said. "I already paid this much for a Penn State degree -- might as well do whatever it takes to complete my Penn State degree."
Goldson added that he didn't really hear about tuition hikes on campus and only noticed when paying his bills.
Goldson and Smithgall are not alone in their nonchalance. Mateer recently posed a question to his one class of 750 students whether a five-percent tuition hike would compel them to transfer. Only 5 raised their hands.
This is good news for Penn State, because the administration might do just that.
President Graham Spanier -- who ranks among the highest-paid public university presidents -- recently visited the Pennsylvania legislature requesting more public funding, saying that tuition may increase another 4.9% if it is not received.
Yet, regardless of the increase, incoming freshman seem to be flocking to the tucked away campus in droves. In 2009, the university received a record 109,000 applications.
At University Park, enrollment is at its highest ever at 44,112. The total enrollment figure at Penn State's 24 commonwealth campuses and its armada of post-undergraduate schools rests at 87,163.
Smithgall finds the trend interesting but not terribly odd. He said that tuition here is still cheaper then most private schools. Still, there is passion paradox going on at Penn State.
Students are usually passionate. In fact, Penn State is home to the largest-run student philanthropy in the world, THON, which recently raised another $7.8 million to fight pediatric cancer.
But when it comes to rising tuition, hardly a dull roar surfaces. While students seem to be generally bothered about the tuition hike, there have been no major student protests.
The student voice is still being expressed -- but instead of yelling it's only mumbling.
Calling all HuffPost superfans!
Sign up for membership to become a founding member and help shape HuffPost's next chapter