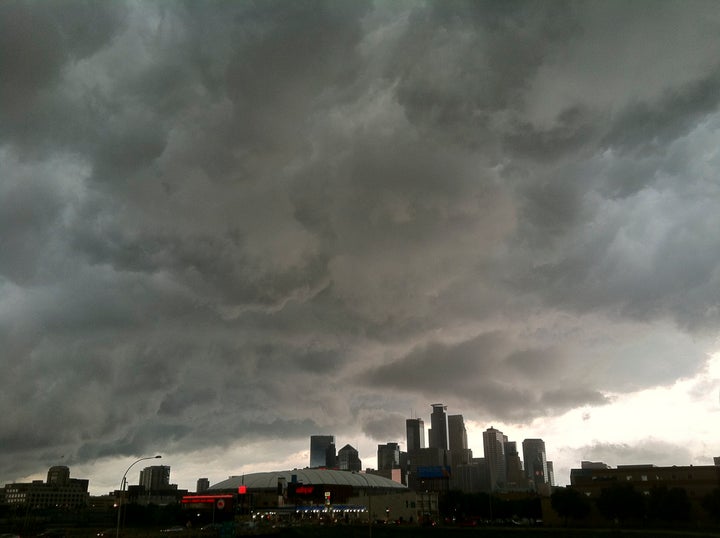 In the middle of the night on February 6, 2008, Alabama weatherman Dan Satterfield went on air to warn his viewers to take cover: a severe tornado was spinning through the Huntsville area.
"I knew that most of the people getting hit hard were still asleep or had just started to wake up," said Satterfield. "It was extremely frustrating."
If only more people owned weather radios, Satterfield thought at the time.
Tornadoes, flash floods, dust storms and extreme heat, among other natural disasters, endanger the lives of many Americans — particularly this year, it seems. But alerts from the National Oceanic and Atmospheric Administration (NOAA) received via independently-manufactured weather radios can provide users with a potentially lifesaving heads-up before any such event, even waking them with an alarm much like a fire detector.
Evidence of the radios' successes in homes and businesses abound: Ohio moviegoers evacuating just before a car launched by a tornado took out the theater's front row, a school principal in Mississippi herding 115 students into protected hallways, and 12 campers (plus 2 dogs) in Alabama wedging inside a 5-by-10-foot storm shelter before a tornado struck. All received early warnings, either first or secondhand, via weather radios.
Still, Herb White, dissemination services manager with NOAA's National Weather Service (NWS), estimates that only one in every five or six American homes have the clock radio-sized units that can broadcast NOAA alerts for a wide range of events including problems at nuclear power plants, hazardous material spills or amber alerts.
The number is probably much higher in Alabama, according to Satterfield. After the 2008 tornado, his news station worked with local emergency management, fire departments and Walmart to distribute NOAA radios, offering free or discounted machines for those who couldn't pay the $30-plus price tag.
"And for those who could afford it, we helped them realize the need to get one," said Satterfield, who continues to push the importance of weather radios on the air and plans to help raise funds for even wider distribution later this year.
Other communities have recently launched similar efforts with government grants, or even profits from a lemonade stand, as in the case of one Indiana boy, who raised money for needy families to buy weather radios after 85-mile-per-hour winds hit his town on July 11.
At the federal level, a congressional committee approved a bill Wednesday requiring all new mobile homes to come with weather alert radios.
Getting the devices into more homes may become even more urgent as weather patterns continue to shift. "There is a clear link between climate change and several kinds of extreme weather events," noted Jay Gulledge, senior scientist at the non-profit Pew Center on Global Climate Change in Arlington, Va.
Whether tornadoes or hurricanes belong on that list is still up for debate, but global warming's ties to heat waves and drought, which can result in wildfires, as well as heavy snowfall and rainfall that trigger flash floods, are well established.
"This is exactly the kind of tool that you really want to have available to help mitigate the risks," said Gulledge. "More people probably need to have weather radios."
On Wednesday, Philadelphia-area residents with weather radios received an excessive heat warning from the NWS. While heat waves usually provide more time for preparation than, say, a tornado or flash flood, alerts can act as a reminder to "be careful and check on elderly neighbors," added White.
The potential to spread weather or other hazard warnings electronically is growing ever stronger thanks to sophisticated tracking technologies and personal electronics, Hayhoe said. Rather than tornado warnings being predicted a couple minutes beforehand, for example, today's lead times can be upward of 20 minutes.
The NWS is currently working with other government agencies, as well as the telecom industry, to take advantage of this progress with a new Personal Localized Alerting Network (PLAN). Set to launch first in New York City this December and then roll out across the rest of the country by April 2012, the free service will send an audio signal, vibration and text alert to cell phones within range of an imminent threat. The consumer would then be instructed to go to their usual source for more information — whether that's a NOAA radio, the Internet or local TV weatherman.
"In most cases, if you could get a text on your phone 20 minutes before a tornado arrives, you could get to safety," noted Hayhoe. "If you don't get any warning at all, or only a minute or two, you don't have time to do that. "
Weather alert applications such as iMap Weather are already available for some cell phones. White noted, however, that these are independent systems and not necessarily free.
All of these personalized tools are better solutions than outdoor public sirens, which "cost a tremendous amount of money" and "most people don't even hear," said Satterfield. He highlighted the greater importance of filling in the current gaps in NOAA weather radio coverage. Right now, just over 98 percent of American homes can receive the alerts through a network of more than 1,000 transmitters, each linked with 123 local offices.
"To cover that last 1.5 to 2 percent of the population would be very costly," noted White. "We're trying other innovative methods to get the warnings out to these people."
For individuals living in coverage areas and interested in purchasing a NOAA radio, White encourages looking for products that carry the "Public Alert" logo. This signifies that the device meets certain technical standards and comes with the most critical features. The radios can be purchased at a variety of retail stores, as well as online.
Satterfield's person recommendations: the Midland WR 100 or 300.
REAL LIFE. REAL NEWS. REAL VOICES.
Help us tell more of the stories that matter from voices that too often remain unheard.