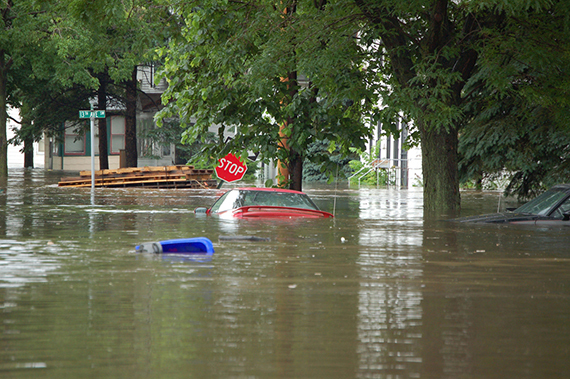 Authors: Brian Stranko, Water Program Director for The Nature Conservancy in California, and Maurice Hall, Water Science and Engineering Lead. Follow Brian on Twitter to get his perspective on California water solutions.

Even in extreme drought, 40 days and 40 nights of rain is not the answer.
In the movie, Noah, released this week, Russell Crowe plays a man afflicted with visions of an apocalyptic deluge. And on faith, Noah takes action. Of course, this comes during a historic California drought, so it begs the obvious question -- what would 40 days and 40 nights of rain, or even a bit less, mean for California? Well, most likely it would end the drought, but it would not solve our water woes. Instead, it would result in flooding in many parts of California that would negatively affect our farms, communities and fish and wildlife. So, we'd have a drought that hits us hard, followed by floods that hit us hard. And, guess what? That is not too far from the truth of California's historic precipitation pattern. Granted, we haven't had the biblical-scale rains depicted in the movie, but we have typically experienced very dry periods followed by very wet periods. And, as climate change advances, we can expect the peaks and valleys of this pattern to get longer and more severe in the future.
What does this mean for California and our water? It means we need to prepare for a future of heavy droughts and heavy rains. This year's drought emphasizes the fact that, in many places of the state, we are ill-prepared for dry times. Several communities are at risk of running out of water, farms aren't planting, cities are rationing, and fish and wildlife are struggling. Not as obvious lately, but still just as certain, is that we are also ill-prepared for periods of intense precipitation. Even the recent rains emphasized this. Roadways north of San Francisco flooded, disrupting commuters. Communities in Southern California were evacuated under threat of floods and mudslides. And that rain was far too little to end the drought. The rains did help wildlife in some ways, for example some salmon that were waiting to access spawning grounds finally got through, but they also hurt wildlife by washing away some salmon eggs that had already begun to incubate. And the rains helped people, perhaps increasing the amount of water available a notch or two this summer, but still not providing enough water to avoid hard times for our agricultural communities. Our weather patterns are tough for people and for nature.
If it is going to get harder to deal with floods and droughts in California, what can we do now to help us better prepare for our future?
1. Protect and restore the mountain areas that are the source of our water
The forests, meadows and grasslands of these areas receive our rain, hold our snowpack, and help us get water when and where we need it throughout the year. But when this system is out of order, it impacts our water supply, increases flood risks and mucks up our rivers.
2. Improve how we store and move water
Our reservoirs, pipelines, and canals can help us deal with drought and floods. We need to take a new look at how we operate them across wet and dry years and investing in upgrades that add to flexibility in how we meet people's needs and nature's needs.
3. Develop rules for managing groundwater
The water under our feet is an incredibly valuable part of how we must prepare for drought and floods. The capacity to store water in the ground in California is immense, and these groundwater basins are inextricably linked to our rivers and streams. In many places, we have been over-pumping water from these basins in wet years, so we don't have enough water in our rivers and streams and for the farms, communities and wildlife that depend on them. Since we need to rely on groundwater basins more during the dry times, we need to actively replenish them in wet years. It's time for California to get smart about proactively managing groundwater.
4. Reduce, reuse and recycle water
Embracing these practices in wet and dry years will help us expand and maintain a water-wise ethic that will help us make the big and small changes necessary to be prepared for severe weather in California's future.
Noah sets forth on a great undertaking to build an ark in the new movie. He does it on faith. It doesn't require faith to know that floods -- and droughts -- will come. We have a long history of extreme weather, and we know these events will come again. Let's heed the wake-up call of the current drought and do what we need to do to prepare for a future of drought and heavy rain. And we don't mean just build an ark. (But if you do, can you bring some endangered species, two by two?)
Brian Stranko is the Water Program Director for The Nature Conservancy's California chapter. Mr. Stranko has spent more than two decades working on complex issues at well-respected environmental organizations. Prior to joining The Nature Conservancy in 2009, he served as CEO and executive director of California Trout (CalTrout) and worked at National Geographic Society, Trout Unlimited and the Millennium Institute in Arlington, Virginia.
Maurice Hall is the Water Program Science and Engineering lead for the Conservancy. Before joining the Conservancy, Dr. Hall practiced for more than 12 years as a senior scientist, engineer and project manager, both as a consultant and at the California Department of Water Resources. Prior to that, he was assistant professor of engineering geology at Radford University in Virginia, where he taught courses in watershed management, water quality and groundwater modeling.