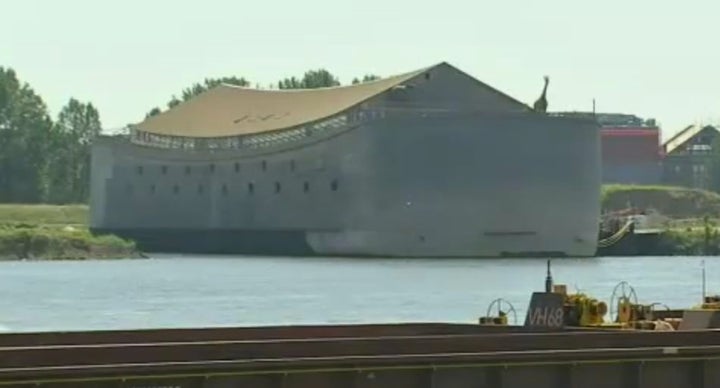 An authentic replica of Noah's Ark that opened a few weeks ago in the Netherlands could soon be flooded with tourists.
The ark was designed by a millionaire contractor and creationist named Johan Huibers, to be as close to the original biblical description of Noah's vessel as possible.
The ark described in the Book of Genesis measured to 300 cubits long, 50 cubits wide, and 30 cubits high. A cubit is supposed to be the distance of a man's arm from the elbow to the fingertips, so Huibers used his own arm and his ark came to be around 450 feet long, according to Sky News.
Huibers envisioned building the model s20 years ago when he had a dream that the Netherlands was submerged in a flood like the Old Testament destruction.
This wooden recreation, four years in the making, is the second one he's built. In 2004, he built a half-scale version that he sailed around his native country's canals, ChannelsTV.com reported.
It attracted a wave of publicity when Huibers opened it to tourists and he used the proceeds from admissions to build the full-size ship.
He hoped to take it to London, but had to dry dock those plans when Olympic officials asked him to use safety rules that weren't around in Noah's time.
"We would like to carry 3,000 people on the boat (so) you can't say: 'We'll leave it like that,'" manager Deborah Venema-Huibers told SkyNews. "You have (to clear) everything with the fire department, as it is all wood. It took such a long time that we had to skip the Olympics."
There are some concessions to modernity. Huibers used Swedish pine instead of the "gopher wood" mentioned in the Bible. Huibers says that's okay since, in the Bible, God told Noah to use a "resin wood." It's also built around a steel frame.
Another concession to modernity, or at least to animal rights, instead of two of each kind of animal, there are only a few live chickens on the boat and a whole menagerie of life-size plastic critters such as giraffes, elephants and donkeys, NewsTrackIndia.com reported.
"Johan's Ark," as Huibers boat is known, is opening in a period where Noah's Ark-related news stories are flooding the media.
Earlier this year, ArkEncounter, a proposed theme park in Kentucky, aroused attention when the state's governor, Steve Beshear, giving it a $43 million tax break.
Black Swan director Darren Aronofsky is reportedly working on a movie of the Noah's Ark tale that would feature Russell Crowe in the title role. Former Baywatch actress Donna's D'Errico has spent the last two years organizing a trip to Mt. Ararat in Turkey to actually look for the remains of the Ark.
In addition, Aaron Fruh, right-wing pastor in Alabama, came to Chick-fil-A's defense last week by claiming that same-sex marriage brought about the great flood that Noah endured.
Popular in the Community