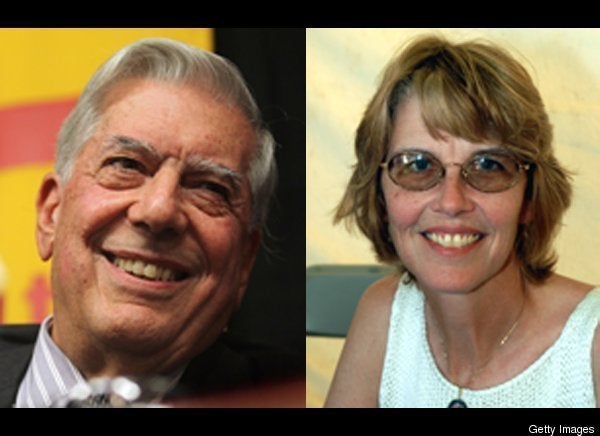 In May, 2009, at the New York press conference for the announcement of the Man Booker International Prize shortlist (I chaired the jury), I remarked that I considered Mario Vargas Llosa's 1981 novel "The War of the End of the World" "the book 'War and Peace' wanted to be." I was half joking of course (as always), but I did hope that somehow this line would land as a blurb on all future publications of "The War of The End of the World," because it was a novel that I had found to be so humane, so beautifully written, so wise, and so compelling that I thought it should take its place among the best of the best. Maybe now that Vargas Llosa has won the Nobel Prize, it will.
The amazing thing about "The War of the End of the World" is that it looks at religious cults and end-of-the-world figures in such an insightful way that the reader comes from the novel feeling as though the last word has been said about this subject. Perhaps the greatest pleasure of the novel is that men and women of all types -- soldiers, criminals, landowners, housewives, beggars, intellectuals, priests, believers -- and all social classes are viewed with compassion and interest. No character is dismissed or overlooked, and the result is a tragic celebration of a very human thing, the sweep of an avid belief through a society, and the change and damage it leaves behind. Is the Savior figure in this novel meant to represent Jesus? Or Jim Jones? Vargas Llosa isn't saying, and that makes it all the better.
Then I went on to Vargas Llosa's "The Bad Girl," a modern rewriting of Gustave Flaubert's "Madame Bovary." "The Bad Girl" is a much more worldly novel, a portrait of a young woman who, like Emma Bovary, really does not want to miss out on the world she sees portrayed in movies and fashion magazines, and will do anything, suffer anything, to join that world. It is told by her old friend, a man who will never be able to offer her what she wants. In other words, in style, subject matter, and theme, it could not be more different from "The War of the End of the World." And that is the joy of Mario Vargas Llosa's work -- he seems to be interested in everything, and to be able to illuminate any topic in a way that is appropriate to that topic. His moral compass is always working, but so is his empathy -- no point of view is so alien to him that he cannot understand it and portray it.
Vargas Llosa has had a long and productive career. Since the early 1960s, he's written seventeen works of fiction, thirteen works of non-fiction, and three dramas. Most of his books are serious and ambitious -- "The War of the End of the World" is almost six hundred pages, "Conversation in the Cathedral" is a bit longer, and "The Feast of the Goat" is four hundred pages. Some are funny -- "Aunt Julia and the Scriptwriter." No pages are wasted -- he actually has a story to tell that is about the world, not about himself, in these many pages. And readers love him -- his page on Amazon is full of 5-star reviews.
We live in an age where many authors ponder their own experience over and over in styles that can be impenetrable, but Vargas Llosa looks at the world and writes about it with such wisdom that he doesn't fear being understood (there I go again, half-joking). I don't want to say here that Vargas Llosa is important, so you should read him -- the Nobel Committee has already said that. I want to say that reading his work is moving and enjoyable in a host of ways. The Nobel Committee has reminded us that we readers have something to look forward to in the next few months. I ordered some. You should, too.
Related
Popular in the Community