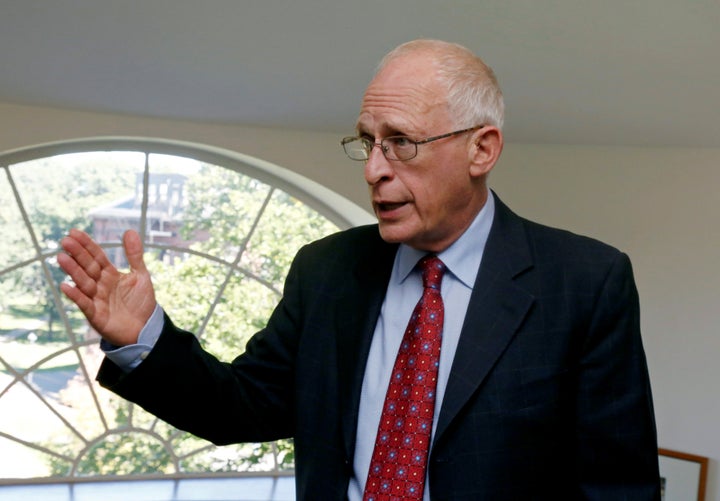 WASHINGTON — Seven U.S. residents and citizens will be honored in Stockholm next month as they receive one of the most prestigious awards in the world: the Nobel Prize, presented for outstanding work in fields ranging from economics to literature.
These Nobel laureates will boost the United States' reputation as a hub for research in a variety of fields ― and they might just provide a subtle rebuke to the direction the country is taking.
Bob Dylan is the only U.S.-based 2016 Nobel laureate who was born in the country. (He does not plan to attend the prize-giving ceremonies.) The others represent a reminder of how being open to the world has allowed the U.S. to excel.
At an event at the Embassy of Sweden on Wednesday, four of the laureates talked to The Huffington Post about the anti-immigration rhetoric that became so prevalent during the divisive campaign of President-elect Donald Trump.
I think if you're a young person who wanted to make their way … America is still probably the place. But that could change.

Oliver Hart, Nobel Prize winner
Each of the four became American citizens after coming to the U.S. from the United Kingdom to advance their studies. As white men from an English-speaking country, they acknowledged that they aren't being targeted by the current xenophobic rhetoric. Still, they said they could draw parallels between what they're seeing in the U.S. and what they have seen elsewhere in the world — and recognize that such talk could deter future talent from heading stateside.
"If people had been unfriendly toward us because we were not originally from this country, I suppose we wouldn't have stayed here," said F. Duncan Haldane, who won the Nobel Prize in physics. "You certainly wouldn't want to go to a country if people were hostile to you."
"No, we wouldn't have come," said J. Michael Kosterlitz, a joint recipient of the physics award.
Oliver Hart, who won the prize in economic sciences and has lived in the U.S. for about 45 years, said he is disturbed by the racist and xenophobic attitudes he has seen many Americans express in the last two years.
"I always thought of America as much better than that," he said, reflecting on his early years in the U.K. "I think if you're a young person who wanted to make their way … America is still probably the place. But that could change. Depending on where you're from, you might decide that there are just too many negatives."
Both Hart and Sir J. Fraser Stoddart, a recipient of the Nobel Prize in chemistry, compared Americans electing Trump to U.K. citizens approving the so-called Brexit referendum in June.
In the referendum, the U.K. voted to leave the European Union. It was a complicated issue, but many residents indicated that their votes were driven at least in part by anti-immigrant sentiment. Britons experienced a rise in nationalism as the global refugee crisis raged. Many feared that foreigners coming into their country would threaten their safety and culture, and they no longer wanted the whole of Europe to make decisions on their behalf.
"This depresses me a lot," Stoddart said. "It's not just an American phenomenon. We witnessed the same expression of xenophobia earlier this year [with Brexit]. I'm nervous about what lies ahead, as I think many American citizens are. We just don't know what's going to happen tomorrow, and that's scary. It shouldn't be this way."
But Stoddart, who teaches and mentors students at Northwestern University, said he thinks there is reason to be hopeful that Americans will come out stronger than before.
"This is the signal for someone to set the 'reset' button and see the country rise again," he said. "I'm still optimistic that, out of what we've experienced of late and what we might have to experience in the immediate future, there will be a good situation — maybe even better than we could ever imagine."
Calling all HuffPost superfans!
Sign up for membership to become a founding member and help shape HuffPost's next chapter
BEFORE YOU GO
PHOTO GALLERY
Women Who Have Won A Nobel Prize