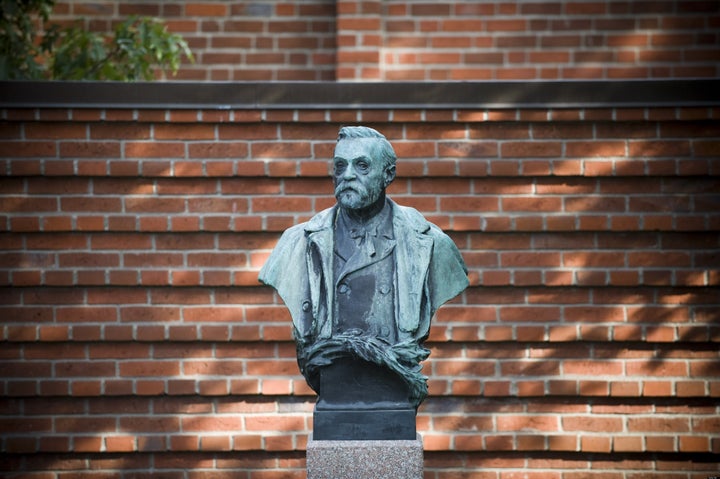 What comes to your mind when you think of the Nobel Peace Prize? A great honor bestowed on those persons and organizations that work for the betterment of global humanity and have a profound and pervasive impact on people's lives. Well, that's a common perception of the award, isn't it?
There could be many other perceptions and definitions of this coveted prize depending on the thinking patterns and ideologies of a person or a group. There is, however, a consensus that it should be given to those whose actions justify the acknowledgment. Unfortunately, this is not the case with the Nobel Peace Prize.
A cursory glance at the list of honorees reminds one of the political underpinnings that dominate the awards' list with only a spattering of awardees who actually did work for the community, humanity or the environment. A simple examination of the last decade's award list is ample to bring out the controversial leanings of the award.
Let's start with Liu Xiabo for his "his long and non-violent struggle for fundamental human rights in China." His predecessor Obama has yet to prove the reason for which he was given this highest honor in the world. His citation reads "for his extraordinary efforts to strengthen international diplomacy and cooperation between peoples." Any concrete results of those efforts? Not any tangible ones.
Al Gore and Martti Ahtisaari's awards for 2008 and 2007, respectively, can also be termed political but as Gore got it with the IPCC; it can be justified to a degree. Muhammad Yunus of Bangladesh received a very non controversial -- and very justified -- award in 2006 for "advancing economic and social opportunities for the poor, especially women, through their pioneering microcredit work." Grameen Bank and the whole materialization of the micro-credit dream in his native country is a testament to his success and the concept is currently being implemented in scores of other countries.
Muhammad ElBaradei and the IAEA received the 2005 prize and one is still unable to find the rhyme and reason behind the thinking of the Nobel committee when they decided about this award. IAEA has failed to stop nuclear proliferation -- the Iranian program just a recent example -- and their image is so tarnished with politicking that they deserve little honors, if any.
Wangari Muta Maathai of Kenya rightly won the 2004 prize for her impeccable track record in sustainable development, peace and democracy. Shirin Ebadi and Jimmy Carter were political activists/ex-president when I last checked. The first award of the decade was jointly given to Kofi Annan and the United Nations, "for their work for a better organized and more peaceful world."
Even this award of the decade confounded many as the UN is the apex global representative body and has an all-encompassing authority. Doesn't the award look more apt for people and organizations of a country or region? That looks more human, isn't it?
True that political activists also deserve acknowledgment of their work but there should be a standard criteria to tone down the criticism. There should be a wide ranging and palpable impact of the political process or activism to avoid any global "bad taste."
The controversies, confusions and mystery around the Nobel would remain a hotly debated topic. Every award comes with a beefy chunk of broken hearts and snide remarks but at least many have certain rules and regulations and it is easier to parse the reason behind the giving of a particular honor. The Nobel committee also needs to be more transparent given its long history of controversies and what many think are its preference for its home continent and the US. Let's not even get into the controversies regarding the race of the majority of winners as that is a very contentious issue.
There are many great people who have been overlooked by the committee despite several nominations. If I look in Pakistan, we have Abdul Sattar Edhi who is running the world's largest private, free ambulance and burial service and runs scores of homes for orphans, widows and children. He is one of the first ones to arrive at a scene of natural or man-made disaster whether it is tsunami, Haiti, Palestine or Lebanon, among other places, and runs free medical camps and soup kitchens for months, all on small private donations by common Pakistanis. His services within Pakistan, of course, are the most pervasive whether it is floods, earthquakes, military operations or suicide blasts. He has been nominated several times but neglected on all occasions.
For the sake of brevity, I will not go into the laundry list of great humans in almost every country of the world who have been -- dare I say -- dissed by the committee. Maybe we should not be complaining about all this as the Nobel committee does not represent a global organization or footprint and is still considered a Scandinavian way of honoring global good. We, however, do not have an alternative as there is no other award with so much honor and importance -- and global reverence -- attached to it. Perhaps it's time for a new, and truly global, peace award that comes with little controversy and greater transparency.
REAL LIFE. REAL NEWS. REAL VOICES.
Help us tell more of the stories that matter from voices that too often remain unheard.